Kentucky Trivia ● Kentucky Tweets
Localtonians wish a Happy Birthday to Isaac Shelby, the 1st Kentucky governor, born in 1750.
December 11, 1787, locals named their community Maysville after John May when it was part of Bourbon County. At the time, their post office was named Limestone until 1824, and it officially became Maysville around 1799. The defeat of the Native Americans at the Battle of Fallen Timbers in 1794 made the area safe for settlement. Maysville attracted famous visitors, such as Henry Clay and Gen. Lafayette, the fine taverns played a part.
December 11, 1801, Kentucky created Adair County from Green County and was named in honor of John Adair, the 8th Kentucky. Columbia is the County seat, chosen one year later. Other localities include: Breeding, Glens Fork, Gradyville, Knifley, Neatsville, Pellyton, Sparksville, Cane Valley, Coburg, Holmes Bend and Kellyville. Adair County was the 44th county created and covers 412 square miles.
Localtonians wish a Happy Birthday to Manchester native Miss Laura Rogers White, born in 1852. She was one of the first eight women to graduate from the University of Michigan (1874). She also studied architecture at the Massachusetts Institute of Technology (M.I.T.) in Boston and the Sorbonne in Paris, France. She designed the First Christian Church of Ashland, one of her outstanding architectural achievements, completed in 1890.
Localtonians wish a Happy Birthday to Louisville native Thomas Coleman DuPont, born in 1863. The industrialist and U.S. Senator spent much of his young life in Kentucky. In 1927, Thomas offered to purchase the Cumberland Falls area for $400,000 to preserve it in its natural state. In 1931, his widow donated the land as a public park. The Kentucky Encyclopedia edited by John E. Kleber; pg: 344
December 11, 1909, Jailer William Vernon Coffey, Green County Jail, died arresting a drunk and disorderly man in the Greensburg public square. The Greensburg town marshal was out of town at the time and Jailer Coffey protected the public. The man pushed Jailer Coffey away and immediately shot him in the face before fleeing on his horse.
December 11, 1923, William J. Fields, known as "Honest Bill from Olive Hill," became the 41st governor. He increased the gasoline tax to help fund his highway program and preserved the Cumberland Falls from industrial development by working with T. Coleman du Pont. However, to the dismay of many, he loved keeping his dairy cows on the Governor's Mansion's lawn. A New History of Kentucky By James C. Klotter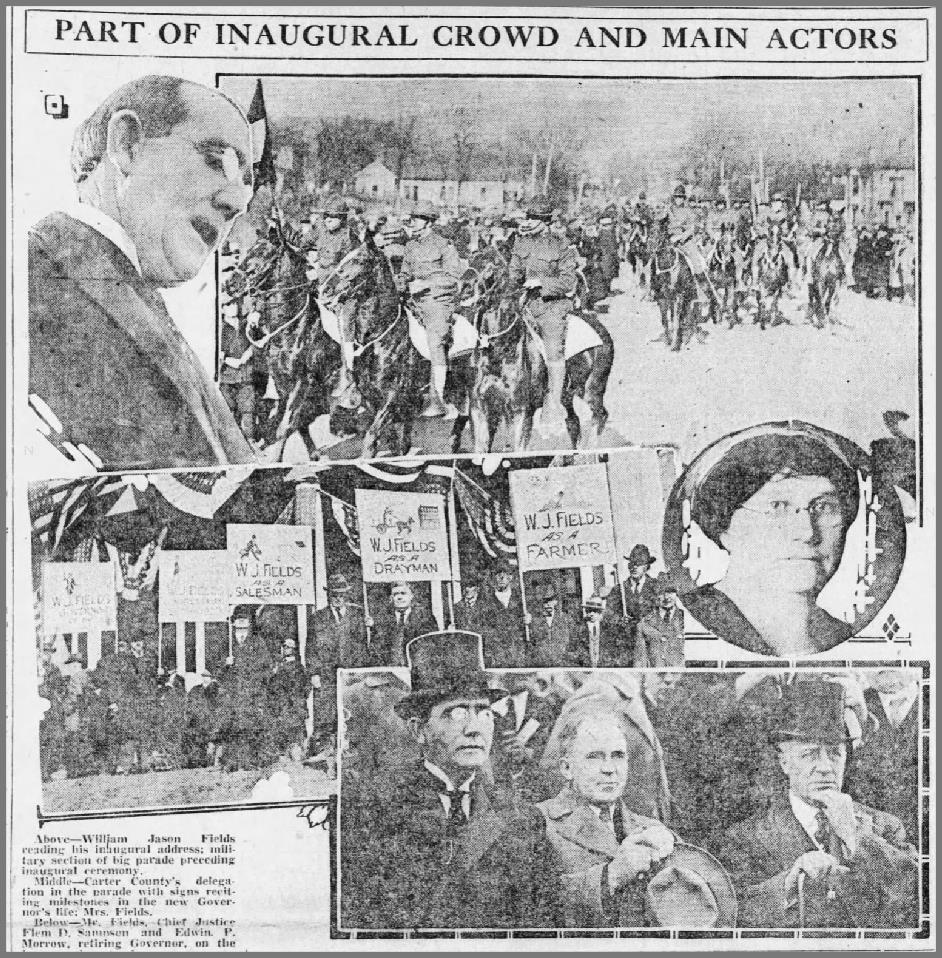 December 11, 1931, Sheriff Albert Bogie, Madison County Sheriff's Office, succumbed to injuries sustained in a vehicle crash on the Curtis Pike the previous day while he and a Berea police officer were en route to conduct an alcohol raid.
December 11, 1951, Governor Lawrence Winchester Wetherby took the oath of office for a 2nd time to remain Kentucky's 48th governor. In the general election, Wetherby faced Republican Court of Appeals judge Eugene Siler, a fundamentalist Christian who claimed state government was corrupt. Siler cited gambling in Northern Kentucky, bribery accusations against members of Clement's and Wetherby's administrations, and a 1951 scandal involving the UK's men's basketball team; he referred to Frankfort as "our Nineveh on the Kentucky River."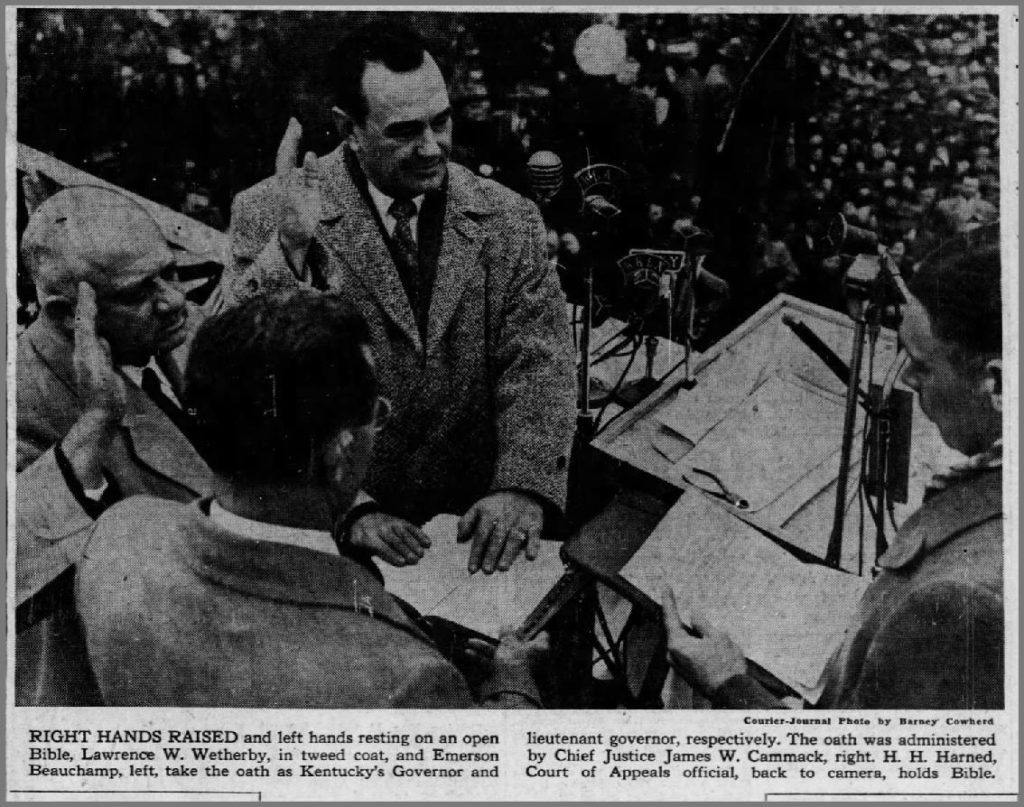 December 11, 1958, Columnist Ann Landers, at Lexington's Phoenix Hotel, admired her ashtray fashioned from Faultless's hoof print. The Calumet Farm colt won the Blue Grass Stakes and finished 3rd in the Derby.
December 11, 1970, two and half years after the race, a circuit judge ruled the Kentucky Racing Commission erred in denying 1st place money to Dancer's Image when he crossed the finish line 1st in the 1968 Kentucky Derby.
December 11, 1976, UK officially dedicated Rupp Arena as their home court. The festive evening honored former Kentucky coach and Kansas graduate Adolph Rupp before the contest. Six players scored in double figures: Jack Givens 15, James Lee 14, Rick Robey 13, Dwane Casey 13, Mike Phillips 12, and Larry Johnson 10, before a crowd of 23,107.
December 11, 1979, Kentucky swore in John Young Brown, Jr. as the 55th governor. He appointed a woman and an African-American to his cabinet, as he promised. The most controversial appointment was Frank Metts, Secretary of Transportation, who broke with political tradition, announcing that contracts would be awarded based on competitive bids. As a result, Metts doubled the miles of roads resurfaced. In challenging economic times, Brown stuck to his campaign promise not to raise taxes. Instead, he reduced the state budget by 22% and cut the number of state employees by 6,400, primarily through transfer and attrition. Simultaneously, his merit pay policies increased salaries by an average of 34%. He cut the executive office staff from ninety-seven to thirty and sold seven of the state's eight government airplanes. He also required competitive bids from banks, generating $50 million in revenue. He created communications and contacts with Japan, setting the stage for future economic relations. Brown was absent for more than five hundred days during his four-year term. As noted by Kentucky historian Lowell H. Harrison, Brown's hands-off approach allowed the legislature to gain power relative to previous governors for the 1st time in Kentucky history, a trend that continues today.
December 11, 1981, Muhammad Ali fought his final fight in a 10-round unanimous decision loss to Trevor Berbick, more than a year after the took a beating from Holmes.  They fought in front of 10,000 fans at the Queen Elizabeth Sports Centre in Nassau, Bahamas.  This was his 2nd comeback from retirement.  His final record stands at 56-6.  Berbick, who briefly held the WBC title in 1986, was murdered in Jamaica in 2006.
On December 11, 1981, hundreds of spectators turned out, in near-freezing weather, to light the state Christmas tree on the plaza in front of the Capitol in Frankfort.
December 11, 1982, Eastern Kentucky University football coach Roy Kidd rode to the locker room after his Colonels earned their 4th straight trip to the NCAA Division I-AA football championship game with a 13-7 victory over Tennessee State.
December 11, 1984, Bruce Springsteen watched Clarence Clemons play the saxophone on, during a concert before 23,000 fans in Rupp Arena.  Clemons, a prominent member of Springsteen's E Street Band, died in 2011 of a stroke.
On December 11, 1985, Roger Foster set a Kentucky record by catching a 58 pounds 4 ounces Striped Bass (rockfish) in Lake Cumberland. It weighed nine pounds less than the world record yielded by the Colorado River in Arizona.

December 11, 1995, Governor Brereton C. Jones, on his final day as governor, pardoned nine women who committed a crime against their alleged abusive spouses.
On December 11, 2005, in Seattle's NFC West-clinching victory over the San Francisco 49ers, Florence native Shaun Alexander had his ninth 100–yard rushing game of the year, breaking Chris Warren's franchise record of eight 100–yard games. In the process, he also set a more significant NFL record, running for 100 yards against divisional opponents in nine straight games, a record previously held by Walter Payton.
December 11, 2007, Steven Lynn Beshear became the 61st Kentucky governor and the 57th individual to hold the office.
On December 11, 2018, in one of the most anti-climactic congressional testimonies in modern history, Google CEO Sundar Pichai testified to a Senate hearing that Russian accounts spent $4,700 on Google ads in 2016 to manipulate the presidential election.
December 11, 2019, Governor M. Bevin filed 161 pardons and 419 commutations of sentences with the Secretary of State, including commutations for 336 people who were serving sentences solely for drug-related charges.  In 2015, Governor S. Beshear issued 200 pardons, and former Governor E. Fletcher pardoned 100 people during his four-year term.
On December 11, 2020, the FDA approved the experimental Pfizer vaccine for 16 years old and older. Kentucky reported 22 deaths from the virus; three were in their 50s, five were in their 60s, two were in their 70s, ten were in their 80s, and two were in their 90s. Meanwhile, the state asked people to stop going to the ERs for coronavirus tests.
Positives: 3,691 / 217,120
Deaths: 22 / 2,168 – 1st Death 3/16/20
50&over: 2,111 / 49-30: 54 / 29&under: 3
On December 11, 2021, Kentuckians faced one of the worst nights in the Commonwealth's history when tornadoes ripped through a dozen counties while taking down the Mayfield candle factory with 100 people inside.