Kentucky Trivia ● Kentucky Tweets
Localtonians wish a Happy Birthday to Governor Joseph Desha, born in 1768. The 9th governor and 8th man to hold the office endured much controversy throughout his adult life.
December 9, 1799, Kentucky created Breckinridge County from Hardin County and was named in honor of John Breckinridge, Kentucky statesman and U.S. Senator. Hardinsburg is the county seat. Other localities include: Cloverport, Irvington, Addison, Axtel, Bewleyville, Big Spring, (partially) Cannons Point, Clifton Mills, Constantine, Custer, Dyer, Fairfield, Falls of Rough, Fisher, Frymire, Garfield, Glen Dean, Harned, Hinton Hills, Hites Run, Holt, Hudson, Kingswood, Kirk, Locust Hill, Lodiburg, Madrid, Mattingly, McCoy, McDaniels, McQuady, Mook, Mooleyville, Mount Merino, Mystic, Raymond, Roff, Sample, Se Ree, Stephensport, Tar Fork, Union Star, Vanzant, Webster and Westview. Breckinridge County was the 39th county created and covers 586 square miles.
December 9, 1806, Kentucky created Hopkins County from Henderson County and was named in honor of Samuel Hopkins, Revolutionary War General. Madisonville is the county seat. Other cities and towns include: Dawson Springs, Earlington, Hanson, Mortons Gap, Nebo, Nortonville, St. Charles, White Plains, Manitou, Anton, Ashbyburg, Barnsley, Charleston, Coiltown, Dalton, Dozier Heights, Ilsley, Richland, and Wicks Well. Hopkins County was the 48th county created and covers 554 square miles.
Localtonians wish a Happy Birthday to Harrodsburg native James Ben Ali Haggin, born in 1822 in Mercer County. A graduate of Centre, he studied law at his father's law office, passed the bar, moved to Mississippi, where he married and then moved to New Orleans. From there he went west, investing in mines. He invested heavily in the new city named San Francisco's, his mansion was the anchor of Knob Hill and later accumulated close to 500,000 acres in CA, with another 980,000 acres in AZ, NM, and Mexico. He later moved to New York and purchased large amounts of prime NYC real estate. Haggin was a member of the Metropolitan Club one of the most elite private social clubs in New York City, formed by J. Pierpont Morgan, William K. Vanderbilt, and James Roosevelt. He started his Kentucky Farm, the 8,900 acres Elmendorf Thoroughbred Farm, at the age of 76. His visits always made the top Kentucky headline. At 85, Haggin was the 3rd wealthiest American behind John D. Rockefeller and Andrew Carnegie.
December 9, 1839, William C. Allen, a young Kentucky artist, presented Kentuckians with a full-length portrait of Daniel Boone that hanged in the House of Representatives' hall.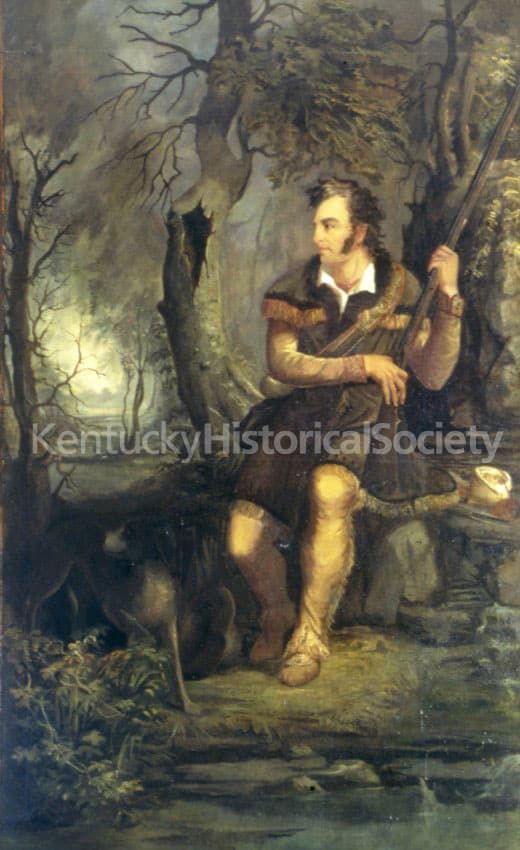 December 9, 1860, Governor Beriah Magoffin, sent a circular letter to other slave-state governors to persuade them not to leave the Union. The Civil War in Kentucky by Lowell H. Harrison
December 9, 1899, Town Marshal Henry Hartford, Corbin Police Department, and another man died while investigating a saloon fight. Both suspects, who were well known feudist from Clay County, were apprehended a short time later. They said they shot the Marshal to show people how they have fun back in Clay County. Both were tried and acquitted.
December 9, 1919, Edwin P. Morrow became the 40th governor of Kentucky and the 4th Republican to hold office. He championed the typical Republican causes of his day, namely equal rights for African-Americans and the use of force to quell violence. Morrow had been schooled in his party's principles by his father, Thomas Z. Morrow, a candidate for governor in 1883. His uncle, William O. Bradley, served as Kentucky's 1st Republican governor, the 32nd overall in 1895.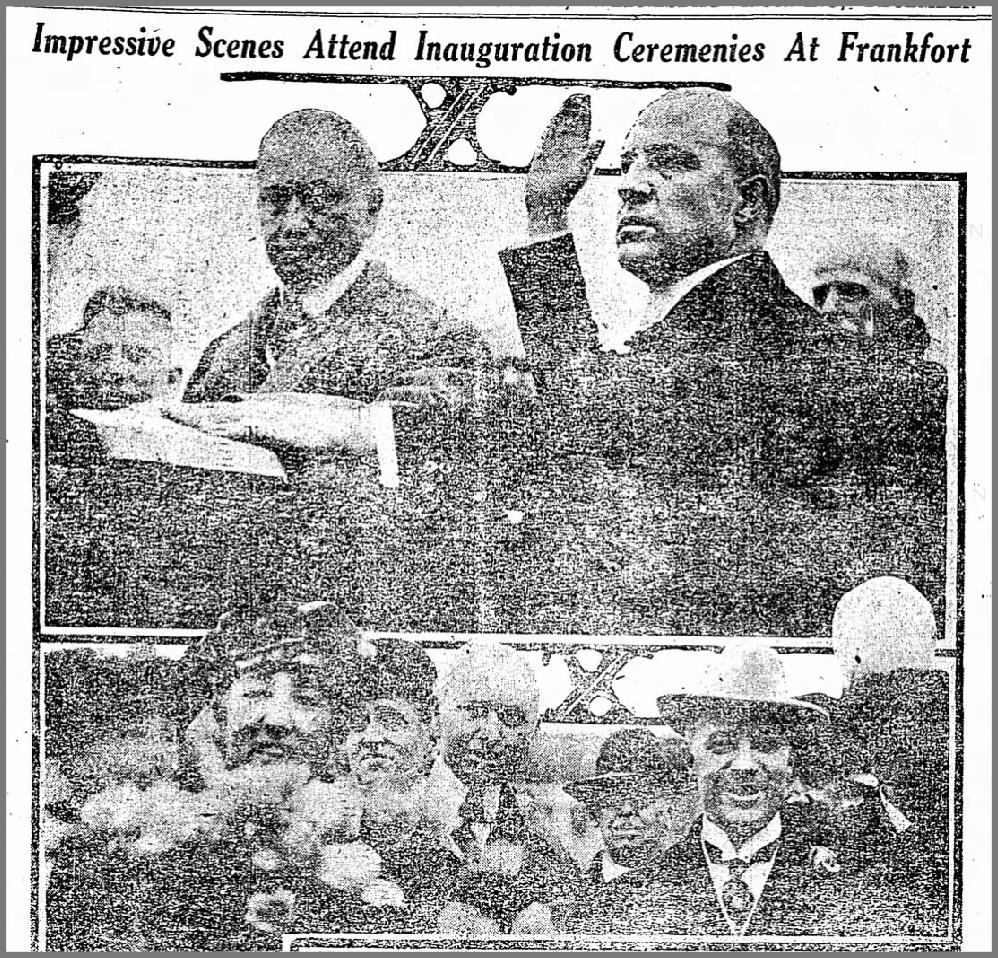 Localtonians wish a Happy Birthday to Owensboro native Clifford Oldham Hagan, born in 1931.
On December 9, 1945, twelve days before his death, General G.S. Patton sat in the back of his limousine when his driver, Morganfield native PFC Horace Woodring, sped too fast over a railroad crossing and wrecked. Only Patton received injuries, a nasty gash on his head, which caused paralysis.
December 9, 1947, Earle Clements became the 47th governor. For three decades, he led a faction of the state's Democratic Party that stood in opposition to a group led by two-time governor and Senator Happy Chandler.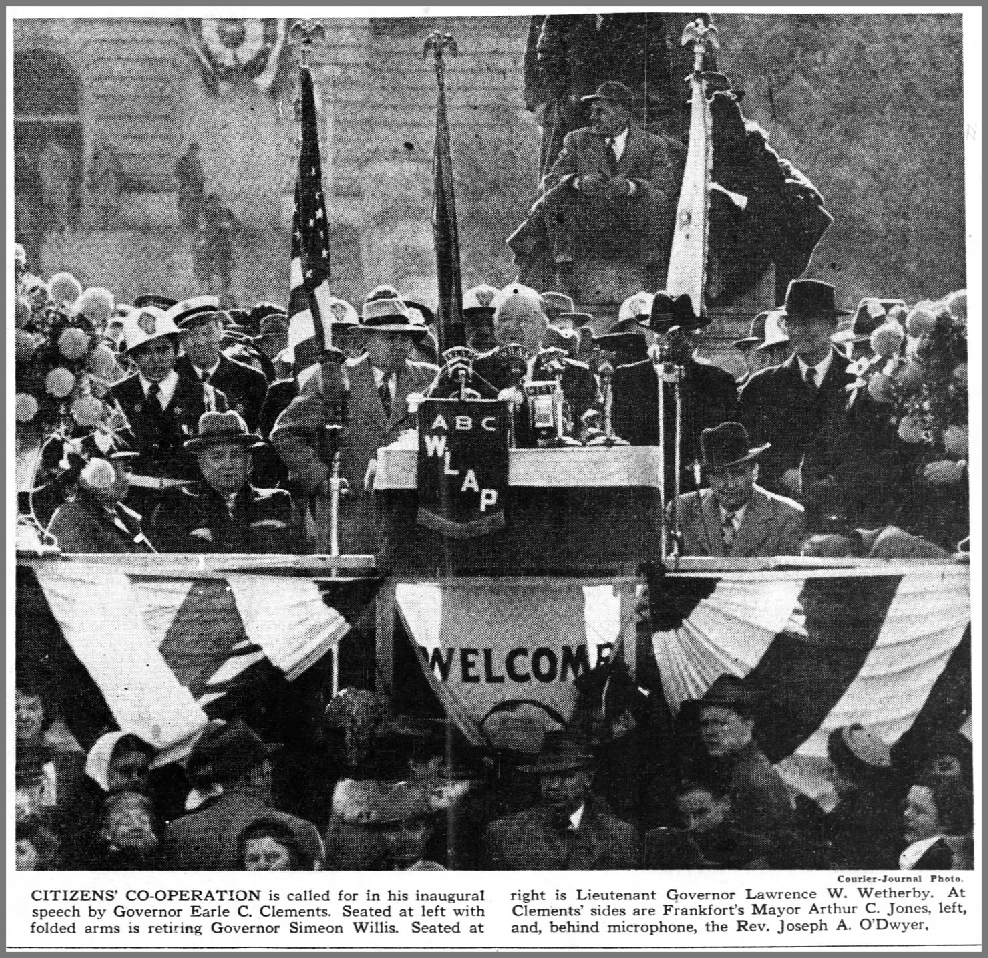 December 9, 1950, Army PVT Jesse C. Meadows from McCreary County died fighting in the Korean War.
Localtonians wish a Happy Birthday to Lexington native David Akers, born in 1974.
December 9, 1975, Governor Julian Morton Carroll took his 2nd governor's oath after defeating Bob Gable. He took his 1st oath after Wendell Ford resigned to become a U.S. Senator. Governor Carroll was the 50th individual to hold the office and the 54th governor of the Commonwealth.
December 9, 1975, Thelma Stovall became the 1st woman Lt. Governor of Kentucky.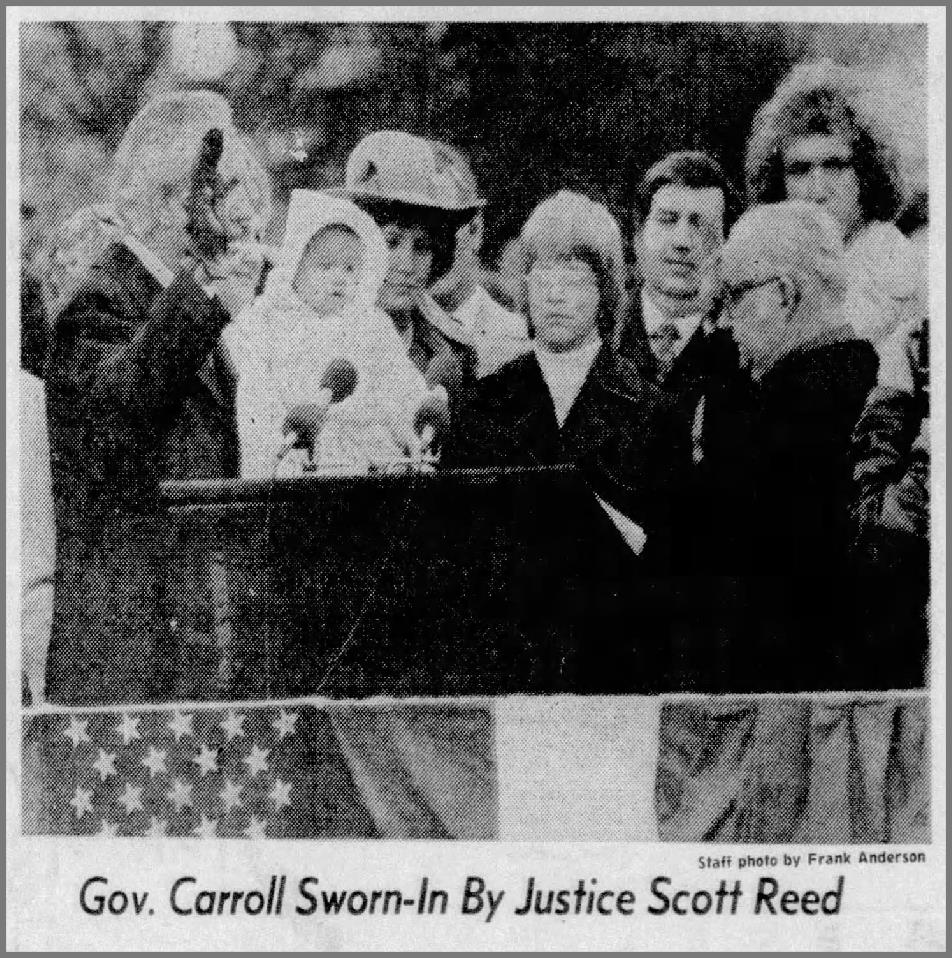 December 9, 1978, after forcing overtime, the Cats were down 66-60 with 31 seconds to go. Back-to-back baskets by freshman Dwight Anderson cut the lead to two before he stole the inbounds pass and fed Kyle Macy for the tying jumper. Macy completed the comeback by adding technical free throw when Kansas called a timeout it didn't have. Cats win 67-66 in OT.
December 9, 1980, police arraigned a 25-year-old former mental patient and devoted Beatles fan on second-degree murder in the slaying of John Lennon.
December 9, 1980, Trigg County defeated, by a 2-1 margin, a proposal to legalize packaged liquor sales in the county. Each of the 11 precincts voted against the measure. Trigg County, which had been dry since prohibition, voted to remain dry in 1940; it's only previous wet/dry election.
December 9, 1991, the Kentucky Supreme Court ruled that Governor W. Wilkinson had the right to follow through on his self-appointment to UK's board of trustees. The decision came on Wilkerson's last day in office.
December 9, 2000, Western Kentucky University defeated the Louisville Cardinals 68-65 in Freedom Hall.
December 9, 2003, Ernie Fletcher became the 60th governor of Kentucky. After a term filled with lawsuits, he returned to the medical field as founder and CEO of Alton Healthcare to profit off the sick.
December 9, 2010, twenty people crammed into an old-style Volkswagen Beetle to break a world record. The Asbury University Emancipation Project, at the Lexington Rescue Mission in Lexington, used a 1964 Beetle to draw attention to human trafficking.
December 9, 2010, in a cracked voice and through some tears, Senator Jim Bunning bid farewell to Congress. His departing address, given to a near empty Senate chamber, referenced his baseball and political careers and last warnings about government spending and Federal Reserve policies.
December 9, 2019, Representative Cluster Howard from Jackson pre-filed Bill Request 272, an act relating to the regulation of cannabis.
December 9, 2020, the governor told Kentuckians the virus's growth had slowed and may have plateaued in the state. As the nation frantically waited for the experimental vaccine, a poll showed that only half wanted the medicine. Meanwhile, European doctors, already administering the vaccine, told their citizens with allergies to hold off on receiving the shot.
Positives:  3,418 / 209,136
Deaths:  16 / 2,118 – 1st Death 3/16/20
50&over: 2,061 / 49-30: 54 / 29&under: 3
December 9, 2021, Governor A. Beshear signed an executive order declaring an emergency over Kentucky's dire shortage of licensed nurses. Meanwhile, police officers arrested the Owsley County Sheriff with 4th-degree assault charges after a fight at a High School girls' basketball game.
9 – University of Kentucky All American Lowball Barware Old Fashion Glasses
Vintage – Mid Century Modern – Rare
Each Glass Features the Names of UK All-American Players in Basketball & Football
up to 1966, the Year the Glasses Were Made:
Basil Haydon, Sam Ball, Herschel Turner, Bill Spivey, Cliff Hagan, Wah Jones and more.