Kentucky Trivia ● Kentucky Tweets
Localtonians wish a Happy Birthday to "Captain" Elijah Pepper, born in 1760.
Localtonians wish a Happy Birthday to William Logan, born inside Fort Harrodsburg in 1776, one of the 1st white children born in the state.  His father, General Ben Logan, helped settle Logan County, the namesake.  In 1818, William became one of Kentucky's U.S. Senators, defeating Richard M. Johnson by 12 legislatures' votes.  He served one year and then resigned to make a bid for governor but ran 2nd to John Adair in a four-way race, 20,493 to 19,947.  His death at 45 was viewed as a significant loss to the state.
December 8, 1792, the Kentucky legislatures, in one of their 1st tasks, approved Frankfort as the state Capital. This is Kentucky by Robert A. Powell pg: 76
December 8, 1903, Governor J.C.W. Beckham took the oath for 2nd time after he won the November general election. Beckham was the youngest Lt. gov. and governor, who stayed in the two offices for seven years, ten months, and seven days.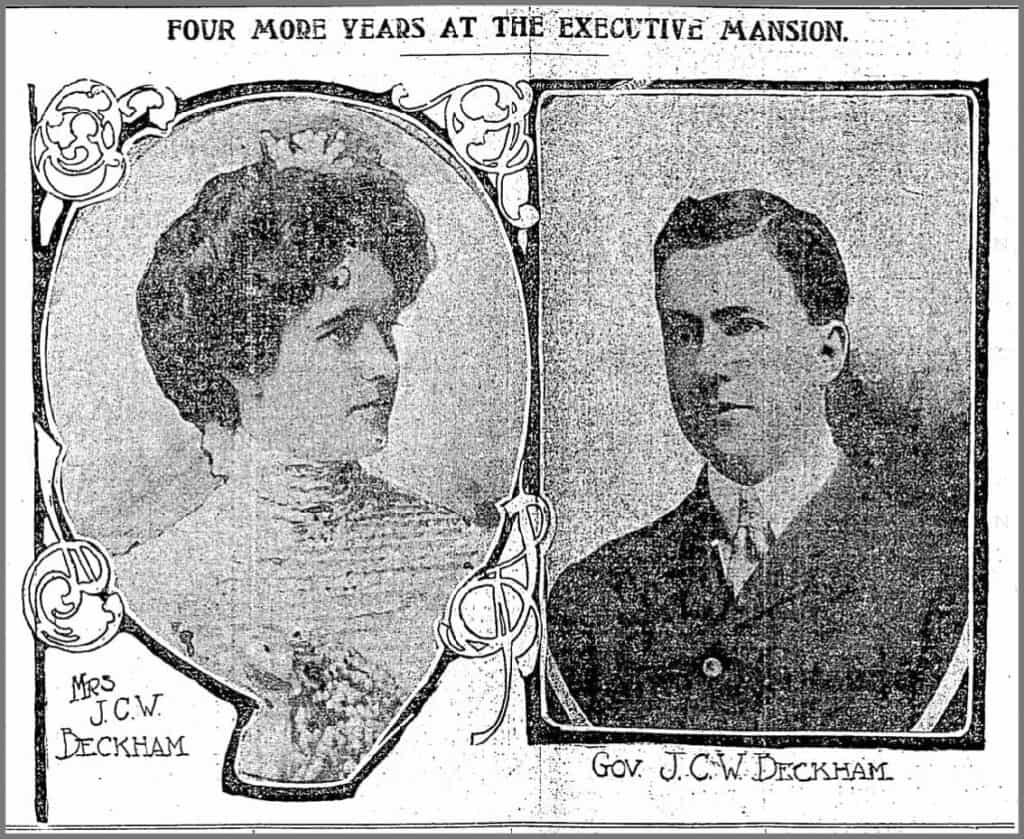 December 8, 1905, the Carnegie Corporation of New York awarded Somerset $10,000 to construct a new city library. It would be the last gift the corporation gave to a Kentucky city.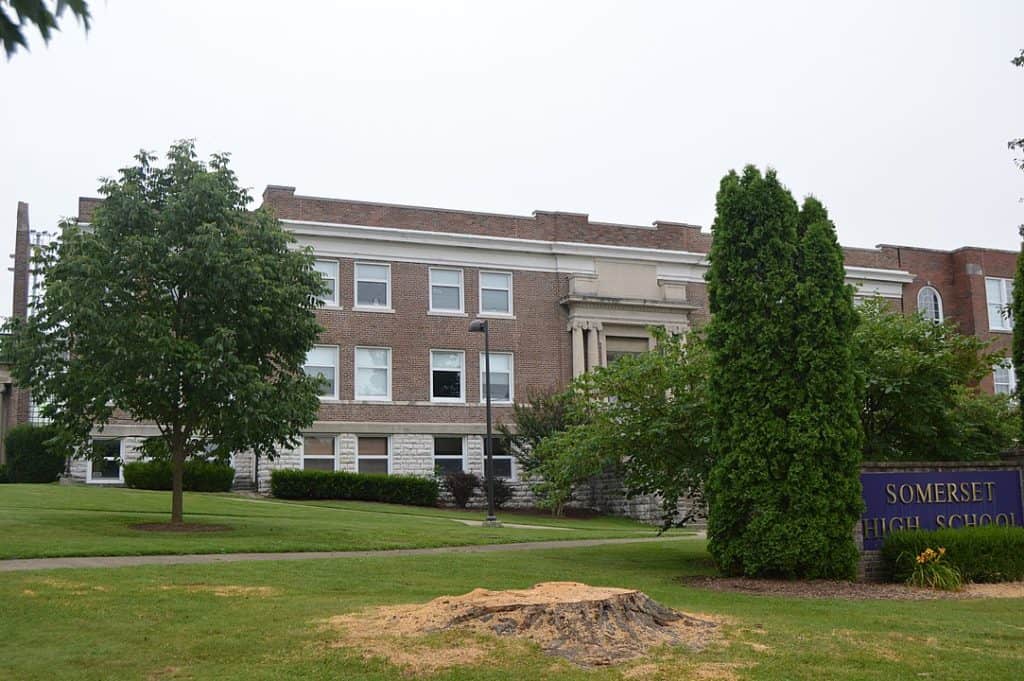 December 8, 1914, Louisville native Madison Julius Cawein, a poet, passed.
Localtonians wish a Happy Birthday to Viper native Jean Ruth Ritchie, born in 1922 in Perry County. An American folk singer, songwriter, and Appalachian dulcimer player, many referred to her as the Mother of Folk. She revived the dulcimer, the traditional instrument of her community, by promoting it on her albums and writing tutorial books. She inspired many musicians, including Bob Dylan, Joan Baez, Shirley Collins, Joni Mitchell, Emmylou Harris, and Judy Collins.
December 8, 1931, Ruby Laffoon became the 43rd governor. He set new records for the number of pardons granted, and the number of Kentucky Colonels commissioned. Laffoon's effort to get a sales tax split the Democratic Party. Leading the opposition was Lt. Gov. Happy Chandler and Ben Johnson, whom Laffoon had made highway commissioner. Party factionalism and a sick economy left Laffoon with a poor record and the Louisville Courier-Journal called the 1932 legislative session "about the worst legislative session in Kentucky's history."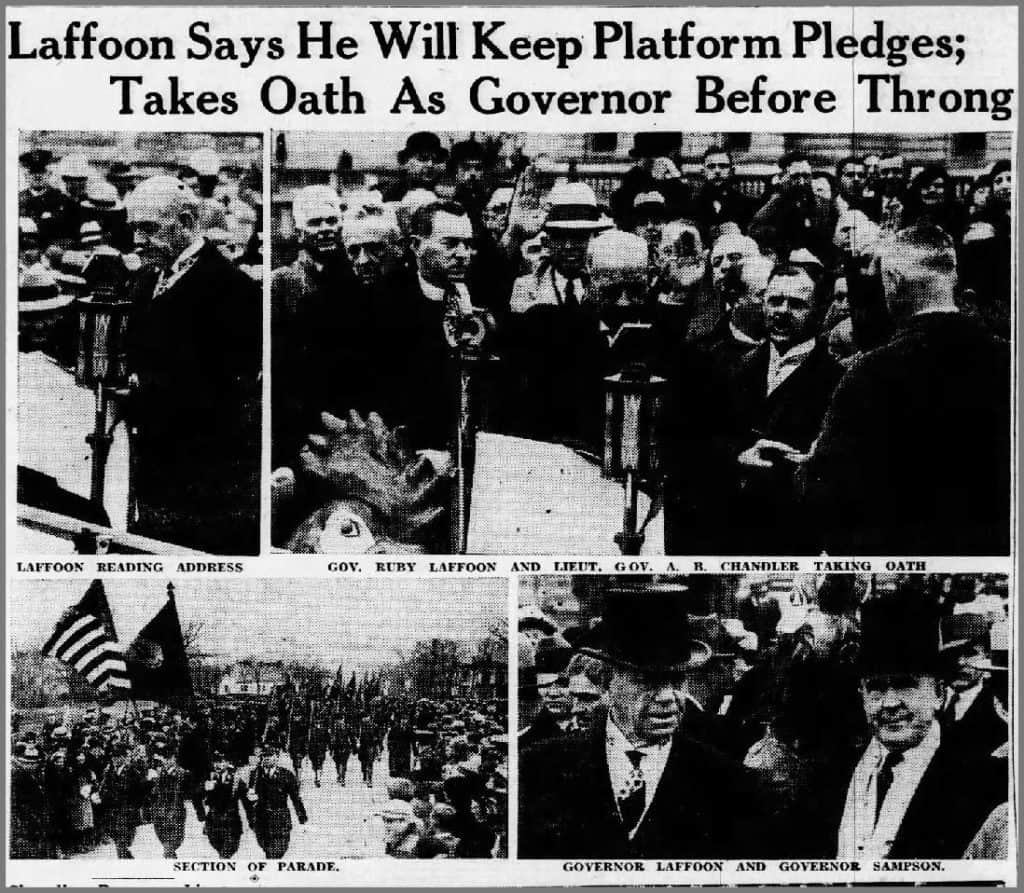 December 8, 1934, the Kentucky State Thorobreds football team beat Wiley College in Marshall, Texas, to end the season 8-0. Kentucky State won the Midwest Athletic Association championship, shut out seven of eight opponents, and outscored all opponents by a total of 193 to 2. The team who played their home games at Alumni Field in Frankfort became the Black College National Champion.
December 8, 1959, Governor B. Combs became the 50th governor. Combs rose from poverty in his native Clay County to earn a law degree from UK and become one of America's most progressive governors.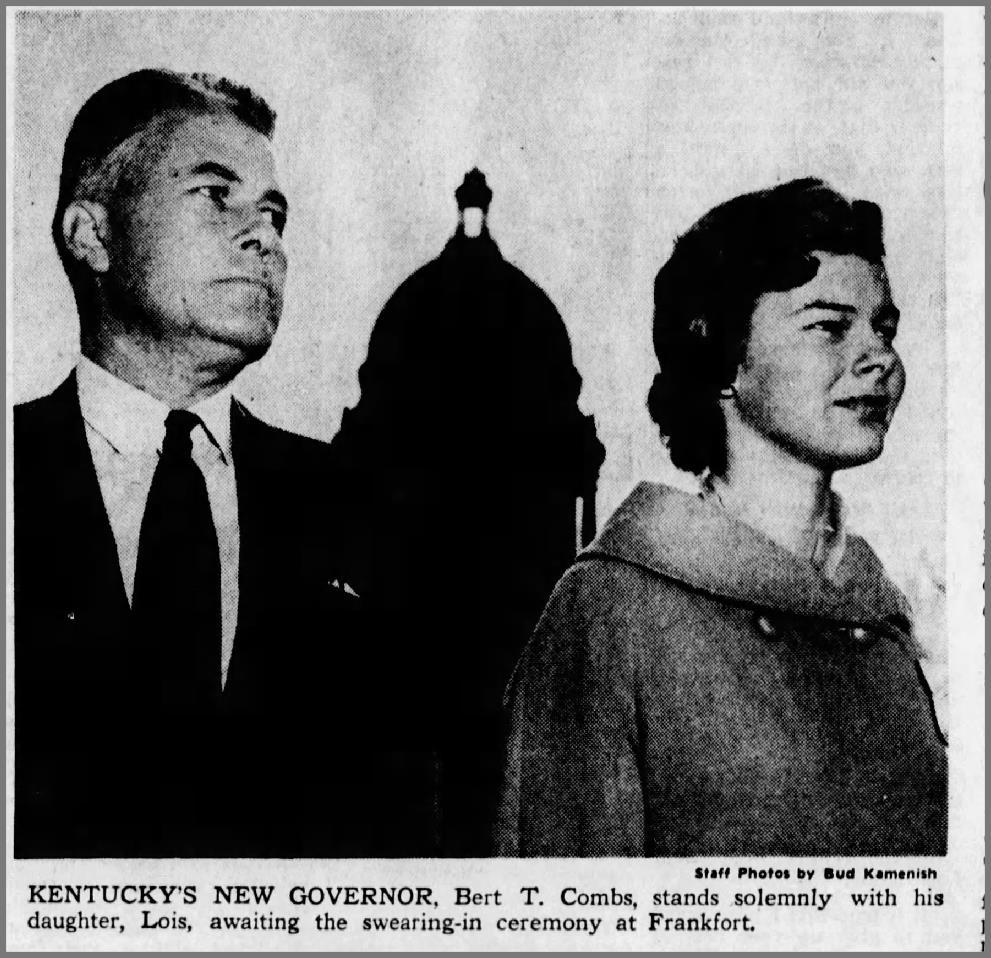 December 8, 1968, Army SP5 Harry E. Bates from Beattyville in Lee County, Marine Corps PFC Charles W. Caldwell from Rush in Boyd County, Marine Corps CPL Connard D. Mallory from Leesburg in Logan County, Marine Corps PFC Jack D. Schaffner from Louisville and Army SGT Philip A. Terry from Lexington all died fighting in the Vietnam War.
December 8, 1969, Army SP5 Floyd G. Talley from Scottsville in Allen County died fighting in the Vietnam War.
December 8, 1971, Dry Ridge native Skeeter Davis, perhaps at the height of her career, got a little too political before her performance at the Grand Ole Opry.  She criticized the Nashville police for arresting 11 Bill Lowrey's Christ Is The Answer Crusade members for preaching in the streets after some locals complained.  Davis, who witnessed the ordeal, began her Opry performance by saying, "This is really something that I should share.  I didn't ask our manager, but they've arrested 15 people just for telling people that Jesus loves them, and that really burdened my heart, so I thought I would sing you all this song."  The Opry promptly banned her for the unrehearsed on-air criticism; they reinstated her a year later.
December 8, 1971, George D. Widener died. Mr. Widener bred over 100 stakes winners, most of them Kentucky foals. A horse racing giant, he served on numerous boards and associations and helped establish Elmendorf Farm in Lexington with his uncle. He later sold his part of the farm to Leslie Combs.
Localtonians wish a Happy Birthday to Lexington native Damaris Phillips, born in 1980. The celebrity chef is best known as the Food Network Star Champion in season nine. As the winner, she earned a show on the Food Network called Southern at Heart. But, first, she earned a degree in Culinary Arts from Jefferson Community and Technical College.
December 8, 1984, Brian Taylor, while racing at the Sha Tin Racecourse in Hong Kong, was thrown from his saddle while crossing the finish line. His mount, Silver Star (銀星一號), stumbled. Taylor would succumb two days later in hospital from the severe neck and head injuries. His friend Bill Burnett wanted him to find someone else to replace him for that race due to his shingles. Wally Hood offered to take the ride, but at the last minute, Brian decided to race, which turned out to be his last.
December 8, 1987, Frankfort held the Wallace Wilkinson inauguration. The new governor named former Governor A.B. "Happy" Chandler the grand marshal. Chandler's endorsement of Wilkinson during the campaign was crucial to his victory.
December 8, 1991, police charged House Majority Leader Greg Stumbo with a DUI after his truck ran off the road. He had been a leading proponent of stricter drunken-driving measures in the General Assembly.
December 8, 1992, the city of Frankfort changed its minds and voted to allow the MTV channel to continue to air in their city. Pat Layton, a Frankfort resident for 32 years, stated that she had never seen an issue divide the town like the MTV debate.
December 8, 2001, Kentucky defeated North Carolina for the Cats' 1,800th victory, the 1st college basketball team to reach that milestone. Tayshaun Prince electrified the home crowd by making five consecutive 3-pointers in the first three minutes and 46 seconds. The senior finished with 31 points in Kentucky's 79-59 win.
December 8, 2007, Trinity beats St. Xavier 34-28 in the Class 6A KHSAA Commonwealth Gridiron Bowl at Papa John's Cardinal Stadium.
December 8, 2015, Matt Bevin became Kentucky's 62nd governor.  Approximately 2,500 people gathered on the Capitol steps to watch his inauguration.
December 8, 2016, Bernheim Forest acquired 162 acres of ecologically rich bottom lands along Wilson Creek in Bullitt County for conservation purposes. The forest now consisted of 14,673 acres or about 23 square miles. With more than three million trees and the headwaters of 13 streams, Bernheim provides clean air and clean water for the 1.6 million people who call North Central Kentucky home.
December 8, 2019, Trinity beat Male 28-6 for the Class 6A KHSAA Commonwealth Gridiron Bowl.
December 8, 2020, marked the 1st year as governor for Andy Beshear, and for the 3rd day in a row, he stated the coronavirus "appears to be slowing."  Meanwhile, a judge rejected the GOP's request to deny Biden the Pennsylvania electoral votes.  Also, in a White House ceremony, President Trump celebrated the expected approval of the 1st vaccine, calling the experimental serum a "miracle."
Positives: 3,114 / 205,668
Deaths: 20 / 2,102 – 1st Death 3/16/20
50&over: 2,046 / 49-30: 53 / 29&under: 3
December 8, 2021, while Lexington officials addressed their record number of homicides for a year, the Lexington paper addressed Mitch's relationship with One Nation.  The GOP slush fund Mitch controls doesn't have to divulge the one individual who gave $33 million to let it operate because the policy driven organization is a non-profit.
9 – University of Kentucky All American Lowball Barware Old Fashion Glasses
Vintage – Mid Century Modern – Rare
Each Glass Features the Names of UK All-American Players in Basketball & Football
up to 1966, the Year the Glasses Were Made:
Basil Haydon, Sam Ball, Herschel Turner, Bill Spivey, Cliff Hagan, Wah Jones and more.