Kentucky Trivia ● Kentucky Tweets
Localtonians wish a Happy Birthday to Jack Jouett, born in 1754. Jouett served several terms in the Virginia General Assembly, representing Lincoln County and later Mercer County. He was instrumental in bringing about Kentucky's statehood, serving three terms as legislator for Woodford County.
December 7, 1794, Kentucky created Franklin County from Mercer, Shelby, and Woodford. It was the 1st county created from three established counties. Named in honor of Benjamin Franklin, signer of the Declaration of Independence, Frankfort is the county seat. Other localities include Bridgeport, Forks of Elkhorn, Jett, Switzer, Peaks Mill, and Bald Knob, Kentucky. Franklin County today covers 212 square miles and was the 18th county created.
December 7, 1822, Kentucky created Morgan County from Floyd and Bath Counties and named it in honor of Daniel Morgan, Revolutionary War General.  West Liberty is the county seat.  Other cities and towns include: Ezel, Caney, Cannel City, Cottle, Crockett, Dingus, Elamton, Elkfork, Grassy Creek, Lenox, Malone, Mima, Mize, Moon, Ophir, Relief, Stacy Fork, White Oak, Wrigley, Yocum and Zag.  Morgan County was the 73rd county created and covers 382 square miles.
December 7, 1829, the General Assembly moved into the new state capitol, known today as the Old Capitol building. Kentucky Eloquence, Past and Present: Library of Orations, After-dinner Speeches, Popular and Classic Lectures, Addresses and Poetry by Bennett Henderson Young, Henry Watterson; pg: 235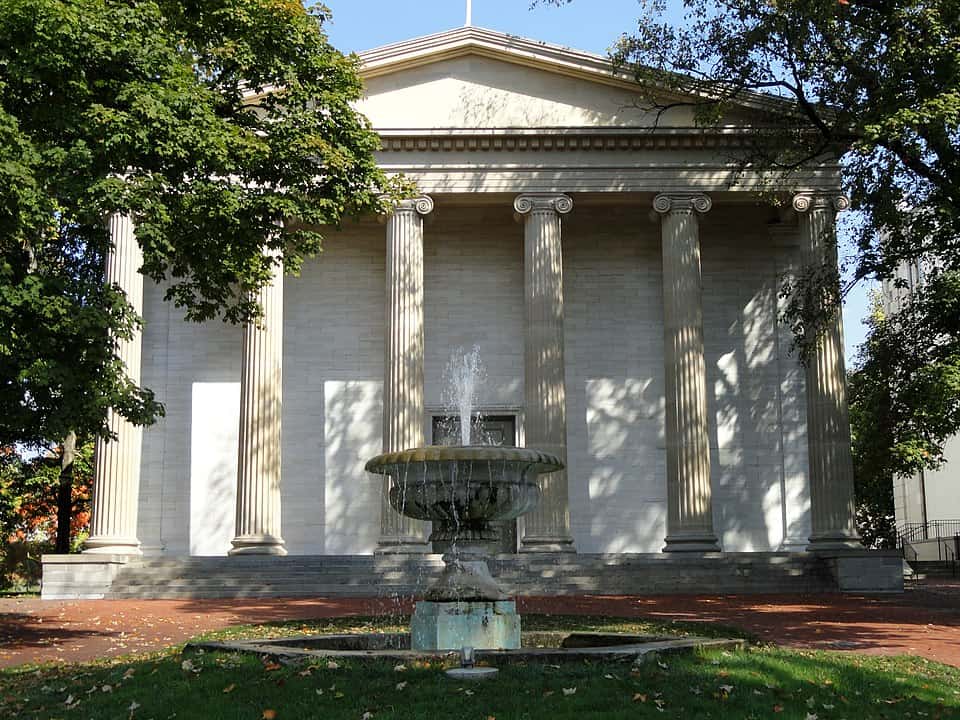 Localtonians wish a Happy Birthday to Dixon native Cale Young Rice, born in 1872, in Webster County. Rice, a Harvard graduate, wrote From Dusk to Dusk shortly after moving to Louisville in 1897, setting him on a writer's career that lasted for more than forty years.
December 7, 1907, Night Riders, the highly violent secret order of the Planters Protective Association (PPA), burned three tobacco warehouses in Hopkinsville. The dark tobacco was owned by farmers who would not join the PPA. They struck a little before 2:00 a.m. with no opposition. PPA's battle to stop the Duke monopoly continued.
December 7, 1915, Augustus O. Stanley became the 38th governor. During his term, Kentucky was the first "wet" state to ratify the 18th Amendment, enshrining prohibition into the national constitution. He resigned to take a senate seat in May 1919.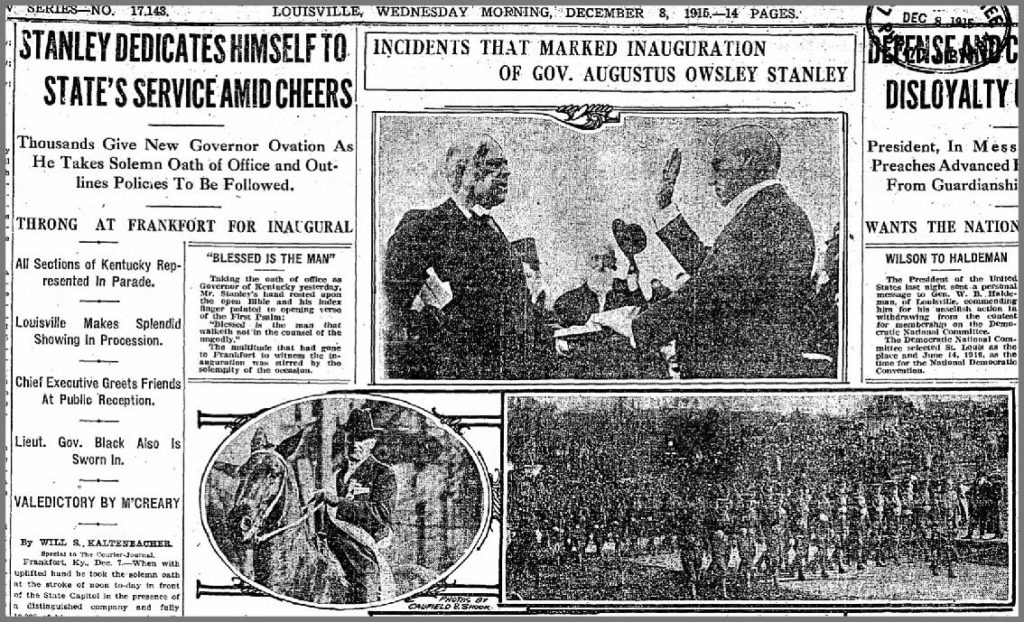 Localtonians wish a Happy Birthday to Louisville native Rudell Stitch, born in 1933. A professional boxer, Rudell won 45 of 57 amateur bouts, including Kentucky State titles in 1951, 1952, 1953, 1955, and 1956. He was well on his way to becoming a world champion until he died trying to save a friend from drowning in the Ohio River.
Localtonians wish a Happy Birthday to Bagdad native Martha Layne Collins, born in 1936 in Shelby County.
On December 7, 1941, the Japanese bombed Pearl Harbor, and the U.S. entered World War II. Henderson native Husband Edward Kimmel, a U.S. Navy Four-Star Admiral, served as the Commander-in-Chief of the U.S. Pacific Fleet (CINCPACFLT). Immediately after the attack, the Navy demoted him to the Two-Star rank of Rear Admiral. He retired from the Navy in early 1942.
December 7, 1943, Simeon Slavens Willis became the 46th governor and the 43rd individual to hold the office, and the only Republican governor between 1927-67. He was not able to realize his campaign promise of eliminating the state income tax, but he did forge a record of modest accomplishments, including constructing five tuberculosis hospitals across the state and significantly increasing funding for education.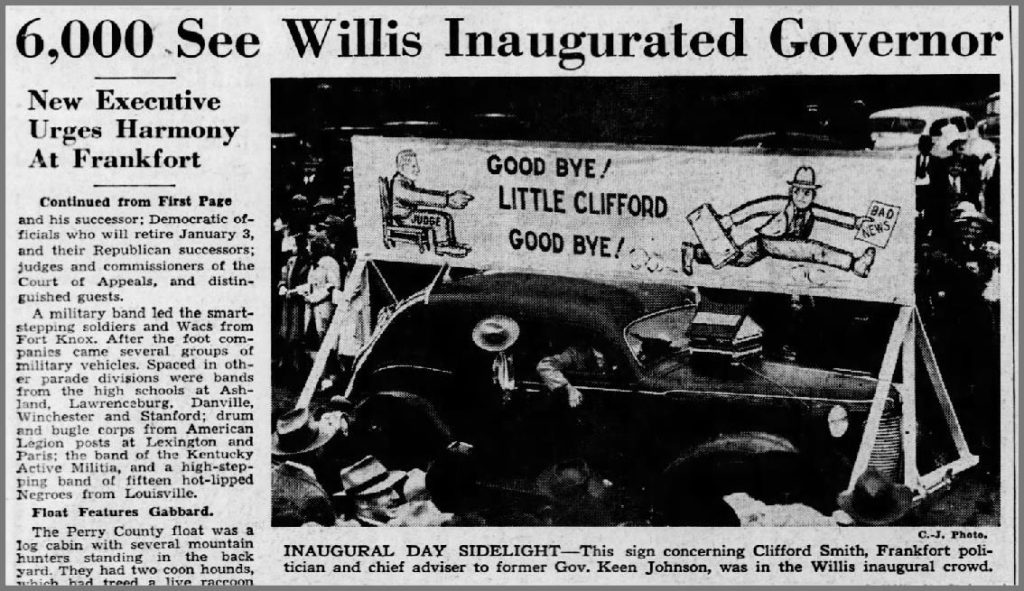 December 7, 1957, the longest men's basketball game in UK history proved fruitful for the Wildcats as Vernon Hatton scored UK's final six pints to edge the Temple Owls 85-83 in triple OT.
December 7, 1960, Constable William Austin "Bud" Boyatt, McCreary County Constable's Office, was shot and killed as he approached four individuals in a vehicle that he suspected of bootlegging.
December 7, 1970, Muhammad Ali (31-0) fought Oscar Bonavena (46-6-1) in Madison Square Garden and needed a court order to do it. His opponent was the rugged Argentine known for not listening to his trainers (Gil Clancy for this fight). Ali had predicted a 9th round KO and tagged Bonavena on cue, but when he moved in for the finish, Bonavena threw a desperate left hook that shook Ali. "I was numb all over," Ali later admitted. By the 15th round, with both men exhausted, Ali threw a heavy left hook that knocked down Bonavena and then dropped him twice more for the KO. Afterward, Ali shouted: "I want Joe Frazier" and of the great rivalries in sports was born.
December 7, 1971, Wendell Ford became the 53rd governor and the 1st person to be successively elected Lt. governor, governor, and U.S. senator in Kentucky history.
Tuesday, December 7, 1971, Deputy Sheriff Jack Brock, Harlan County Sheriff's Office, got shot twice in the back of the head transporting a prisoner to jail. He had arrested the man for driving while intoxicated.
Localtonians wish a Happy Birthday to Louisville native Jennifer Leann Carpenter, born in 1979. She played Debra Morgan in the series Dexter, for which she earned a Saturn Award in 2009. In 2019, she began playing Erica Shepherd, the lead role in the NBC drama The Enemy Within.
December 7, 1979, Kentucky dedicated the Jesse Stuart State Nature Preserve in Greenup County. Jesse donated the land around his home in W Hollow. The 714 acres allows for passive recreation and environmental education. The Jesse Stuart Foundation supports the natural, cultural, and historical research on the preserve. This public foundation also oversees Stuart's literary estate.
December 7, 1980, Sunday thoroughbred racing occurred in Kentucky for the 1st time. Latonia Park stated it was like any other racing day.
December 7, 1991, George Rogers Clark High School capped off an undefeated season to win the Kentucky 4A Football State High School Championship over St. Xavier 28-21.
December 7, 1995, Gatorade named Tim Couch their Circle of Champions National High School Player of the Year. Hyden County High School hosted the ceremony where Couch thanked his teammates.
December 7, 1999, Chief Justice Joseph Lambert swore in Governor P. Patton for his 2nd term as the 59th governor. Patton defeated Peppy Martin and Gatewood Galbraith.
On December 7, 2002, Trinity defeated Male 59-56 for the Kentucky 4A Football State High School Championship. Brian Brohm and Michael Bush, two great quarterbacks, made for one incredible game.
On December 7, 2004, Attorney General Greg Stumbo told the Fletcher Administration that they could not privatize the $92 million prison built in Elliott County because Kentuckians paid for the facility.
December 7, 2005, Kentucky charged a Laurel County man with making methamphetamine in the presence of a child, the 1st case of its kind brought under a new state law. The three bomb booby-trapped home also added to the unusual case.
December 7, 2013, Scott County defeated Meade County 21-14 for the Class 6A Kentucky High School Football Championship. Scott County capped an undefeated championship season in front of 4,716 frosty fans in Western Kentucky's L.T. Smith Stadium.
On December 7, 2015, Governor S. Beshear issued more than 200 pardons in his final act. He commuted six sentences in a sweeping action that included ten women who committed crimes against their partners after enduring years of domestic violence. He also appointed his wife to the Kentucky Horse Park Commission.
December 7, 2019, EJ Montgomery scored a career-high 25 points, forward Keion Brooks added 15 off the bench, and Kentucky dominated Fairleigh Dickinson 83-52 for the 600th victory at Rupp Arena.
December 7, 2020, Governor A. Beshear laid a wreath in front of the capitol building to remember the 2,082 people that died from coronavirus and reiterated from the previous day, "the spread of the virus seems to be slowing." Meanwhile, Dr. Fauci continued to alarm Americans by saying the Christmas holidays have the potential to be "even more of a challenge" than Thanksgiving as a super spreader event for the surging pandemic."
Positives: 1,972 / 202,592
Deaths: 10 / 2,082 – 1st Death 3/16/20
50&over: 2,028 / 49-30: 51 / 29&under: 3
On December 7, 2021, Presidents Biden and Putin discussed the rising tensions over Ukraine. But, unfortunately, peace never prevailed, and the Biden administration soon started washing billions of dollars via the proxy war on Russia's border.