Kentucky Trivia
December 2, 1806, Lewis County was created from Mason County and was named in honor of Meriwether Lewis, explorer. The county seat is Vanceburg. Other cities and towns include: Concord, Garrison, Alburn, Awe, Black Oak, Beechy Creek, Buena Vista, Burtonville, Cabin Creek, Camp Dix, Carrs, Charters, Clarksburg, Cottageville, Covedale, Crum, Emerson, Epworth, Esculapia Springs, Fearis, Firebrick, Fruit, Glenn, Glenn Springs, Gun Powder Gap, Harris, Head of Grassy, Heselton, Irwin, Jacktown, Kinniconick, Kirkville, Laurel, Libbie, Martin, McDowell Creek, McKenzie, Montgomery Creek, Nashtown, Noah, Oak Ridge, Pence, Petersville, Poplar Flat, Quicks Run, Randville, Records, Rexton, Ribolt, Rugless, Saint Paul, Salt Lick, Sand Hill, Stricklett, Sullivan, Tannery, Teutonia, Thor, Tollesboro, Trinity (Trinity Station), Upper Bruce, Valley and Wadsworth. Lewis County was the 47th county created and covers 495 square miles.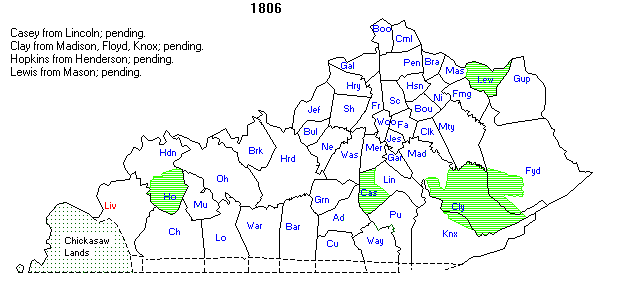 December 2, 1806, Clay County was created from Madison County, Floyd County and Knox County. It was named in honor of Green Clay, Revolutionary War General and western surveyor. The county seat is Manchester. Other cities and towns include: Oneida, Beech Creek, Benge, Burning Springs, Datha, Fall Rock, Fogertown, Garrad, Goose Rock, Greenbriar, Hector, Larue and Little Goose. Clay County was the 46th county created in Kentucky and covers 471 square miles.
Localtonians wishes a Happy Anniversary to Thomas Lincoln and Hardin County native Sarah Bush, who wed in 1819. Abraham was ten when they married and he always addressed her as Mama and later as Mother in his letters.
December 2, 1863, the Confederate States of America burned down the Mt. Sterling Courthouse.  The Union Army was using it as a garrison.  Clerk records located in the rear were saved, circuit records were destroyed.  Twenty-two courthouses were burned during the war, 19 in the last 15 months.  Twelve of the courthouses were burned by Confederates, eight by guerrillas and the Union burned two by mistake.
Roadside History: A Guide to Kentucky Highway Markers edited by Melba Porter Hay, Dianne Wells, Thomas H. Appleton, Jr., Thomas H. Appleton; pg: 30
December 2, 1864, Louisville native James Speed became the 27th U.S. Attorney General.
December 2, 1884, Floyd Tolliver was killed in a barroom brawl by John Martin. Before Floyd died, he said, "Boys, remember what you swore to do; you said you would kill him, and you must keep your word." John Martin died eight days later, yet another death in the Rowan County War centered in Morehead, from August 1884 to June 1887. There were twenty murders in all.
Localtonians wishes a Happy Anniversary to Knox County native Governor James D. Black and Mary Jeanette "Nettie" Pitzer, married in 1875. The couple had three children who all graduated from Centre College.
Localtonians wishes a Happy Birthday to Paducah native Fate Marable, born in 1890. Mr. Marble was a jazz pianist and bandleader. Marable's band served as an early musical education for many players who would later become prominent in jazz, including Louis Armstrong, Red Allen, Baby Dodds, Johnny Dodds, Pops Foster, Errol Garner, Narvin Kimball, Al Morgan, Jimmy Blanton, Elbert Pee Wee Claybrook, Joe Poston, and Zutty Singleton.
December 2, 1950, the following died fighting in the Korean War.
Chaffin Clifford R. Army PFC from Lawrence County
Conner George W. Army PFC from Russell County
Cooper Harold Ryland Army SFC from Jefferson County
Dotson Lawrence Army CPL from Pike County
Elmore Joe S. Army PVT from Clinton County
Farmer Kenneth W. Army CPL from Union County
Maddox James W. Army SFC from Ohio County
Moore Charles E. Army PFC from Pike County
Phelps John M. Army PVT from Greenup County
Pryor Floyd W. Army CPL from Christian County
Ray Floyd J. Army SGT from Daviess County
Robertson Thomas R. Army PVT from Webster County
Rose Damon Lee Army CPL from Harlan County
Waford Everett W. Army PVT from Jefferson County
Vance Dennis Lee Army SSSG from Hardin County
Localtonians wishes a Happy Birthday to Hopkinsville native Mac King, born in 1959. Mac is a magician who has his own family-friendly show, "The Mac King Comedy Magic Show", at the Harrah's Las Vegas in the Clint Holmes Theater.
December 2, 1971, Army SGT William T. Warren from Louisville and Army SSG Schyler Watts from Vicco in Perry County died fighting in the Vietnam War.
December 2, 1972, Joe B. Hall coaches his first regular season game as Kentucky's basketball head coach.  The 13th ranked Cats beat Michigan State 75-66 with Jim Andrews as the leading scorer.  The Wildcats go on to win the SEC.
December 2, 1974, Lincoln Hall, located on Berea College, was designated a National Historic Landmark. Built in 1885-87, "Recitation Hall," as it was known on campus, was the focus of civil rights activities for nearly three-quarters of a century. Lincoln Hall has been Berea's administration building since 1914 and underwent a $5.5 million "green" renovation as a result of a collapse of its central interior in 2001. In 2004, Lincoln Hall became the first building in Kentucky to be awarded the U.S. Green Building Council's Leadership in Energy and Environmental Design (LEED) certification.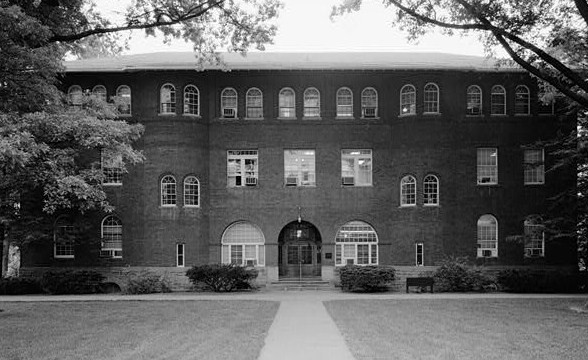 December 2, 1983, Paris native William Stephen "Bill" Arnsparger was introduced as the head football coach at Louisiana State University. Arnsparger led LSU to two Sugar Bowl berths in three seasons, in 1984 and 1986, both times against Nebraska.
December 2, 1984, Constable Hamilton Ferguson, Sr., Nelson County Constable's Office, was struck and killed by a vehicle as he crossed the street to his patrol car. He had just arrested a drunk driver and had placed him the back seat of his patrol car.
December 2, 2000, Male beats Trinity for the 4A Kentucky State High School Championship 34-14.
December 2, 2000, jockey Chris Antley was found in his home dead from an accidental overdose.
December 2, 2005, Trinity beats St. Xavier 14-6 for the 4A Kentucky State High School Championship Gridiron Bowl. The game was held in Papa John's Cardinal Stadium.
December 2, 2007, Lexington native and writer Elizabeth Bruce Hardwick died in Manhattan.
December 2, 2011, Trinity pounds Scott County 62-21 in the 6A Kentucky State High School Championship Gridiron Bowl. The game was held at Feix Field, Houchens/LT Smith Stadium in Bowling Green.
December 2, 2015, Governor-elect M. Bevin announced that had picked Derrick Ramsey as Secretary of the Labor Cabinet.
December 2, 2019, Georgetown College officials announced that all Scott County students admitted during the next ten years will receive four year scholarships, worth about $160,000. This was later expanded to three other Kentucky counties.
December 2, 2019, Governor A. Beshear appoints ex-Lexington mayor Jim Gray as Transportation Chief and Kentucky House Minority Leader Rocky Adkins as a Senior Advisor. Many thought Rocky was going to run against Amy McGrath for Senate but he took the governor's offer.
December 2, 2019, Bullitt County Public Schools became the first school district in Kentucky to sue e-cigarette manufactures for allegedly causing a youth vaping epidemic that has been a financial drain on the school district.