Kentucky Trivia
November 20, 1822, the National Course of D.C. hosted a famous battle between the North and South. James Harrison of Brunswick, Virginia, wagered $5,000 that his horse, Sir Charles, could beat New Yorker Cornelius Van Ranst's American Eclipse, in a series of four-mile heats. National Course of D.C. hosted the event which put the track on the map. National was the best known track out of 10 or so that graced the Washington, D.C. area from as early as the late 1700s. The National Course drew various crowds, from "the U.S. President to the beggar in his rags." Virginian Sir Charles embodied the Southern ideal of elegance and speed. American Eclipse, a New York mare through and through, had the power and stamina. Before the race started, Sir Charles injured himself in a trial run. Harrison agreed to pay the forfeit and decided to put Sir Charles through at least one heat with American Eclipse. Sir Charles lost badly.
November 20, 1844, Frankfort native John Cummins Edwards became the 9th Missouri governor.
November 20, 1861, George W. Johnson became the 1st Kentucky governor for the Confederate States of America. Johnson served less than a year when he died at the 1862 Battle of Shiloh. The rebel government had two governors and disbanded shortly after the war.
November 20, 1863, Warren County native Thomas Henry Hines finished digging the tunnels and began "the most incredible prison escape of the Civil War."
November 20, 1878, Marshal James Lewis Young, Mount Sterling Police Department, succumbed to gunshot wounds sustained two days earlier while responding to a disturbance call.
November 20, 1908, the Carnegie Corporation of New York awarded the city of Middlesboro $15,000 for a public library.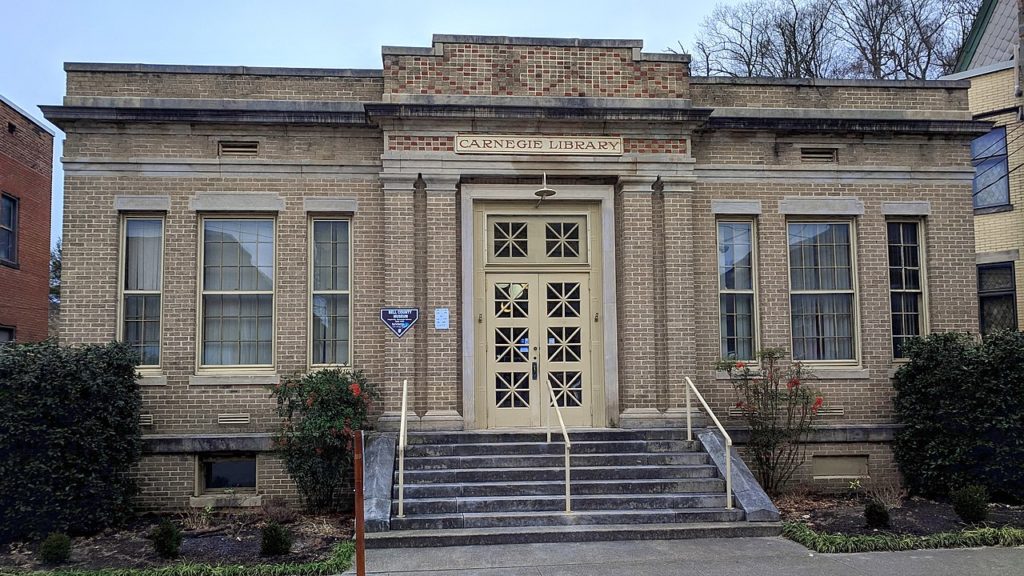 November 20, 1919, Maj. August Belmont, Jr., announced that Fair Play would stay in Kentucky at his Nursery Stud after selling him for $100,000 to G.A. Cochran of New York. August also received the right to breed ten mares to him. Fair Play lead the sire rankings in North America in 1920, 1924, and 1927, and the leading broodmare sire in 1931, 1934, and 1938. Members inducted him into the National Museum of Racing and Hall of Fame in 1956. Fair Play is best known for siring Man o' War.
November 20, 1922, the 3rd Eclipse Park burned to the ground in the early morning hours. Baseball In Louisville by Anne Jewell
November 20, 1925, Deputy Sheriff Will Pace, Harlan County Sheriff's Office, died arresting a known bootlegger at Wilson-Berger. The man had brought a load of moonshine into the town and boasted that he was going to bring another load in that night.
On the Philippines Thanksgiving Day, November 20, 1941, the Harrodsburg Tankers landed on the island country. On December 7, 1941, hours after Japan attacked Pearl Harbor, Japan attacked the Philippines. The Harrodsburg Tankers and the allied forces fought the Japanese bravely without reinforcements or resupply until 66 Tankers surrendered in April 1942 in the infamous "Bataan Death March." Only 37 of the original 66 Harrodsburg, Kentucky Guard Members survived Japanese captivity.
November 20, 1948, Coach Bear Bryant's Wildcats tied Tennessee in Knoxville, in the Bear's 3rd game with the Vols, having lost the previous two.
November 20, 1950, Army PFC Wallace Justice from Pike County died fighting in the Korean War.
November 20, 1951, Army SGT Grover W. Coleman from Lincoln County and Army PFC Hayward Davis from Cumberland County died fighting in the Korean War.
November 20, 1954, Blanton Collier, in his 1st game as UK coach, defeated Tennessee 14-13 in Knoxville.
November 20, 1966, Marine Corps LCPL Travis G. Crain from Louisville died fighting in the Vietnam War.
November 20, 1967, Army SP4 Clarence Hall from Campbell County died fighting in the Vietnam War.
November 20, 1967, TWA Flight 128 crashed in Constance on approach to Cincinnati/Northern Kentucky International Airport, killing 70 of 82 persons on board.
November 20, 1968, Marine Corps Harry C. Pannell from Canmer in Hart County died fighting in the Vietnam War.
November 20, 1970, Army SSG Marion E. Mee from Lothair in Perry County died fighting in the Vietnam War.
On November 20, 1972, for the 1st time in 20 years, Claiborne Farm entered their homebred thoroughbreds in a public auction. Seventeen yearlings and 19 horses of racing age sold at Belmont Park. The legendary farm had produced at least one year-end champion racehorse each year since 1952.
On November 20, 1976, Coach Fran Curci, in his 4th try, got his 1st win over Tennessee 7-0 in Knoxville to capture an SEC Co-Championship with Georgia.
Localtonians wish a Happy Birthday to Danville native Craig Yeast, born in 1976.  A Bengal and a Jet, Craig played for UK from 1995 to 1998.  When he graduated, Yeast was the all-time leader in career receptions in SEC history with 208 and 2nd in career receiving yards with 2,899.  In 2018, Yeast Kentucky Wesleyan College in Owensboro hired him as the head coach.  He resigned in 2022 to become the head coach at Mercer County in his hometown.
November 20, 1984, Kentucky's burley tobacco market finished its 2nd day of sales with a record high average of $188.42 a hundredweight, breaking the previous record set the day before.
November 20, 1997, Tubby Smith and Kyle Macy debuted as head basketball coaches for their respective teams in Rupp Arena. Kentucky beat Morehead 88-49.
Kentucky Trivia: In 1979, the Suns drafted Kyle in the 1st round, 21st overall, and he later played for the Bulls and Pacers. Kyle coached the Morehead Eagles for nine years.
On November 20, 2002, Chris Harn, a high-level Autotote employee, pleaded guilty to conspiracy to commit wire and computer fraud by using his computer skills to cash illegal winning tickets. He admitted to rigging the Breeders' Cup, pick 6 bet. Unfortunately for Harn and his friends, Volponi won the Classic, a 43-to-1 longshot. Had a horse with shorter odds won, there would have been more winners—and a smaller payout—and Davis's bet would have looked normal. He also admitted to cashing other tickets with his duplicate ticket scheme.
November 20, 2013, Missouri lethally injected the man who shot Lakeville native Larry Flint.  The man shot Larry as he left a Georgia courthouse involving obscenity charges in 1978The shooter, many years later, claimed the Hustler's interracial photo shoot outraged him.  Flynt expressed his opposition to the death penalty and did not favor the execution.
November 20, 2017, Kentucky declared a statewide Hepatitis A outbreak.
November 20, 2018, after $32 million and four years, Mayor Jim Gray cut the ribbon on the renovated re-imagined Lexington Courthouse.
November 20, 2018, UK announced that by the end of 2018-19 school year, they will have brought 37,000 pounds of beef, 20,000 pounds of pork, and 24,000 pounds of produce from farms all within 80 miles of Lexington.
On November 20, 2019, we learned that half of Kentucky's public drinking water systems tested for PFAS contamination, also known as "Forever Chemicals." Researchers found the highest levels near the Ohio River. Although the levels tested below federal limits, locals demanded the federal government lower those limits.
On November 20, 2020, months after new restrictions, the state announced a record-breaking 3,825 new cases of coronavirus.  Kentucky's Chief Justice told his courts to go virtual to slow the coronavirus after many judges held a regular court session in "red zone" counties.  Meanwhile, Amazon announced a 2nd fulfillment center in Lexington.
Positives: 3,825 / 152,206
Deaths: 20 / 1,762 – 1st Death 3/16/20
50&over: 1,716 / 49-30: 43 / 29&under: 3
On November 20, 2021, while Kentuckians worried about the lack of coronavirus test kits on box store shelves, police opened fire on Rotterdam citizens in the Netherlands who violently protested the virus restrictions. The city's mayor called it an "orgy of violence."
November 20, 2022, Kentucky fans learned that Coach Stoops received a generous contract extension. At $9 million a year through 2031, the deal ranked 6th among all football coaches. Dr. Capilouto, M. Barnhart, and Stoops signed the contract on November 11, a day before the Wildcat's shocking loss to Vanderbilt that snapped the Commodores' 26-game SEC losing streak.
Sunday, November 20, 2022, Walter Hutchinson, a well-known historian from Louisville who published annual booklets on black cultural events all over Kentucky, died at age 81. Walter wrote the yearly culture event calendars for nearly three decades. He won the Louisville Historical League's 2005 Heritage Award.