Kentucky Trivia
November 18, 1806, or thereabout, Capt. Lewis and Mr. Clark arrived in Frankfort with Mr. Chouteau and Chief Shahaka, his family and an interpreter.  A party of Osages also went along.  They all went on to Washington, except Mr. Clark.  He visited his brothers in Louisville, and then went on to Virginia to woo Julia Hancock.  Clark was not interested in the gala receptions given in Washington in January 1807, in honor of the expedition's triumphant return so Capt. Lewis attended without Mr. Clark.
November 18, 1883, all major cities in the U.S. operated under standard time except Lexington. Lexingtonians lived and worked according to solar time (also called sun time or God's time) because landowners (farmers) exercised a disproportionate amount of power in the region.
Madam Belle by Maryjean Wall pg: 107
November 18, 1896, Cloverport native Eli Houston Murray passed away.  He was governor of the Utah Territory between 1880 and 1886.  The city of Murray, Utah was named for him.  The newly appointed anti-Mormon territorial governor openly supported Utah's Liberal Party.
Saturday, November 18, 1893, the annual Male-Manual football rivalry, the longest-running, continuously played high school football series in Kentucky, began.
November 18, 1903, the Carnegie Corporation of New York awarded the city of Owensboro $30,000 to build a library.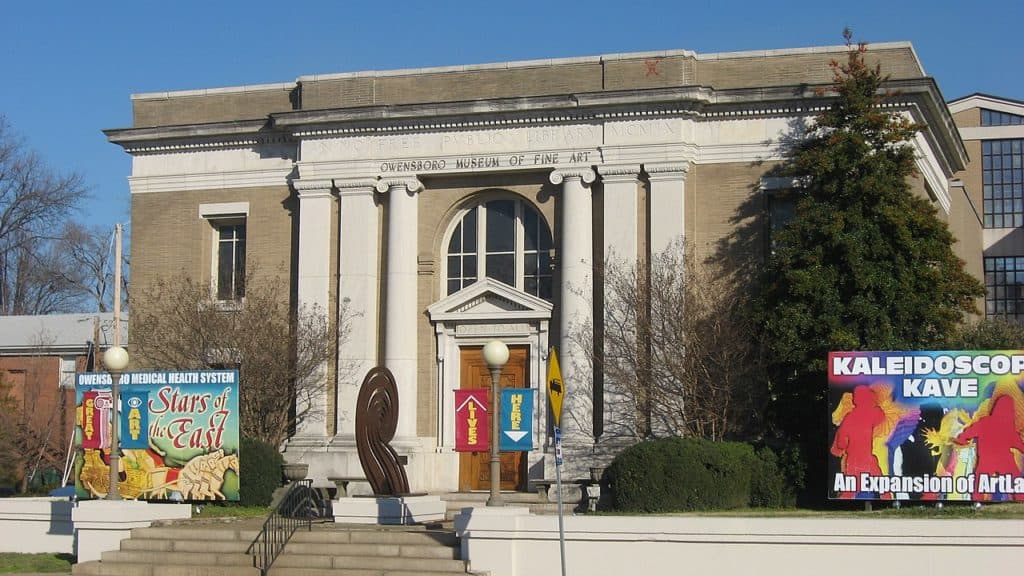 November 18, 1911, the last Battle on Broadway took place when Transy beat UK 12-5 in football. With the NCAA creation, Transylvania University entered Division III while Kentucky stayed in Division I. Almost a hundred years after the last game, the Lexington Herald-Leader wrote that the rivalry was "arguably more intense and controversial than any experienced in UK's history."
November 18, 1922, Ellis Park Race Course opened the gates for their first Thoroughbred meet. One month earlier, Ellis officially opened with a Grand Circuit harness meet. Ellis Park, originally Dade Park, was built in 1922 by the Green River Jockey Club. The founders wanted the longest stretch run in America and the original plans were to create a track 1 1/2M long. Architect Ernest F. Bohme from Lexington developed the plans for Ellis Park, but he miscalculated and built the stretch 3/8 of a mile shorter.
November 18, 1922, the Kentucky Wildcats shutout the Alabama Crimson Tide 6-0 in Lexington.
November 18, 1945, after receiving a telegram form the house and senate leadership, Governor Willis conferred with Lt. Gov. Tuggle, Barbourville, on calling a special session. Legislatures wanted to forestall a cut public assistance.
Localtonians wishes a Happy Anniversary to Alben William Barkley and Jane Rucker Hadley, who wed in 1949. He was the oldest (71) vice-president, and the only one to marry in office. Truman insisted on Barkley's inclusion in all cabinet-level meetings and on the National Security Council because of his legislative expertise. His extraordinary speaking abilities made him the administration's principal spokesman. A new V.P. Seal took effect when Barkley was inaugurated in 1949 and remained in use for nearly 27 years.
November 18, 1950, the Kroger Company canceled delivery of all merchandise to its 74 grocery stores in Kentucky and Southern Indiana. They had to; Truck Drivers Local 89 went on strike and were picketing the warehouses.
November 18, 1955, Kentucky and Indiana ruled out a specific bridge site asked for by New Albany, IN.  The two governors would make a decision soon afterwards.
November 18, 1967, Army SP4 James A. Dailey from Moorefield in Nicholas County died fighting in the Vietnam War.
November 18, 1967, Supreme Court Justice William O. Douglas (69) and his wife, Cathleen (24), led a five-mile hike in the Clifty Wilderness area in opposition to the proposed damming of the Red River Gorge. The justice, who had written many books about wilderness areas, was invited to take the protest hike by members of the Sierra Club, who had been building forces in recent months to fight construction of the proposed reservoir. "I don't think the cause is lost," Douglas said. "If I thought that, I wouldn't be here." Some people credit Douglas' visit 50 years ago to helping draw local and national attention to the cause.
November 18, 1971, Army PFC Charles H. Richie from Berea died fighting in the Vietnam War.
November 18, 1972, ten Richmond citizens died in a twin-engine plane crash, in a farm field near Elkton, in Todd County.  Eleven people died while returning from a high school football game between Madison and Trigg Counties.
November 18, 1977, the Commonwealth of Kentucky was dismissed as a defendant in the Beverly Hills Supper fire because of sovereign immunity, six months after the tragedy. The city of Southgate also received sovereign immunity.
November 18, 1978, Morehead State quarterback Phil Simms scrambled under pressure from an Eastern Kentucky defender during the Colonels' 30-0 win in Richmond.  It was Simms' final game as an Eagle.  The future Super Bowl XXI MVP finished his college career with 5,545 yards passing, an Ohio Valley Conference record.
November 18, 1980, the first Kentuckian was awarded $172,170 in federal court after being paralyzed by Guillain-Barre syndrome after taking the swine-flu vaccine. This resulted from the government's 1976 swine-flu inoculation program.
November 18, 1985, Vice President George Bush dedicated the Lucille Parker Markey Cancer Center at the UK.  He then attended a $500-a-couple fundraising dinner for U.S. Rep. Larry Hopkins in downtown Lexington.
November 18, 1988, Rep. Donnie Gedling of Hardinsburg, Chairman of the Kentucky General Assembly's Tobacco Taskforce, said that U of L's proposal to segregate smokers and ban smoking on campus is an insult to Kentucky farmers.
November 18, 1995, the 14th annual Kentucky Book Fair occurred in Frankfort, featuring 130 regional and national writers.  The event drew 5,000 participants and sold about 11,000 books.  Andy Rooney and Nick Clooney were two of the better-known names who attended.
November 18, 2001, Rick Pitino coached his first basketball game as head coach for the U of L. The Cardinals crushed South Alabama 92-38.
November 18, 2005, Muhammad Ali was joined by family, friends, colleagues, and admirers from 12 countries and 32 states to celebrate the grand opening of the $54 million Muhammad Ali Center.
November 18, 2006, the Santa Special rolled into Shelbiana for the 64th year.  Volunteers tossed armfuls of candy, moon pies, coloring books, dolls, and other toys from the train cars.  The annual expedition delivers more than 15 tons of Christmas gifts to children living along a 110-mile stretch in the rural mountains of Kentucky, WVA and TN.
November 18, 2012, Allan Hsiao, the son of Taiwanese immigrants who attended high school in Louisville, was named a Rhodes Scholar. He is one of 32 Americans who received the honor.
November 18, 2016, after decades of discussion and 3.5 years of construction, officials and citizens celebrated the substantial completion of the Louisville downtown crossing portion of the Ohio River Bridges Project, a $1.3 billion endeavor.
On November 18, 2020, Governor A. Beshear unveiled wide-ranging restrictions to curb the third surge of the flu strain called coronavirus, from shutting schools down to eliminating indoor restaurant seating. Meanwhile, the KHSAA votes to vote delay and shorten the prep basketball season.