Kentucky Trivia
November 16, 1798, Governor J. Garrard signed a bill making Kentucky the 1st state to nullify Congress's Alien and Sedition Acts. These acts outraged many in Kentucky and several counties adopted resolutions condemning them, including Fayette, Clark, Bourbon, Madison, and Woodford. A Madison County militia regiment issued an ominous resolution of its own, stating, "The Alien and Sedition Bills are an infringement of the Constitution and natural rights, and that we cannot approve or submit to them."
November 16, 1840, Bracken County native Thomas Reynolds became Missouri's 7th governor. Thomas was one of the few American politicians to die by suicide while in office.
Localtonians wish a Happy Birthday to Glasgow native Arthur Krock, born in 1886. Arthur won a Pulitzer Prize in 1935 for his New Deal coverage. Three years later, he received the 2nd Pulitzer for an interview with President Franklin D. Roosevelt, and then an interview with President Harry Truman produced his 3rd Pulitzer in 1950. A conservative political commentator, his column In the Nation ran in The New York Times for 33 years. Krock attended Princeton University and received honorary degrees from the University of Louisville in 1939, Centre College in 1940, and UK in 1956.
On November 16, 1902, Harlan County lynched Harlan Buckles, a black male, for alleged murder, the 108th recorded Kentucky lynching out of 135 between 1882 and 1921.
November 16, 1902, The Washington Post published the "Teddy Bear" cartoon by Woodford County native Clifford Berryman. Mississippi Governor A. H. Longino invited Theodore Roosevelt to a hunt, but after three days of hunting, the President was the only member of the hunting party who hadn't gotten a bear. This bear hunt led to the creation of the Teddy Bear. The complete hunting story is at the end of the video.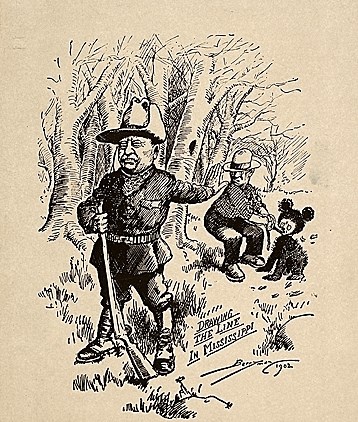 November 16, 1912, in their 10th meeting, Kentucky beat Tennessee in Knoxville, 13-6. The series record stood at 6-3-1, Kentucky's favor.
November 16, 1934, President Franklin Delano Roosevelt traveled to Harrodsburg to dedicate the George Rogers Clark Monument to honor the 1st permanent settlement west of the Allegheny Mountains. Senator Barkley introduced the president as the "Great Pioneer of his Era," with Governor Laffoon also in attendance. Roosevelt's message was that a pioneer spirit was needed no less in 1934 than when Clark and his brave band opened up the Great Northwest Territory to civilized homes. The granite monument depicts Clark in the middle. The left symbolizes frontier family life, and the right represents youth and age, showing Boone and Harrod. The inscription reads: "The First Permanent Settlement of the West." An estimated 50,000 people were in attendance. The visit took months to prepare, but the speech lasted eight minutes. Roosevelt's guard quickly escorted him back to his train to return to Washington.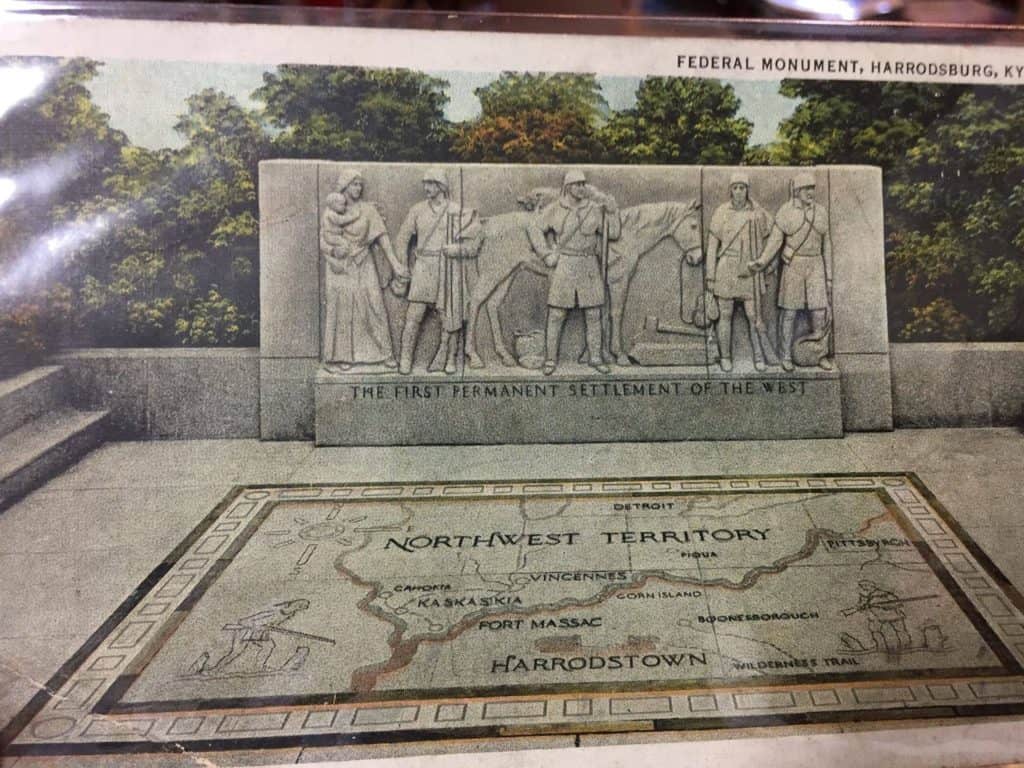 November 16, 1948, Levi Willison, left, Bellmount Farm and Earl Elliott, inspected burley tobacco on the floor at Clay Number 1 warehouse.
Localtonians wish a Happy Birthday to Ashland native Allison Anders, born in 1954. A Screenwriter, director, and producer, she is best known for her independent films, including 1992's Gas, Food Lodging. She received an Emmy nomination in 2013 for directing the TV movie Ring of Fire about the love affair between Johnny Cash and June Carter Cash.
November 16, 1967, Native Dancer passed away. Nicknamed the "Grey Ghost," he was one of the most celebrated and accomplished Thoroughbred racehorses in history and was the 1st horse made famous through the medium of television. As a two-year-old, he was undefeated in his nine starts for earnings of $230,495, a record for a two-year-old. During his three years of racing, he won 21 of 22 starts. "When he lost the Kentucky Derby by a head, thousands turned from their TV screens in sorrow, a few in tears," Time Magazine reported. He died following the surgical removal of a tumor on the wall of the small intestine and was buried at Sagamore Farm in Maryland.
November 16, 1968, Army W01 Eddie W. Brown from Jamestown and Army SP4 Russell A. Hodge from Crab Orchard died fighting in the Vietnam War.
November 16, 1974, Curci's Cats defeated #9 Florida in Lexington.
November 16, 1982, Kentucky's State Labor Commissioner announced that Prestonsburg would receive a clinic to examine Eastern Kentucky coal miners who claimed disability by black lung. They needed the clinic to speed up decisions on black lung cases and help cut medical costs.
November 16, 1982, Casey County announced they would get a new Dough Boy. The memorial statute is for the county's 91 individuals who died fighting in American wars. The city of Liberty erected the original law in 1935. On July 2, a truck snagged some low hanging wires, and the Dough Boy got caught up. He came tumbling down off the courthouse lawn.
November 16, 1985, Eddie Sutton's reputation as a coach of big guards was a major factor in Rex Chapman signing a national basketball letter of intent with UK.
November 16, 1990, after five months of searching, a special six-member panel hired Thomas Boysen as Kentucky's 1st Commissioner of Education.
November 16, 1994, Gatewood Galbraith asked the courts to overturn parts of the public campaign finance law that hampered his ability to raise money to run for governor. He would make it a campaign issue in the 1995 race.
November 16, 2000, an Owensboro Police Officer shot and killed an unarmed black man after a traffic stop when the 22-year-old tried to run at 3:30 pm. The Police Chief said the officer fired in self-defense, but two witnesses claimed otherwise. Angry and frustrated crowds gathered at the scene the following evening.
November 16, 2004, Marine SGT Christopher T. Heflin, 26, of Paducah died in Iraq, fighting in Operation Iraqi Freedom.
November 16, 2010, the KFC Yum! Center, Louisville's $238 million downtown arena, opened with an afternoon ribbon-cutting ceremony in nearly 90-degree weather by a crowd of several hundred. "Miracles do happen," Governor S. Beshear told the gathering before rattling off a list of scheduled events.
November 16, 2017, the Bevin administration reopened the private prison in Beattyville. Many called the controversial decision a short-term solution to Kentucky's prison population; however, the reopening helped elevate pressure on the Kentucky State Reformatory in Oldham County.
November 16, 2018, Churchill Downs and Keeneland won the right to jointly build and run a new harness track and gambling parlor in Christian County. It would be the 1st new racetrack in 25 years for Kentucky.
Saturday, November 16, 2019, "The Kentucky Book Fair" took place. The late Carl West founded the event when he was editor of the Frankfort State Journal. Kentucky Humanities now runs it. This year, it featured 200 regional and national authors.
On November 16, 2020, Governor A. Beshear reported three new deaths for 1,664 in Kentucky. Moderna announced the experimental vaccine would be available in "months." and be "94.5% effective." The governor said Kentuckians "were suffering from avoidable loss" and would soon announce further restrictions. Meanwhile, OSHA fined the Fayette County School Transportation Department $9,000 for too many individuals catching the coronavirus. Finally, the NCAA announced Indianapolis would host the entire men's basketball tournament from start to finish.
Positives: 1,514 / 139,097
Deaths: 3 / 1,664 – 1st Death 3/16/20
50&over: 1,623 / 49-30: 39 / 29&under: 2
November 16, 2021, nearly 50 social workers gathered on the steps of the Kentucky Capitol demanding an increase in pay and more support measures to help stem what has become a mass exodus of workers that has left an already beleaguered workforce at wits' end. "We're not asking for a lot. We're not asking to be overcompensated," Shawnte West, a social worker in Jefferson County, said to cheers. "We want to be able to take care of our families and not need food stamps, not need the same services we're providing to our clients."
Wednesday, Nov. 16, 2022, a piece of Morehead State arrived in outer space with the launch of the Space Launch System (SLS) rocket and Orion spacecraft.  NASA launched the SLS, the most powerful rocket ever built, at 1:47 a.m. EST from Kennedy Space Center.  The spacecraft traveled 40,000 miles beyond the Moon, further than any other craft, before returning to Earth on December 11, in a very successful mission.
November 16, 2022, the elephants won the 218th seat to take control of the U.S. House more than a week after election day. Soon, a new man would take the speaker seat as the political system played out like it was meant to be, "You get my vote if you give me what I want."