Kentucky Trivia
November 10, 1782, George Rogers Clark sent a Kentucky force to invade Native Americans north of the Ohio. They descended on the town of Miamis, where the Native Americans fled without a fight. Settlers burned their community and stole their supplies. This story gave confidence to white men back east who wanted to settle new land. A History of the Daniel Boone National Forest, 1770-1970 by Robert F. Collins; pg: 102
November 10, 1831, Henry Clay began his 3rd of four terms as a U.S. Senator. This term would last ten years, two months, and forty-one days. He started his term as a National Republican and ended being a Whig. In 1832 he would run for president for the 2nd of three tries.
November 10, 1885, locals sentenced Ed Pearce to seven years for a robbery in Greenup County. Alvin Bowling got twenty-one years for killing his father-in-law. Two tragic examples related to the Rowan County War.
Localtonians wish a Happy Birthday to Richmond native Jim Park, born in 1892. Jim played for the St. Louis Browns from 1915 to 1917 He also played football, basketball, and baseball at UK from 1911 to 1915, coached basketball there from 1915–16, and baseball in 1922. Park also served as the head football coach at Transylvania University from 1919 to 1921 and was a student–coach at Eastern Kentucky University in 1909.
Kentucky Trivia: After his playing and coaching days, Jim Park enjoyed a long and successful career as a lawyer and public servant. In 1944 he ran for the U.S. Senate against the incumbent Alben W. Barkley.
November 10, 1894, the Kentucky State College football team (UK) played Kentucky University (TU) in the Battle on Broadway. State wins 44-0.
November 10, 1906, Kentucky beat Tennessee 21-0 in Lexington. It was their 4th meeting and the 1st time the rivalry took place in Kentucky.
November 10, 1910, Jailer Wesley Turner, of the Breathitt County jail died by a man who held a grudge against him following a stint in the county jail. When Jailer Turner encountered the man, the subject took the weapon of a friend and opened fire on Jailer Turner, killing him. The suspect fled the area while being pursued by a large posse. The posse found him and killed him in Knott County.
November 10, 1934, Deputy Sheriff William Ray Brittain, Harlan County Sheriff's Office, died from a gunshot while he broke up a fight in a local restaurant.
On November 10, 1922, Ellis Park ran its 1st thoroughbred meet; a 10-day affair with purses of $62,000. The meet was a stop on the train route south to New Orleans for winter racing at Fair Grounds Race Course.
November 10, 1967, Army PFC James T. Coon from Daviess County died fighting in the Vietnam War.
November 10, 1973, Annville native David Akeman, better known as Stringbean, died with his wife as they entered their home after they returned from a Grand Ole Opry performance. Grandpa Jones discovered them the following morning after heading to their house for a pre-scheduled hunting trip.
November 10, 1980, fires continued to burn out of control in Floyd, Pike, Clay, Leslie, and Harlan Counties. More than 20,000 acres burned in four days.
November 10, 1982, the Florida Audubon Society and an expert on birds of prey visited the St. Anges School in Louisville.
November 10, 1983, Bernheim Forest in Bullitt County allowed deer hunters to kill over 200 deer in their 20,000 acres, where hunting is usually banned. The overpopulated forest made the deer malnourished for years after a rough drought.
November 10, 1984, the inaugural Breeders' Cup arrived at Hollywood Park in Los Angeles. Seven races featured the world's greatest horses, jockeys, and trainers on one stage for $10 million in purses, with an unprecedented live four-hour national broadcast. The $3 million Breeders' Cup Classic hype lived up to its billing. The favorite, Slew o'Gold, Preakness winner Gate Dancer and 31-1 longshot Wild Again drove and banged together down Hollywood Park stretch to the wire. Attendance: 64,254 Handle: $19,476,050.
November 10, 1985, New York financier Carl Icahn spent a world-record $7 million for Miss Oceana, in foal to Northern Dancer at Fasig-Tipton. Icahn beat the $6 million 1984 record set by the Maktoum Brothers for Priceless Flame. The financier set a 2nd record when he purchased a six-year-old mare named Larida for $4 million, the highest price for a mare not in foal. Mr. Icahn had recently took control of TWA and missed the horse sales.
November 10, 1990, about 200 Civil War re-enactors performed an enshrining ceremony for 25 restored Union and Confederate flags on display inside the old state capitol building in Frankfort. In grand splendor, troops paraded the Confederate flags into the building. The Kentucky Historical Society provided the flag collection. Would the same ceremony be held today?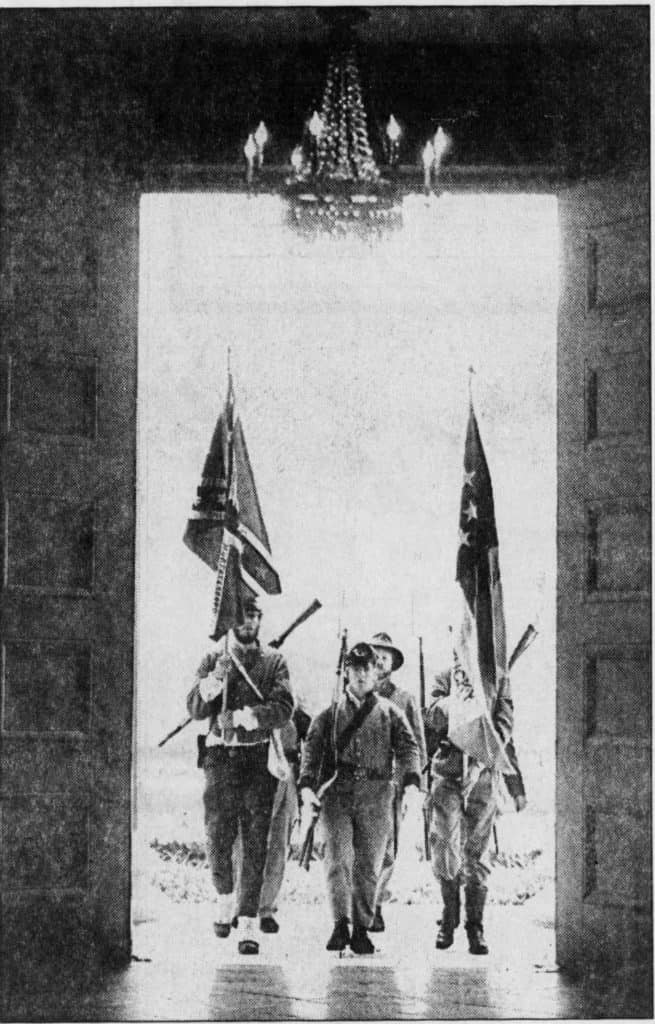 November 10, 1994, State Senator John Rogers of Somerset, convicted the previous month of selling his influence on banking legislation, resigned. He resigned from the office he held since 1976 to Governor B. Jones after being found guilty of extortion, mail fraud, and lying to the F.B.I. Rogers, 54, will still be eligible for his pension of 19 years.
November 10, 2000, Joyce Samuels of Louisville blew from her nose a bubblegum bubble with a diameter of 27.94 cm. (11 in.) on the set of Guinness World Records: Primetime.
November 10, 2000, retired General Colin Powell spoke to 6,000 people at EKU's Alumni Coliseum. He urged the state to do more so children didn't fall between the cracks and ended up in the "the bloody jails" the country had built in recent years.
November 10, 2004, a murderer on death row asked the Kentucky Supreme Court and the 6th U.S. Circuit Court of Appeals to halt his execution because of mental disability.  Governor E. Fletcher signed the warrant to let the execution go forward, claiming there was no proof Bowling was mentally incapacitated.  The execution did not occur; however, the last Kentucky execution occurred in 2008.
November 10, 2009, Kentucky indicted Steve Nunn, a 16-year veteran of the General Assembly, for killing his former girlfriend Amanda Ross and violating a domestic violence order. Under Kentucky law, they could have sought the death penalty.
November 10, 2012, at 12:08 p.m., on or near the county line between Letcher and Perry Counties, a 4.2 magnitude earthquake hit.  Although scientists classified the earthquake as light, it shook ground more than 600 miles away and with moderate-to-strong shaking within 25 miles of the epicenter in northern Leslie County.  Minor cracks appeared in a basement wall in the Letcher County Courthouse, 13 miles from the center.  In Jenkins, 23 miles from the epicenter, the rate of water flow leaking from the base of a dam increased tenfold after the event.  The earthquake occurred beneath the Cumberland Plateau of eastern Kentucky, which had not experienced an earthquake of similar size since 1990.
November 10, 2012, Parklands of Floyds Fork received $10 million for additions. Dan Jones, Chairman of the 21st Century Parks, the nonprofit agency overseeing the 27-mile park system along Floyds Fork, Mayor Greg Fischer, and Dan's father, David Jones Sr., founder of Humana, spoke at the ceremony.
On November 10, 2015, Kentucky Poet Laureate Frank X Walker spoke at the new Boyle County Public Library Bookmobile's unveiling ceremony. Mr. Walker utilized the old bookmobile when growing up in Danville, always running and trying to be the 1st one there when the bookmobile came to his neighborhood.
On November 10, 2020, the state reported 14 deaths related to the coronavirus; the youngest individual was 68. The state then requested, "Avoid in-person gatherings with people who do not live in your household." By this time, the government and the corporate media popularized the statement, "I am wearing my masks to protect you."
Positives: 2,120 / 124,646
Deaths: 14 / 1,590 – 1st Death 3/16/20
50&over: 1,549 / 49-30: 39 / 29&under: 2
November 10, 2020, elephant senators unanimously reelected Mitch, the sharpest corporate tool, as senate majority leader. He had held the title since 2007, when he began as minority leader. In 2015, he became majority leader. The previous week, Kentucky elected him to a 7th term.
On November 10, 2022, Kentucky made history when the governor unveiled its 1st permanent statue honoring a woman in the state capitol. Nettie Depp, a Barren County native, was a teacher, public speaker, and education reformer who advocated for broader access to education and higher pay for teachers. Depp was also the 1st woman elected to public office in Barren County when she became superintendent of the county school system in 1914.