Thank You For Visiting
May 21, 1860, Woodlawn Race Course Association, also known as "Saratoga of the West," held their first day of racing in Louisville, a track of significant importance during the 1860s.  Organized competitive horse racing in Kentucky was relatively young when they opened.  Woodlawn would close ten years later.
Kentucky Trivia:  A surviving remnant of the Woodlawn Race Course is their trophy, the Woodlawn Vase, the most valuable trophy in sports. Kentuckian Robert Atchison Alexander commissioned Tiffany and Company to craft the trophy, first presented at Woodlawn in 1861.  During the Civil War, they buried the trophy on the grounds for safekeeping.  It now serves as the model for half-size replicas given to the annual winner of the Preakness Stakes.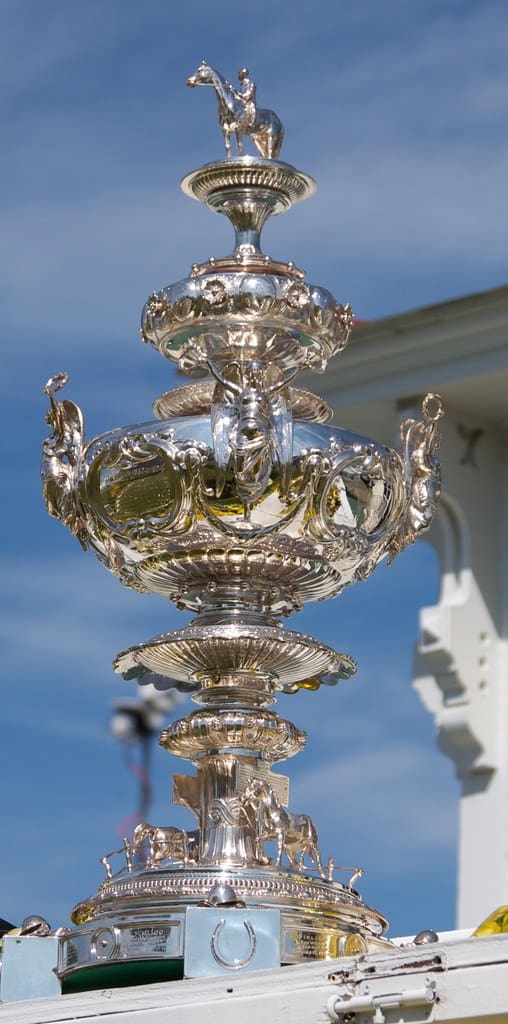 May 21, 1861, Bourbon County native Thomas Corwin became the U.S. Minister to Mexico. This was just one position in an illustrious career.
May 21, 1862, Newport native William H. Horsfall earned the Medal of Honor for saving the life of a wounded officer during the Siege of Corinth in Mississippi.
Localtonians wishes a Happy Birthday to Shelbyville native and 38th Governor Augustus Owsley Stanley, born in 1867. Governor Stanley led the U.S. Supreme Court to breakup the American Tobacco Company's monopoly in 1911.
Tuesday, May 21, 1878, six thousand people watch Day Star win the 4th Kentucky Derby against eight rivals going one mile and a half in 2:37 ¼, on a dusty track, to set a Derby record. The winning connections included owner Thomas J. Nichols from Bourbon County, trainer Lee Paul and jockey Jimmy Carter to win $2,970. John Clay, the son of statesman Henry Clay, bred Day Star.
May 21, 1897, Deputy Sheriff Joseph Patterson, Monroe County Sheriff's Office, was shot and killed after arresting a man wanted as a witness during the current term of the circuit court.
May 21, 1900, the U.S. Supreme Court announced their decision in favor of Governor Beckham, ending Kentucky's greatest controversy. Governor Beckham would later win a special election held the following November.
That Kentucky Campaign: Or, The Law, the Ballot and the People in the Goebel-Taylor Contest by R.E. Hughes, F.W. Schaefer and E.L. Williams
May 21, 1906, Special Deputy Sheriff Ward Pentz, Jessamine County Sheriff's Department, was accidentally shot and killed when his revolver fell from the buggy he was riding in and discharged, striking him in the stomach.
May 21, 1914, the 39th running of the Preakness Stakes was won by the gelding Holiday. Six entered the 1 1/8 mile contest for a purse of $1,500. The Derby ran 11 days earlier.
Localtonians wishes a Happy Birthday to Paducah native Clarence Edward "Big House" Gaines Sr., born in 1923.
May 21, 1927, Deputy Sheriff Moss J. Metcalf, Harlan County Sheriff's Office, was shot and killed while attempting to break up a disturbance in front of a store near the Wilson-Berger Mine.
May 21, 1966, Muhammad Ali (24-0) fought Henry Cooper (33-11-1) in the Arsenal Football Stadium, London. After the controversial first fight, the second was for the world title, but it was fairly anticlimactic. Cooper, who suffered from even minor cuts, succumbed again to his weakness, and a nasty cut over his left eye stopped the fight after six rounds.
May 21, 1967, Army SP5 William P. Centers Jr. from Lexington died in the Vietnam War.
May 21, 1969, Army PFC Harry D. Ashcroft from Richmond and Army SGT Clarence Sizemore from Manchester in Clay County died in the Vietnam War.
May 21, 1971, Army SP5 Billy J. Jones from Tateville in Pulaski County died in the Vietnam War.
May 21, 1983, Suffolk Downs aired its first simulcast race after the Massachusetts General Court passed a last-minute bill that allowed the track to air and accept bets on races from other tracks.
May 21, 1983, Deputed Testamony wins the 108th Preakness Stakes going the 1 3/16 mile in 1:55 2/5 on a sloppy track to win $251,200.
May 21, 1992, H. Ross Perot, an undeclared, independent candidate for U.S. President, stumped in Frankfort days before Kentucky's primary.
May 21, 2000, twenty-two years after winning the Triple Crown and as a retired jockey, Steve Cauthen rides in a High Hope Steeplechase race at the Kentucky Horse Park so his daughter can see him ride for the first time.
May 21, 2004, twenty-three state transportation employees were fired, forced to resign or retired for using state computers to look at pornography.
May 21, 2006, Barbaro underwent surgery on his rind right leg in Pennsylvania one day after the Preakness.  Dr. Richardson, the chief surgeon, gave the operation a 50-50 chance of success.  Barbaro died eight months and eight days later.
May 21, 2013, Rhonda Monroe, Richie Farmer's sister, resigned as an assistant executive director of the Kentucky Registry of Election Finance.  Ms. Monroe was placed on paid leave on March 19, a day after she and her brother were charged for ethics violations.
May 21, 2016, Frankfort lobbyist, in the first four months of 2016, already made more money than Governor Bevin's annual salary of $140,000.  The lobbyists from 700 corporations registered in Kentucky must submit precisely how much they pay their employees.  Bob Babbage, in four months, earned $324,754 working for 30 clients.  Sean Cutter made $281,792 working for 52 clients.  The list is long.
May 21, 2016, Exaggerator wins the 141st Preakness Stakes ending Nyquist's Triple Crown bid.  The Desormeaux brothers ride and train the colt to go in 1:58.31 on a sloppy track.  The pari-mutuel take of $94,127,434 for the entire day's races broke the previous record of $91,028,000 in 2005.
May 21, 2020, Governor A. Beshear says Kentucky is moving in the right direction, coming to a plateau on the coronavirus, as he moves to open more businesses.  In the last three days, the virus claimed 40 Kentuckians, ten deaths on the 21st, for a total of 386.