Kentucky Trivia
On October 13, 1779, the Virginia legislature began to execute a plan and formed a committee, Virginia Land Commission, to resolve proper ownership of the lands in the new territory. The commission traveled from fort to fort and awarded land to settlers who could prove their valid claims. These actions helped increase the stability of the area and migration began to rise from the East. A healthy '79 corn crop also helped.
A History of the Daniel Boone National Forest, 1770-1970 by Robert F. Collins
October 13, 1800, Andrew Holmes and his wife Tabitha deeded John Brown their Frankfort ferry which had originally belonged to James Wilkinson.
The Kentucky River by William E. Ellis pg: 81
Localtonians wish a Happy Birthday to Mary Barr Clay of Lexington, born in 1839.  The elder daughter of Cassius Marcellus Clay and Mary Jane Warfield became the 1st Kentucky woman to advocate for women's suffrage.  Mary divorced in 1872 and dropped her husband's name and took back her surname of Clay; she also changed the last names of her two youngest children.
Localtonians wish a Happy Birthday to Maysville native Governor Augustus Everett Willson, the 36th governor born in 1846. A Republican in a primarily Democratic state, Willson suffered several defeats for public office but was elected governor of Kentucky on his 2nd attempt. However, due to his handling of the Black Patch Tobacco Wars and his pardoning of several individuals involved in the assassination of Democratic Governor W. Goebel, Willson drew the ire of the Democrat-controlled General Assembly. As a result, he faced a hostile legislature.
October 13, 1901, the Carnegie Corporation of New York awarded Paducah $35,000 to construct a new library. The library stood until December 1964 when Christmas lights caught fire and burned down the building.
Localtonians wish a Happy Birthday to Evan Settle of Crab Orchard, born in 1912. Evan played for Adolf Rupp for three seasons and scored 27 points. He also played golf and baseball for the Wildcats.
Localtonians wish a Happy Birthday to George Samuel Hurst, born in Ponza, Bell County, in 1927. Dr. Hurst was a world-acclaimed scientist, inventor, and entrepreneur. He enrolled in Berea College at the age of 15 and graduated with a physics degree in 1947. The following year he earned an MS degree in physics from the UK and then began a distinguished career spanning 40 years at Oak Ridge National Laboratory.
October 13, 1950, Army CPL James D. Webb from Letcher County and Army PVT Henry E. Beasley from Rowan County, died in the Korean War.
October 13, 1951, Army SGT Ernest L. Coakley from Taylor County, Army SGT Corbett Nickell from Menifee County and Army PVT William J. Roberts from Lincoln County, all died fighting in the Korean War.
October 13, 1952, Army PFC Mearl L. Harp from Barren County died fighting in the Korean War.
October 13, 1962, President John F. Kennedy, campaigning for his next presidential race, spoke at the State Fairgrounds in Louisville thirteen months before his assassination. The president discussed the importance for the nation to progress in areas such as labor, education, natural resources, and area redevelopment. He encouraged his audience to elect Wilson Wyatt as governor and re-elect Frank Burke as a congressman. Wyatt lost to Governor Breathitt (D), and Burke lost to Gene Snyder (R).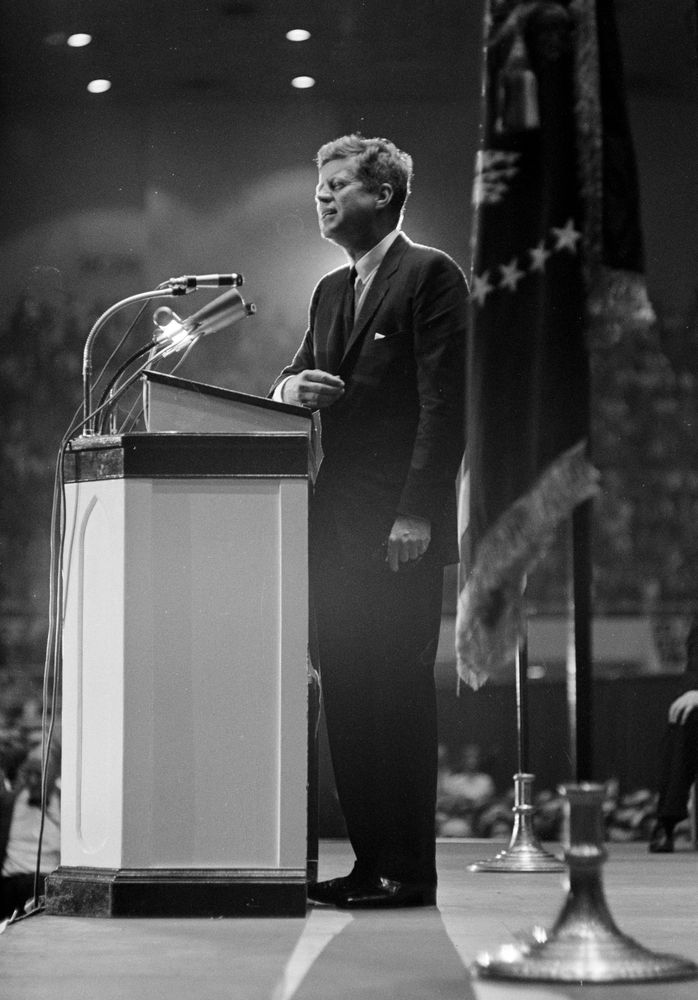 October 13, 1965, Marine Corps PFC William J. Gallagher from Covington died fighting in the Vietnam War.
October 13, 1966, Army SP5 Darius E. Brown from Beattyville died fighting in the Vietnam War.
October 13, 1967, Army PFC Leonard W. Campbell from Montgomery County died fighting in the Vietnam War.
October 13, 1968, Army SP4 David L. Lockard from Louisville died fighting in the Vietnam War.
October 13, 1976, Reds 3rd baseman Pete Rose watched the races at Keeneland. Rose, relaxing before the World Series, attended the races with a high school pal, Joe Kaiser (with binoculars), and shared a box with sportscaster Tom Hammond, rear, and UK basketball player Rick Robey. The Reds had won the National League Playoff Series against Philadelphia the day before. The defending champion Reds would face the New York Yankees in the World Series, sweeping the series to become the only team to sweep an entire multi-tier postseason.
October 13, 1980, from what seemed like a scene out of a Hollywood movie, prisoners traveling from LaGrange to Eddyville shot two guards and overtook their bus. One of the 13 prisoners ran into the woods, and another started driving the bus while shooting at the guard trailing them until he flipped the bus over in a fiery crash.
October 13, 1990, less than a month after Kentucky's General Assembly Tobacco Task Force asked jailers in three counties why they banned smoking in their jails, the Kentucky Jailers Association passed a resolution stating it didn't support such bans. That task force looked out for Kentucky tobacco farmers' interests, a strategy they pursued aggressively.
October 13, 2007, the Louisville Cardinals upset 15th ranked Cincinnati 28-24, on the road, in Steve Kragthorpe's 1st year as head coach. This would be their best win of a 6-6 season.
October 13, 2007, the Wildcats upset LSU in triple OT. Andre Woodson hit Steve Johnson with a seven-yard touchdown pass in the third OT to put Kentucky ahead.
October 13, 2009, Jefferson Circuit Judge Fred Cowan vacated the manslaughter and robbery charges against Edwin Chandler after prosecutors and police announced they convicted the wrong man. Mr. Chandler spent 16 years in prison for a crime he did not commit. He eventually received $4 million from the city.
October 13, 2009, Billy Gillispie and UK reached an out-of-court settlement that paid Gillispie $2,984,536.07. UK also paid $265,463.93 to four law firms for attorneys and mediation fees. The ex-head basketball coach could not file or initiate any other lawsuit against UK or make disparaging remarks concerning the university.
October 13, 2014, as the Ebola virus ravaged West Africa and began to appear in the U.S., it was announced an Owensboro based company Bioprocessing, would produce an experimental drug ZMapp full-time, to help guard against the virus. Zmapp makes the compound from tobacco plants which act as photocopiers to mass-produce proteins.
October 13, 2018, seven went to post in the Queen Elizabeth II Challenge Cup GI at Keeneland Racecourse. Four of the entries came from across the pond. Meanwhile, down south I-75, President Trump spoke in Richmond to help another lawyer, Congressman Barr, get re-elected.
On October 13, 2020, while the governor announced 776 new positive cases, Johnson & Johnson announced they paused the large late-stage clinical trial of their experimental vaccine because of an "unexplained illness" in a volunteer. Four months later, their vaccine became available. Officials administered the 1st vaccine in December 2020.
Positives: 776 / 81,691
Deaths: 14 / 1,269 – 1st Death 3/16/20
50&over: 1,234 / 49-30: 33 / 29&under: 2
On October 13, 2021, master distiller Chris Morris celebrated Woodford Reserve's 25th anniversary amid a $110 million expansion. The brand already sells more than 1 million cases a year. "Five years from now, we want to be at two and half million."