Thank You For Visiting
June 24, 1778, George Rogers Clark and 175 men "shot the falls" of the Ohio River in canoes during a total eclipse of the sun.
Gateway : Dr. Thomas Walker and the Opening of Kentucky by David M. Burns; pg: 44
June 24, 1882, Marshal James B. Day, Frenchburg Police Department, was shot and killed while by a group of men who were upset with Marshal Day over an arrest of several friends the previous evening.
June 24, 1890, Henry Watson, a black male was lynched in Breckinridge County for an alleged rape.
June 24, 1893, Cushing's Boundless wins the 10th running of the American Derby at Washington Park in Chicago.  Regarded as one of the greatest racing events in the history of the West, a record crowd of 65,000 witnessed a record $50,000 purse.  $500,000 to $1,000,000 of gold and cash went into the bookmakers' pockets.  The track was a popular horse racing venue in the Chicago metropolitan area from 1884 until 1977.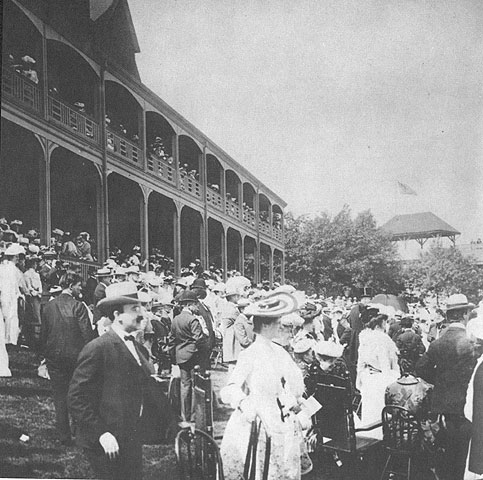 June 24, 1898, John Howard was shot and killed at his home on Sexton Creek.  He had been sitting in his house when a shot came through the window, hitting him in the arm.  Grabbing his pistol, he ran outside, saw a man running toward the woods, and dropped him with a single shot, only to be hit again and killed.  There were no arrests.  This murder was one of many that rose from the feud between the Baker and Howard/White families in Clay County's Hundred Year War.
Localtonians wishes a Happy Birthday to Lee City native Edgar Tolson, born in 1904 in Wolfe County.  Tolson first came to national attention through the "Grassroots Craftsmen," an initiative of Lyndon Johnson's War on Poverty that helped Appalachian craftspeople sell their works.
June 24, 1951, Army PFC Jessie J. Bretz from Nicholas County died in the Korean War.
June 24, 1952, Marine Corps PFC Charles C. Goff from Louisville, Marine Corps FC Billy J. McDaniel from Philpot in Daviess County and Army PFC Edward N. Stinnett from Jessamine County, died in the Korean War.
June 24, 1953, Army SGT Forest Embry from Grayson County and Army CPL William M. Schardein from Jefferson County, died in the Korean War.
June 24, 1965, Marine Corps PFC Frank L. Adamson from Dayton in Campbell County died in the Vietnam War.
June 24, 1966, Marine Corps PVT Ronnie C. Jones from Louisville died in the Vietnam War.
June 24, 1967, Army PFC Jeffrey D. McGuire from Louisville died in the Vietnam War.
June 24, 1968, Army SSG Carl B. Helm from Louisville died in the Vietnam War.
June 24, 1969, Army SSG James T. Moore from Bloomfield in Nelson County died in the Vietnam War.
June 24, 1977, Franfreluche, 1970 Canadian Horse of the Year, was stolen from Claiborne Farm, drawing national attention and setting off an international search.  She was carrying a Secretariat foal, and the two were valued at $500,000 by the F.B.I.  She was eventually found on a Tompkinsville Farm 196 miles away, being ridden by children.
On June 24, 1979, the dedication of Six Mile Island Nature Preserve occurred, an 81-acre island in the Ohio River.  The island is known for a variety of water birds.  The goal is to return the island to its natural state, a unique opportunity to study the riverine island systems' ecology.  During the Kentucky Derby Festival, the Great Steamboat Race turns around at Six Mile Island as the halfway marker.
Localtonians wishes a Happy Birthday to Whitesburg native Jessamyn Laurel Duke, born in 1986.
June 24, 1994, two coal trucks stop and have lunch at Burger Queen in Bell County.
June 24, 2000, Whitney Boyles, center, was named Miss Kentucky 2000.  She was crowned by Miss America Heather Renee French, left, and reigning Miss Kentucky Shanna Moore at Transylvania University's Haggin Auditorium.
June 24, 2001, the first year Kentucky celebrated Kentucky National Guard Day in the Commonwealth.
June 24, 2010, Kentucky made history again when the Wildcats had five players drafted in the first round of the NBA draft.  John Wall became the first Wildcat to be the Number 1 pick when selected by the Washington Wizards.  DeMarcus Cousins was selected fifth by the Sacramento Kings, Patrick Patterson went 14th to the Houston Rockets, Eric Bledsoe went 18th to the Oklahoma City Thunder, and the Orlando Magic picked Daniel Orton 29th.
Effective June 24, 2015, the Hurricane Creek coal mine site in Leslie County, at which thirty-eight (38) miners lost their lives on December 30, 1970, was designated as a state historic site.
June 24, 2020, during a morning video conference with Jonathon Webb, founder of AppHarvest, the Dutch government, Governor A. Beshear, and several universities, AppHarvest stated they wanted to create an agriculture technology epicenter in Appalachia, in Kentucky.