Thank You For Visiting
June 21, 1781, Daniel Boone, represented the new Fayette County in Virginia's General Assemble and presented a petition to the Virginia's House of Representatives for Lexington to become an established town. It would take another year but Lexington finally became official.
Historic Lexington: Heart of the Bluegrass by Foster Ockerman, Jr.; pg: 8
Localtonians wishes a Happy Anniversary to President Zachary Taylor (25) who wed Margaret Smith near Louisville, in 1810.
June 21, 1893, Aristides passed away after winning the first Kentucky Derby 18 years earlier. A chestnut thoroughbred with a white star and two hind stockings, Aristides was bred by Hal Price McGrath and foaled in 1872. Aristides raced 21 times with nine wins, five places, and one show. In 1988, the Aristides Stakes was inaugurated at Churchill Downs to honor him. A life-sized bronze statue of Aristides by Carl Regutti stands at Churchill Downs Clubhouse Gardens as a memorial.
Localtonians wishes a Happy Birthday to Ashland native Ann Rice O'Hanlon, born in 1908. She may be best known for the painting the mural UK took down because it had slaves on it.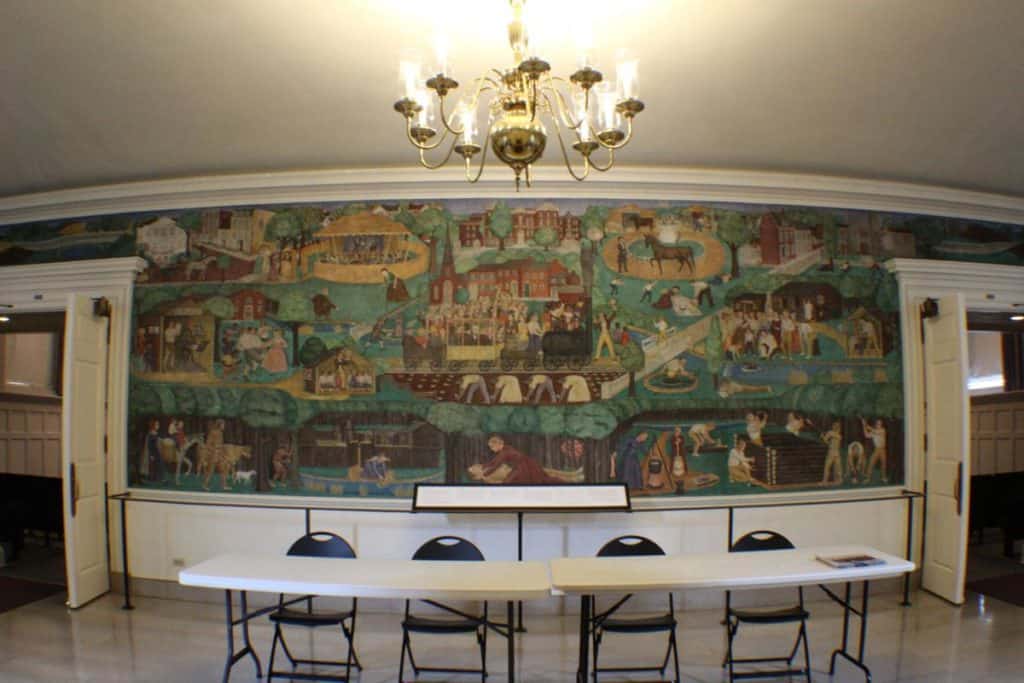 June 21, 1912, a special refrigeration car built for the Lexington & Interurban Railway to ship products from the Elmendorf Dairy went into service. During 1905, James Ben Ali Haggin of Elmendorf Farm began expanding his dairy cattle herd to replace his thoroughbreds. Eventually, Haggin, in collaboration with the UK, developed one of the leading "model" dairies in the nation. This collaboration led to the development of the modern dairy industry.
June 21, 1919, Man o' War, won the 7th running of the Youthful Stakes at Jamaica Park going 5.5 furlongs in 1:06.60. The purse was $5,000 and the winner took home $3,850.
June 21, 1930, Constable W. P. Damron, Pike County Constable's Office, was shot and killed while assisting two Kentucky game wardens investigate illegal fishing near Nigh.
June 21, 1940, Newport native and inventor of the Thompson submachine gun, John T. Thompson died.
June 21, 1949, the University of Kentucky accepted enrollment of African-American students. Among the first to register were Augustus Mack, center, vocational agriculture teacher at Douglass High School and to his left, Mrs. Arnetta Neal, Douglass elementary school principal. Both entered the UK graduate school for Masters Degrees in education.
June 21, 1952, Army PFC William M. Bennett from Hardin County died in the Korean War.
June 21, 1956, Robert Humphreys was appointed to the Class Two Senate seat for Kentucky. The seat sat empty for 52 days, with Alben W. Barkley's death.
June 21, 1957, Constable Arlin Elvis Curneal, Hopkins County Constable's Office, was killed in an automobile accident while pursuing a speeding vehicle.
June 21, 1964, Southgate's Jim Bunning pitched the seventh perfect game in MLB history for the Philadelphia Phillies, defeating the New York Mets 6-0 in the first game of a doubleheader at Shea Stadium. A father of seven children at the time, Bunning pitched his perfect game on Father's Day. It was the first regular-season perfect game since 1922 (a perfect game occurred in the 1956 World Series). He faced 27 batters, no one reached base, struck out ten, and threw only 89 pitches or fewer than ten an inning. As the perfect game developed, Bunning defied the baseball superstition that no one should talk about a no-hitter in progress, speaking to his teammates about the perfect game to keep himself relaxed and loosen up his teammates. Bunning had abided by the tradition during a near-no hitter a few weeks before, determining afterward that keeping quiet didn't help. South Portsmouth native John Stephenson was Bunning's last strikeout of the game. He was the only person to throw a perfect game and serve in the U.S. Senate.
June 21, 1968, Army SGT William L. Law from Greenup and Marine Corps James L. Luttrell from Owensboro, died in the Vietnam War.
June 21, 1967, Army SSG Billy J. Watkins from Paducah died in the Vietnam War.
June 21, 1974, groundbreaking ceremonies for Lexington Center/Rupp Arena were held.
June 21, 1975, Ruffian Wins the Coaching Club American Oaks (GI).
Localtonians wishes a Happy Birthday to Lawrenceburg native Tyler Childers.
June 21, 1987, Dayton native Todd Benzinger made his MLB debut for the Boston Red Sox.
June 21, 1994, Columbia native Lance Burton opened his $27 million production in the 274-seat Lance Burton Theater in Monte Carlo Resort in Las Vegas.  Entertainment Today magazine listed it as the #1 family magic act, and during its 13-year run Burton earned an estimated $110 million.
June 21, 1999, Conservation Officer Bernard Dean Ratliff, Kentucky Department of Fish and Wildlife Resources, suffered a fatal heart attack after participating in his agency's physical fitness program.
June 21, 2001, the Appalachian dulcimer is named and designated as the official musical instrument of Kentucky.
Kentucky Trivia: The dulcimer first appeared in the early 19th century among Scotch-Irish immigrant communities in the Appalachian Mountains of the United States. Historians speculate that early settlers were unable to craft the more complex, dramatically curved violin. This was due to a lack of tools and time. The dulcimer has acquired a number of nicknames including "harmonium," "hog fiddle," "music box," "harmony box," and "mountain zither."
June 21, 2004, Marine Lance CPL Deshon E. Otey 24, of Hardin, died in Iraq from hostile fire fighting in Operation Iraqi Freedom.
June 21, 2020, watch a Kentucky bred take Santa Anita's GIII American Stakes for three-year-olds and upward.