Kentucky Trivia ● Kentucky Tweets
July 10, 1774, James Harrod and his entire company left Oldtown for safer grounds, the Native American attacks were taking a toll on everyday living.
History of Kentucky by Lewis Collins, Richard H. Collins
July 10, 1818, the Kentucky Gazette announced that Matthew Harris Jouett would exhibit two of Joseph H. Bush's painting in Jouett's art gallery. This was done to help raise funds so Bush may continue to study art.
Jouett-Bush-Frazer Early Kentucky Artist by William Barrow Floyd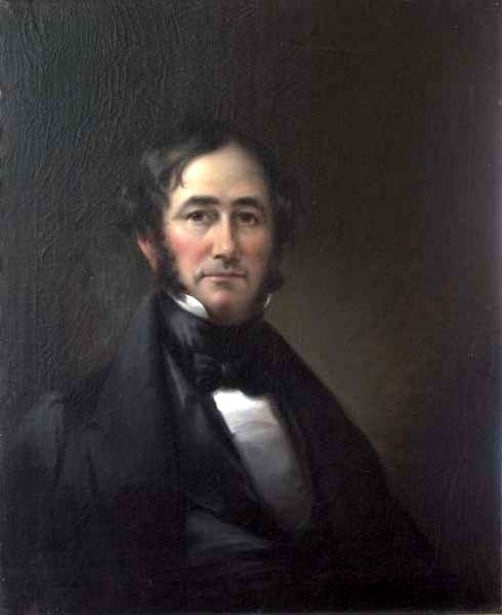 Localtonians wish a Happy Anniversary to Governor Charles Morehead who wed Amanda Leavy, in 1823. She died six years later at the age of twenty-five. Following her death, Morehead married Margaret Leavy, his first wife's sister in 1831.
July 10, 1852, 12 days after he died Henry Clay's body returned to Ashland from Washington D.C.
July 10, 1858, City Marshal Joseph Beard of the Lexington Police Department died from stab wounds after arresting a street brawler. The suspect threw Beard to the ground and then stabbed him in the chest, puncturing his lung and heart and dying at the scene. Bystanders were able to subdue the man and took him to the Fayette County Jail. A short time later an angry mob stormed the jail, removed the prisoner, and attempted to hang him from the second floor of the nearby courthouse. The rope broke when they pushed him from the window and his head was crushed on the pavement below. Another rope was located and his body was then hung from the window for several hours.
On July 10, 1891, Monk Overton, a black jockey, had a perfect day at Washington Park, going six for six on the card.
July 10, 1920, Man o' War faced a mature John P. Grier in the Dwyer Stakes for basically a match race. The favorite carried 126 lbs. and J.P.G 108 lbs. They completed the mile together in a time of 1:35.03, breaking Man o' War's American record set in the Withers. "J.P.G." made another surge, and for a moment, the spectators believed that he would win the race. Kummer then hit Man o' War with the whip, and they made a final surge and opened up a lead of two lengths in the final fifty yards. The final time was 1:49.01, a new world record for 1 1/8 miles.
On July 10, 1921, 20-year-old William H. Bailey from Louisville leaped 310 feet into the Ohio River from an airplane and lived to tell the story.  From the hospital, he explained how the wind made him land on his back.  Throughout the majority of the fall, he had a perfect swan dive.  To the crowd that lined the shores, he showed how far he would go to make money.  He had no job and needed to pay bills.
On July 10, 1925, the release of Mrs. Worrington's Perfume, a 1925 German silent mystery film, took place in Germany. Louisville native Mary Nolan starred in the major production.
July 10, 1940, Deputy Sheriff William Thomas "Tom" Pendergrass, Owsley County Sheriff's Office, died from a gunshot while attempting to arrest a man for causing a disturbance near New Hope. The suspect immediately opened fire on Deputy Pendergrass as he stepped from his car. Despite being mortally wounded, Deputy Pendergrass returned fire, fatally striking the suspect.
July 10, 1940, President Roosevelt asked Congress to authorize an additional $4,848,171,957 for defense in a special message asserting that "we will not use our arms in a war of aggression; we will not send our men to take part in European Wars." America entered WWII the following year.
July 10, 1947, the 3rd annual Frankfort Lions Club's Horse Show began at the State Stadium.  The Lexington Junior League Horse Show prep had 100 horses entered for prizes totaling $3,640.
July 10, 1950, five Kentuckians died in the Korean War:
Army CPL Raymond E. Barnett from Clark County
Army CPL Bernard N. Davis from Whitley County
Army PVT Bradley J. Griffey from Pike County
Army SGT Henry G. Kiser from Bourbon County
Air Force SSGT Bird Hensley Jr. from Insull in Harlan County
July 10, 1951, Army PVT Stanley Fields from Fayette County died in the Korean War.
July 10, 1953, Army PVT Arvil Hicks from Pike County and Army MSG William H. Richards from Allen in Floyd County, died in the Korean War.
July 10, 1957, Patrolman Edward P. Nowakowski, Louisville Police Department, died in a motorcycle accident while he and his partner pursued a traffic violator.
On July 10, 1971, Don Harris sat on top of Giddy-up Go, winner of the $2,000 Grand Championship for Five-gaited horses in the Junior League Horse Show closing session at the Red Mile. Col. Harland Sanders presented the ribbons.
July 10, 1974, Ruffian's 3rd race was at Aqueduct again at 5.5F in the Astoria Stakes (GIII). Jacinto Vasquez was serving a suspension for reckless riding, and Vince Bracciale had the mount. For the first time, a pony accompanied Ruffian to the post, and to the amazement of Bracciale, Vasquez was riding Sled Dog, the pony. Trainer Frank Whiteley had told Jacinto that he would lose the mount on Ruffian if he didn't ride the stable pony, and the crowd enjoyed the novelty of seeing one of the country's leading riders playing the role of ponyboy. However, the race itself held few surprises. Ruffian easily won by nine lengths, under wraps, in 1:02 4/5. Braulio Baeza later commented, "I could have cut through the center field, and she still would have beaten me." His mount, Laughing Bridge, beat the rest of the field by twelve lengths but could not hold a candle to Ruffian.
July 10, 1985, Coca-Cola Company stopped making the new coke, the following day, they announced the original formula would return.
July 10, 1994, Wolfe County again debated the wet/dry issue. After the three years of being wet, DUI and public intoxication rates dropped in Wolfe County. The temperance movement suggested the State Police were not as strict. The State Police rebutted.
Kentucky Trivia: Today there are 10 dry counties; Menifee, Elliott, and Morgan, clustered together in northeast Kentucky; Leslie and Knott in Eastern Kentucky; Casey; Clinton, Monroe, and Allen, all on the Tennessee line; and McLean in the western part of the state.
On July 10, 2000, Kentucky's ACLU filed a suit to block the state from erecting a 10 Commandments monument outside the Capitol next to the floral clock.  The legislation called for construction to start on July 16, 2000.
July 10, 2003, the MIC told Congress they needed $3.9 billion a month to fight in Iraq. The Democratic party pretended to be angry, but it was all for show. Both parties had not seen a war they didn't want to fund since Vietnam. It pays to be a defense contractor.
July 10, 2011, locals learned of Berea College's Ecovillage, five acres of student family housing combined with environmental research and early childhood education. Ecovillage is preparing for the day when population outstrips the global supply of resources and creates a warmer climate.
July 10, 2020, the Kentucky Board of Education (KBE) announced Jason Glass as Kentucky's next commissioner of education.