Kentucky Trivia ● Kentucky Tweets
June 23, 1792, the young Commonwealth created Shelby County from Jefferson County. Shelby was named in honor of Isaac Shelby, 1st and 5th governor. Shelbyville is the county seat. Other localities include: Bagdad, Chestnut Grove, Christianburg, Clark, Clay Village, Cropper, Finchville, Harrisonville, Hemp Ridge, Hooper, Mt. Eden, Mulberry, Olive Branch, Peytona, Pleasureville, Scotts Station, Simpsonville, Southville, Todds Point and Waddy. Shelby County today covers 386 square miles. Shelby County was the 12th county created.
June 23, 1857, John Clarke Young passed away in Danville.  In 1830 he was named President of Centre College.  During his twenty-seven-year presidency, enrollment increased from thirty-three to 225, the endowment grew to over $100,000, and the college's reputation for excellence spread.  A slave owner, Young preached gradual emancipation rather than abolition – he twice freed families of his slaves – and authored a report to the Kentucky Synod on the subject.  Mr. Young died while President of Centre and rest in Danville.
June 23, 1857, the U.S. government granted William Kelly a patent for an alternative way to make steel.  In 1846 him and his brother purchased an iron manufacturing company in Lyon County on the Cumberland River and renamed it Kelly & Company.
It Happened Today in Kentucky History by Robert A. Powell pg: 67
June 23, 1866, H. Howard Gratz revived the Kentucky Gazette after the Civil War had ended. The paper ran again until 1910.
Localtonians wish a Happy Birthday to Paducah native Irvin Shrewsbury Cobb, born in 1876. At one point he was the highest paid staff reporter in the United States.
Localtonians wish a Happy Anniversary to Alben W. Barkey and Dorothy Brower, who wed in 1903. Unfortunately, Dorothy died in 1947, and Barkley remarried while he was V.P.
Localtonians wish a Happy Birthday to Louisville native Helen Humes, born in 1913. Humes helped to shape and define the sound of vocal swing music.
Localtonians wish a Happy Anniversary to Keen Johnson and Eunice Nichols who wed in 1917. Keen became our 45th governor and the only journalist to hold the office.
June 23, 1919, Man o' War, traveled to Aqueduct and won the 29th running of the 5F Hudson Handicap for two-year-olds in 1:01.60. He carried 130 lbs. which is unheard of these days in the juvenile ranks. Conceding 21 lbs., he stretched out easily and won unchallenged by 1 1/2 lengths. The winner earned $2,825 in the $3,500 purse.
On June 23, 1920, James I Hamilton, 62, one of the largest land owners in Garrard County, died instantly at 11:00 am in a pistol duel with Ciell Pointer, 35, a tenant on his farm. Ciell received one flesh wound walked to a neighbor, and called the sheriff. The sheriff escorted him to jail for fear of mob retribution and arrested him for murder.
June 23, 1935, Deputy Sheriff Victor Green, Johnson County Sheriff's Office, died from a gunshot by a suspect who was upset over a case he was working on.
June 23, 1945, Pavot, by Man o' War, with Eddie Arcaro aboard, won the 77th Belmont Stakes. Net value to winner $52,675. This was Eddie's 3rd of six Belmont wins. All the Triple Crown races were moved further out due to the war.
June 23, 1945, Lexington native James G. Scrugham died. They liked him in Nevada, electing him as U.S. Senator and their 14th governor.
June 23, 1951, Army SGT Louis O. Chinn from Fayette County died in the Korean War.
June 23, 1965, the Daniel Carter "Uncle Dan" Beard Boyhood Home became a National Historic Landmark. Daniel Carter Beard, a founder of the Boy Scouts of America, was their National Scout Commissioner from its 1910 founding to his death in 1941.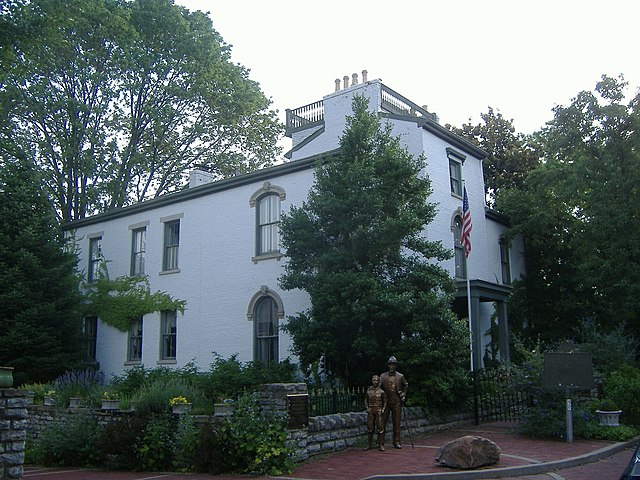 June 23, 1966, Army PFC John E. Hampton from Whitesburg died in the Vietnam War.
June 23, 1968, Army CPL Gary Wilkinson from Murray in Calloway County died in the Vietnam War.
June 23, 1971, the Environmental Protection Agency (EPA) put Ashland Oil, Inc. on 180-day notice to stop polluting the Big Sandy River.  The EPA had only served 12 of these notices in its history and the first in Kentucky.
On June 23, 1979, the nationwide strike by independent truckers continued to grow, causing severe disruptions to food and fuel deliveries amid signs that President Carter was preparing to give in to their demands for more fuel. Dozens of truckers defying the work stoppage were shot at or stoned while driving on highways in at least 20 states. Truckers continued to protest over fuel prices, supplies, and federal and state regulations that unfairly inhibit their business.
June 23, 1986, Historic Locust Grove in Louisville became a U.S. National Historic Landmark.
June 23, 1994, Anthony Lynch from Salyersville caught a state record Longear Sunfish weighing 13.28 ozs. in a strip mine pond in Magoffin County.
June 23, 2005, Army SGT Joseph M. Tackett 22, of Whitehouse in Johnson County, died of a non-combat-related injury in Baghdad during Operation Iraqi Freedom.
June 23, 2005, Army SGT 1st Class Christopher W. Phelps, 39, of Louisville, died in Bagdad fighting in Operation Enduring Freedom.
June 23, 2009, the Grand Ole Opry inducted the Kentucky duo, Montgomery Gentry, with Marty Stuart and Little Jimmy Dickens as presenters.
June 23, 2010, Army SPC Russell E. Madden 29, of Dayton, died in Afghanistan, fighting in Operation Enduring Freedom.
June 23, 2015, Trooper Eric Keith Chrisman, Kentucky State Police, died in a vehicle crash on the US Route 62 near the Tennessee River Bridge in Livingston County at 5:48 pm.
June 23, 2017, Kentucky politicians acted with disdain when California announced a travel restriction to Kentucky because of what they felt were discriminatory laws toward gay and transgender people.
On June 23, 2020, Fayette County voters stood in line for 90 minutes to vote at UK's Football Stadium due to the pandemic.  Louisville also had one location, the Kentucky Fair and Exhibition Center, which ran smoothly.  Voter turnout was higher than expected, the mail-in ballots helped.
On June 23, 2021, UK went to court to try to get Wendell and Tayna Berry's lawsuit thrown out.  The Berry's fought the university when the school announced they would remove a mural depicting enslaved people.  UK had no intentions of destroying the art; they just wanted to move it.  Black students claimed it was hurtful and traumatic.  Ann Rice O'Hanlon, Tayna's aunt, painted the piece in the 1930s.