Kentucky Trivia ● Kentucky Tweets
On June 9, 1819, the Louisville Kentucky Herald carried the following announcement: J.H. BUSH PORTRIAT PAINTER has taken the house recently occupied by Mr. Wm. C. Barker, situated on Main St, between Dr. Galt's and C.P. Luckett's, where he offers his professional services to the citizens of Louisville. Jouett-Bush-Frazer –Early Kentucky Artists by William Barrow Floyd pg: 86
Localtonians wish a Happy Birthday to Louisville native Jennie Casseday, born in 1840. At 21, Jennie became paralyzed in a carriage accident and from that point on; she dedicated her life to helping others. Ms. Casseday was one of Kentucky's greatest humanitarians.
June 9, 1865, Confederate and Munfordville native Simon Bolivar Buckner received parole from New Orleans which prevented his return to Kentucky for three years. He stayed in town worked for a newspaper and when he returned became editor of the Louisville Courier. He later became our 30th governor in 1887.
June 9, 1883, the Dwyer Brothers won the 17th Belmont Stakes with George Kinney. The field of four went the 1 ½ miles in 2:42 1/2. None of the four horses raced in the Derby or Preakness.
On Thursday, June 9, 1887, Hanover won the 21st Belmont Stakes, a match race against Oneko to win $2,900. The 1 ½ miles went in 2:43 ½ on a heavy track. Neither ran in the Derby or Preakness.
Thursday, June 9, 1892, Patron beat Shellbark in a match race to capture the 26th Belmont Stakes to win $6,610. The 1 ¼ miles went in 2:12 on a muddy track. There was no Preakness and neither horse ran in the Derby.
June 9, 1901, Chief of Police Silas Wilder, Corbin Police Department died from a gunshot when they attempted to arrest a man who was terrorizing local citizens.
June 9, 1910, Kentucky Congressman A. O. Stanley sponsored a resolution requesting President Taft to provide information on U.S. Steel's violation of the Sherman Anti-Trust Act. They were the number one investor of Eastern Kentucky coal.
June 9, 1919, Man o' War, trained by Louis Feustel, stepped up to stakes company and dusted five others in the 7th running of the 5.5F Keene Memorial Stakes at Belmont in 1:05.60. Johnny Loftus guided the superstar home and earned the winning connections $4,200.
June 9, 1923, five years after Paul Sawyier died in NY, his cousin, Judge Russel McReary, returned Sawyier's body to be reinterred in the Sawyier-Wingate family plot in Frankfort Cemetery. At the time of his death it is estimated that he painted 3,000 works, mostly watercolor landscapes.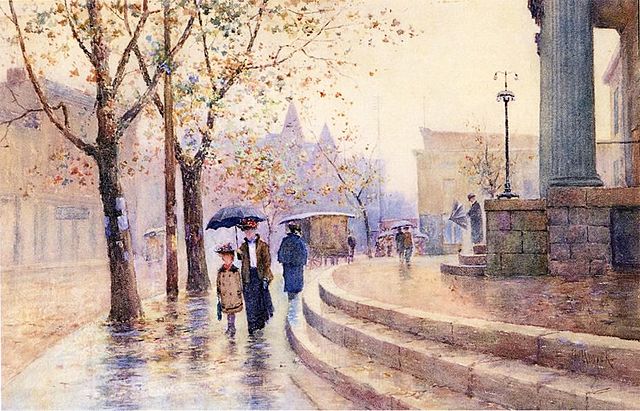 June 9, 1945, Hoop Jr. won the 71st Kentucky Derby in 2:07 on a muddy track. Eddie Arcaro won his 3rd Derby out of five. Trainer Ivan Parke and U.S. Racing Hall of Fame owner Fred Hoop got their only Derby win. It was the first horse Fred ever owned. The Preakness and Belmont Stakes followed on June 16 and June 23, respectively.
Kentucky Trivia: The Derby ran outside of May three times: April 29, 1901, June 9, 1945, and September 5, 2020.
June 9, 1946, Jenkins native George Burpo made his MLB debut with the Cincinnati Reds.
June 9, 1951, Navy HA Robert F. Brooks from Owensboro died in the Korean War.
June 9, 1952, Army 1LT Douglass K. Bland from Henderson County died in the Korean War.
June 9, 1955, Deputy Sheriff Chester Summa, Breathitt County Sheriff's Office, succumbed to gunshot wounds sustained one week earlier when he encountered a man whose car blocked the roadway. Deputy Summa asked the man to move his car and the man shot him.
Localtonians wish a Happy Birthday to Owensboro native John Christopher Depp II, born in 1963.
On June 9, 1969, Thomas Robert Payne, a California high-school All-American signed with Kentucky. He was the tallest player Kentucky ever had at the time and the first African-American player Adolph Rupp coached.
Localtonians wish a Happy Birthday to Pulaski County native Jack Daws, born in 1970. His artwork is in the permanent collections of the Seattle Art Museum, the University of Washington's Henry Art Gallery, and Tacoma Art Museum.
June 9, 1970, Army SGT Lowell E. Moon from Anchorage in Jefferson County died in the Vietnam War.
June 9, 1973, Secretariat won the 105th Belmont Stakes and the 9th Triple Crown. His winning time of 2 minutes and 24 seconds still stands as the American record for a mile and a half on dirt.
June 9, 1980, three witnesses from Kentucky told the Senate Judicial Committee that Harlan County Commonwealth Attorney Green Wix Unthank, 56, was intemperate, rude, and unqualified to be a Federal district judge. President Carter's pick sailed through when Senator Dole had no questions for Unthank.
Localtonians wish a Happy Birthday to Danville native and the 58th Lt. Governor Jacqueline Coleman, born in 1982. She is the first Lt. gov. to give birth while in office.
June 9, 1990, the Paintsville Tigers won the Sweet Sixteen High School Baseball Championship on UK's Shively Field over Tates Creek 10-4. This was the 5th time Coach Charlie Adkins guided Paintsville to the final four, but this was his 1st championship.
June 9, 1990, Go and Go received the blanket of carnations after winning the 122nd Belmont Stakes by eight lengths. Kentucky Derby winner Unbridled raced fourth.
June 9, 2000, Pritam Sabharwal, his wife, and several other family members pleaded not guilty in Lexington's U.S. District Court to charges of defrauding the federal government of $150 million in environmental cleanup funds. Pritam was a former UK professor and founder of the environmental cleanup company at the heart of the investigation.
June 9, 2000, descendants of the McCoy's of Kentucky and the Hatfield's of West Virginia gathered for a joint family reunion in Pikeville. Governor Paul Patton and WVA Governor Cecil Underwood attended some of the weekend activities.
June 9, 2001, Preakness winner Point Given won the $1,000,000 Belmont Stakes over eight others. The Thoroughbred Corporation hired Bob Baffert who hired Gary Stevens. Derby winner Monarchos finished 3rd.
June 9, 2001, Sergeant William J. Collins, Jr., Hardin County Sheriff's Department, and his wife, a civilian employee of the department, died when a mentally deranged man stalked and ambushed them.
June 9, 2007, the fabulous filly Rags to Riches outdueled Preakness winner Curlin in a breathtaking stretch run and won the Belmont Stakes by a head. A filly had not won the Belmont since 1905 or a TC race since the 1988 Kentucky Derby. No one was happier with the victory than trainer Todd Pletcher and jockey John Velazquez, who ended long droughts in Triple Crown races: Pletcher was 0-for-28, Velazquez 0-for-20.
June 9, 2008, Lexington native Tyler Clippard pitched his first game for the Washington Nationals.
June 9, 2018, Justify captured the Triple Crown by winning the 150th Belmont Stakes.
June 9, 2019, six Kentucky hospitals were given D's or F's in a nonprofit group's biannual safety rankings. According to HospitalSafetyGrade.org, patients are more at risk of dying during their stay with hospitals that receive D's and F's than hospitals with passing grades. The D's included: UofL Hospital, Taylor Regional in Campbellsville, Jewish Hospital in Louisville, Highlands in Prestonburg, and Hazard. Kentucky's only failing hospital was Methodist in Henderson.