Kentucky Trivia ● Kentucky Tweets
May 27, 1778, a small band of pioneers established Louisville on Corn Island in the Ohio River. During the following summer, George Rogers Clark trained recruits for his Illinois campaign , settlers planted corn and they camped until Fort Nelson, was built in 1781. Thomas Hutchins mapped it in 1766, encompassing about seventy acres. "Great sycamores, cottonwoods, and giant cane" covered the island during the late 1700s.
May 27, 1830, President Andrew Jackson vetoed a bill that would allow the federal government to purchase stock in the Maysville, Washington, Paris, and Lexington Turnpike Road Company. He declared that such bills violated the principle that the federal government should not be involved in local economic affairs. Jackson also pointed out that funding for these kinds of projects interfered with paying off the national debt.
May 27, 1862, Brigadier General Jeremiah Tilford Boyle, a native of Mercer County, took command of the District of Kentucky. Halting guerrilla activity and suppressing Confederate support were two of his goals.
The Civil War in Kentucky by Lowell H. Harrison
May 27, 1874, the first public notice to establish the track that would become Churchill Downs, appeared in the Courier-Journal. Some people objected because Falls City Racing Association already proposed a track east of downtown Louisville.
Friday, May 27, 1881, the 9th Preakness Stakes, the first race on the card, had a distance of 1 ½ miles. Saunterer won the $2,000 purse. The Derby ran ten days earlier and the Belmont eleven days later.
May 27, 1891, Deputy Jailer Joel C. Park, Madison County Detention Center, died from a gunshot while serving a warrant on a man for stealing a suit from another man.
May 27, 1891, Kentucky erected a monument over the 28th governor's grave, Dr. Luke P. Blackburn, three years after his death.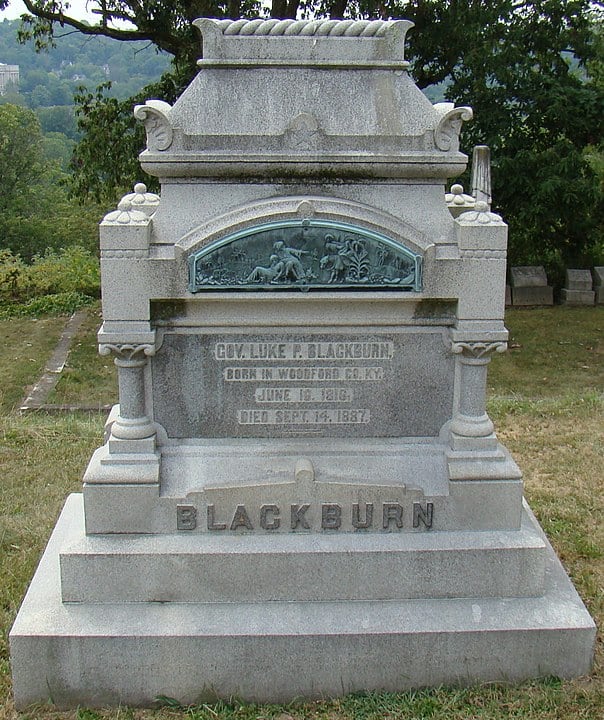 Tuesday, May 27, 1902, Old England won the 27th running of the Preakness Stakes.  The 4th race was 1 mile and 70 yards.  Kentuckian J.B. Haggin bred the winner.
Wednesday, May 27, 1903, Africander won the Belmont Stakes going 1 3/8 miles in a four horse field. He won by two lengths and earned $11,285. Kentuckian J.B. Haggin bred the winner.
May 27, 1917, at 4:00 p.m., a deadly Kentucky's tornado began in Tennessee's northwest corner and quickly moved into the Commonwealth. Forty-two people lost their lives in Fulton County, half of which were in the Bondurant area along KY 1282. The southeast side of Clinton County was also hit hard, with 17 more fatalities there. In Graves County, another five people died near Dublin. Sixty-four lives were lost and 345 people were injured in this F4 tornado, which traveled 50 miles.
May 27, 1922, Chief of Police James Sexton, Ravenna Police Department, died while attempting to arrest a man for assaulting his wife. As he placed the man in custody, the man pulled out a handgun and shot him three times.
Localtonians wish a Happy Birthday to Florence native Kenny Price, born in 1931. Known as the "Round Mound of Sound," his highest-peaking singles, "Walking on New Grass" and "Happy Tracks," both reached No. 7.
May 27, 1938, one of Kentucky's greatest political scandals started when Brady Stewart, Happy Chandler's campaign manager, published a letter in the Courier-Journal claiming that "every federal relief agency in Kentucky is frankly and brazenly operating on a political basis." Chandler was trying to become governor again.
May 27, 1943, J.O. "Jack" Keene died of a heart attack at the Fair Grounds in Detroit.
May 27, 1951, Army PFC A.C. Anderson from Letcher County, Army PFC Clifford L. Carr from Bracken County, and Army PFC Bobby G. Walker from Harlan County, all died in the Korean War.
May 27, 1953, Army PVT Cecil G. Martin from Grant County died in the Korean War.
May 27, 1968, Army 1LT Sylvain L. White from Grove in Hardin County and Marine Corps PFC Bradley Bowling from De Mossville in Pendleton County, died in the Vietnam War.
May 27, 1969, Army SGT, Petersburg native Charles Clinton "Chalkie" Fleek gave his life to protect others in an ambush operation to earn the Congressional Medal of Honor fighting in Vietnam.
Localtonians wish a Happy Birthday to Owensboro native Jeremy Mayfield, born in 1969.
May 27, 1971, Army CPT Paul D. Carter from Louisville died in the Vietnam War.
May 27, 1984, Muhammad Ali took part in the 1984 Olympic Torch Relay through downtown Louisville.
May 27, 1991, Louisville native Ted Schulz won the Foster Brooks Pro-Celebrity Golf Tournament held at Hurstbourne Country Club. Seven years earlier, as a 24-year-old, he won the Kentucky Open Championship at the same club but on a refurbished course.
May 27, 1992, Rep. Carroll Hubbard, D-1st District, pocketed $260,000 in leftover campaign money when he left Congress the following year, all legal cash.
May 27, 2001, for the first time, state wildlife officials enforced laws prohibiting houseboat owners from dumping raw sewage in Kentucky lakes and rivers. Although illegal for years, Kentucky officials had no authority to board or inspect boats for proper equipment.
Kentucky Trivia: The Lake Cumberland area is the "Houseboat Capital of the World" with good reason. The region hosts the greatest concentration of houseboat manufacturers in the world. In September 2014, Governor S. Beshear joined state officials and community leaders to make an official declaration at Lake Cumberland State Resort Park in Jamestown.
May 27, 2009, commanders at Fort Campbell set aside routine duties for the 1st of three days to help soldiers deal with the stress of war. The Kentucky base endured at least 11 suicides for the year, the most of any U.S. military base.
On May 27, 2010, Kentucky's Senate adopted Senator Neal's resolution reaffirming the principles of equality preserved in the U. S. Constitution, the Civil Rights Act of 1964, and the Kentucky Civil Rights Act of 1966.
On May 27, 2016, Governor Bevin's administration joined eleven other states in a lawsuit against the federal government over its transgender bathroom guidelines. Bevin stated the government had no authority over local school districts' locker room policies.
May 27, 2020, although cases and deaths declined, the state reached 400 deaths. The first coronavirus death in Kentucky came on March 16, for an average of 5.5 deaths a day. The U.S. passed the 100,000 death mark with 100,271 to date.
On May 27, 2021, the Bureau of Alcohol, Tobacco, Firearms, and Explosions (ATF) released a report showing that gun shops in Kentucky, and nationwide, faced many inspections to ensure compliance with federal regulations. However, they rarely faced severe sanctions. For example, 62 Kentucky gun dealers received a warning letter or worse from the ATF last year. During that year, the ATF sent letters to two gun dealers revoking their licenses. Days later, the Feds downgraded the recommendations, and the shops kept selling.