Kentucky Trivia ● Kentucky Tweets
April 2, 1780, Joice Craig Falconer, with her family and others, moved from Lexington to establish Francis McConnell's Station only 1 1/4 miles from the Lexington Fort.
Lexington, 1779 Pioneer Kentucky As Described by Early Settlers by Bettye Lee Martin
April 2, 1780, a man named "White" was killed by Native Americans. Attacks became so prevalent in Central Kentucky that Levi Todd abandoned his station for the Lexington Fort.
Lexington, 1779 Pioneer Kentucky As Described by Early Settlers by Bettye Lee Martin
April 2, 1792, knowing that Kentucky was to be admitted to the Union as a state, delegates to the 10th statehood convention met in Danville. They met until April 18 to draft a constitution that included a twenty-six-point bill of rights. There is little or no documentation describing the actual process of adding these sections or identifying their origins. Without question, however, George Nicholas was the predominant drafter.
April 2, 1855, Lexington, running against time, ran four miles in 7.19:75, bettering Lecomte's 7.23:25. It was as if Lexington had been stewing over his loss, and determined to reclaim his supremacy, he annihilated the record.
April 2, 1865, Bracken County native SGT Francis M. McMillen captured a Confederate flag and received the Medal of Honor for his actions at the Battle of Petersburg.
Localtonians wish a Happy Birthday to Allen County native Mordecai Fowler Ham, Jr., born in 1877. In November 1934, Billy Graham was converted under Mordecai Ham's preaching in a revival in North Carolina.
April 2, 1905, jockey Otto Wonderly died in a hospital due to head injuries sustained in a racing accident at Montgomery Park Racetrack in Memphis, Tennessee. A highlight of Wonderly's career came on June 14, 1902, at the Sheepshead Bay Race Track in Brooklyn, New York, when he won the most prestigious race in the U.S. for horses of all ages. Wonderly captured the famous Suburban Handicap aboard Gold Heels in record time, on an off track, with 50,000 spectators.
April 2, 1907, Chief of Police Jon C. Tarpy, Winchester Police Department, succumbed to gunshot wounds sustained one week earlier when he and several officers attempted to arrest a man suspected of being involved in several burglaries.
April 2, 1921, Governor E.P. Morrow appealed to Kentuckians to donate to a fund to purchase "My Old Home Kentucky Home."  The Courier-Journal printed the "proclamation" or "letter" on their front page.  Supporters who lived outside of Kentucky already paid the $10,000 option price.  The governor tried to raise the remaining $60,000 needed.   
April 2, 1923, Deputy Sheriff William H. Monhollon, Whitley County Sheriff's Office, killed while attempting to collect taxes. The murderer was pardoned by Governor Fields in 1927.
On April 2, 1933, Constable Beverly "Bev" Scott, Floyd County Constable's Office, died while investigating three men drinking and shooting guns in Lackey. When Constable Scott attempted to disarm them, one of the men shot him and fell to the ground.
Localtonians wish a Happy Birthday to Scottsville native Jim McDaniels born in 1948, in Allen County.
April 2, 1966, Army CPT Donald F. McMillan from Hopkinsville in Christian County died in the Vietnam War.
April 2, 1970, Army SP4 Carl L. Fruechtenicht and Army SP4 Michael F. Thomas, both from Louisville, both died in the Vietnam War.
April 2, 1973, Georgetown's Branham House received admission the National Register of Historic Places.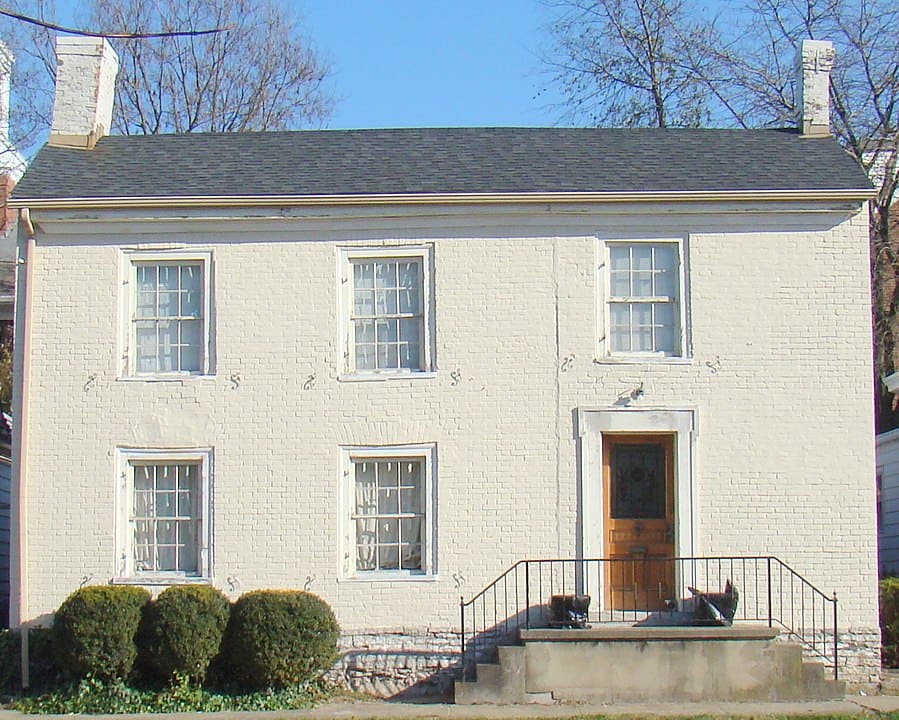 April 2, 1980, Minerva native Stanley Forman Reed dies. Stan served as U.S. Solicitor General from 1935-38 and as an Associate Justice of the U.S. Supreme Court from 1938 to 1957.
Kentucky Trivia: Judge Reed is the last person to serve as a Supreme Court Justice without possessing a law degree.
Localtonians wish a Happy Anniversary to ex-Governor Edward Thompson "Ned" Breathitt Jr. and Lucy Alexander Winchester, who wed in 1988.  Lucy was a former social secretary to First Lady Pat Nixon and cousin to Libby Jones, wife of future Kentucky Governor Brereton Jones.
7:40 p.m., April 2, 1996, Governor Patton, UK's President Wethington, UK's A.D. Newton, and close to 23,000 fans welcomed the "Untouchables" back home to Rupp Arena a day after winning the National Championship.
April 2, 1996, John Leech from Lexington, a history buff, bought 300 Laurel County acres for $95,000. The land was the site of the 1861 Battle of the Wildcat. Members of the Camp Wildcat Preservation Foundation were pleased he planned to preserve the land.
April 2, 2003, Lexington native Austin Kearns launched the first Reds home run at their new home, the Great American Ball Park.
April 2, 2004, Governor Ernie Fletcher, a native heritage person, signed House Bill 167 into law. It ensured that the Kentucky Native American Heritage Commission (KNAHC) is a permanent part of the Governor's cabinet to promote awareness of Indigenous influences within Kentucky.
April 2, 2007, Constable Ronnie K. Jones, Barren County District Two Constable's Office, died when his patrol car was struck by a tractor trailer on US 31E, near Glasgow.
April 2, 2010, opening day of the 15-day Spring Meet during which Keeneland introduced a 50-cent Pick Three wager. The season ranked among the top five in track history, establishing record attendance marks for a Spring Meet opening day (24,734) and Toyota Blue Grass Day (33,727). Total attendance of 238,282 is the fourth-highest in Keeneland history.
April 2, 2012, Kentucky completed one of the more dominating NCAA Tournament runs in the proud program's history by beating Kansas 67-59 to claim its 8th national championship and John Calipari's first and only NCAA title.
April 2, 2014, Deputy Sheriff Ernest T. Franklin, Barren County Sheriff's Office, died in an automobile crash on Kentucky 90, just west of Glasgow. His vehicle left the roadway, struck an embankment, and then landed in a small pond.
April 2, 2016, Gulfstream Park's GI $2,000,000 Florida Derby had seven Keeneland graduates from a field of ten and ends with a Keeneland grad exacta.
On April 2, 2018, thousands of public school teachers marched on the Capitol to protest changes to their pensions and education cuts.
April 2, 2020, Governor A. Beshear announced 100 new coronavirus cases and 11 new deaths, bringing the totals to 770 positives and 30 deaths. The governor asked school superintendents to expand the ban on in-person learning and keep schools closed till May 1. He then singled out a church in Dawson Springs in Hopkins County for spreading the virus at one of their revivals. Cases topped a million in the U.S., and millions had lost their jobs.
April 2, 2020, Kentucky Bio-Processing, a biopharmaceutical company in Owensboro joined the coronavirus vaccine race, using tobacco as their main ingredient.
On April 2, 2021, Keeneland, on its opening day, opened the doors to a limited number of fans. They canceled the 2020 Spring Meet, and the 2020 Fall Meet was shortened, postponed, and held without spectators. Meanwhile, the CDC eased travel restrictions for getting tested for coronavirus and self-quarantining after citizens return home after traveling abroad.