Kentucky Trivia ● Kentucky Tweets
On February 7, 1778, Daniel Boone was hunting by himself, with horse and rifle, in a snowstorm. He had killed a buffalo, tied the meat's best upon his horse, and was trudging for camp when four Natives surprised him. A date long remembered by the Kentucky frontier's settlers, he was captured by the Shawnee and British near Blue Licks. Fort Boonesborough saw some of its darkest days as they feared Boone was dead. Boone, however, understood the nature of the Native Americans and the Shawnees treated him well. He had killed a number of their warriors, but only when fighting man to man against odds. He trusted the word of Chief Black Fish. Black Fish seemed to have a genuine liking for him and adopted him as his son, giving Boone the name of Sheltowee (Big Turtle). Having learned some of the native languages, Boone caught wind of an impending attack, and escaped to warn Fort Boonesborough after five months in capture.
February 7, 1812, the 4th, the last, and the largest of the New Madrid earthquakes occurred. There are many estimations on the magnitude ranging from 7.0 to 8.8, and it was considered one of the strongest quakes known to man. There were thousands of aftershocks, of which 1,874 were large enough to be felt in Louisville. New Madrid, MO, was destroyed.
February 7, 1865, Lexington native John C. Breckinridge became the Confederate Secretary of War. With the end of the conflict in sight, it was a thankless position. Following Appomattox, fearing arrest, Breckinridge fled southward to Cuba.
February 7, 1878, suffragist and political activist Mary Jane Warfield Clay obtained a divorce from abolitionist and politician Cassius Marcellus Clay. After 45 years of marriage, Mary Jane claimed abandonment. There was also a stipulation that she could not re-marry as long as Cassius lived.
February 7, 1883, Belle Brezing received a pardon from Governor Luke Blackburn for "keeping a bawdy house," only two months after the charge.
Madame Belle by Maryjean Wall pg: 57
February 7, 1907, Wayne County native, Preston Hopkins Leslie, Kentucky's 26th governor and the 9th territorial governor of Montana, died.
February 7, 1912, the State Legislature appropriated $75,000 to buy land and construct a new governor's mansion. The act specified the new mansion should be "constructed, trimmed, and finished with native stone produced from quarries in Kentucky." The home opened in 1914.

February 7, 1914, Kentucky State University (UK) hosted and defeated University of Louisville 22-17 in the Buell Armory Auditorium. High-scoring honors went to Inez native R. C. Preston with 12 points.
February 7, 1928, Constable Isaac "Bud" Isaacs, Estill County Constable's Office, was shot and killed near Blue Banks while attempting to arrest a suspect who failed to appear in court. The main suspect was never tried for his murder.
February 7, 1933, the U.S. Senate experienced a wild session when the gentleman from Kentucky, Senator M.M. Logan, undertook a futile defense of David Berry. David, the Sergeant-at-Arms, enraged Congress by writing a magazine article stating some Senators sold their votes. Peers, for 3 ½ hours, gave angry speeches before they voted 53-15 to fire the whistleblower. Senator Barkley, Kentucky's other Senator, voted to expel him.
February 7, 1944, Lawrenceburg native Anna Mac Clarke led the first Women's Army Corps (WAC) unit at Douglas Army Air Field in Arizona. The segregated base was one of only four in the U.S. to have African-American soldiers and WAC. She became the first African American woman to be a commanding officer of an otherwise all-white regiment. Anna died the same year at age 24.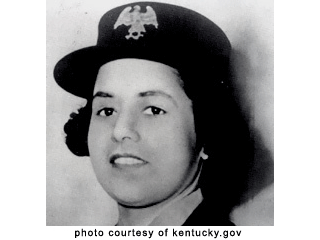 February 7, 1961, Muhammad Ali (4-0) fought Jimmy Robinson (1-2-0) in Miami Beach Convention Hall. Clay was supposed to fight Willie Guelat on the undercard of the light-heavyweight title fight between Harold Johnson and Jesse Bowdry, but Guelat failed to show up. Clay knocked out Guelat's replacement, Robinson, in 94 seconds.
February 7, 1966, Adolph Rupp reacted to a play during the Cats' 85-75 win over Florida in Memorial Coliseum. Kentucky would finish the season 27-2, losing in the NCAA title game to Texas Western.
February 7, 1966, Marine Corps PFC Charles E. Osborne from Myra in Pike County and Army PFC Kenneth Rush from Louisville died in the Vietnam War.
February 7, 1967, Army SSG Bobby L. Hayes from Bowling Green in Warren County and Army SP4 Dwight D. Jones from Morehead in Rowan County died in the Vietnam War.
February 7, 1968, Marine Corps LCPL Samuel T. Marshall, Jr. from Covington in Kenton County died in the Vietnam War.
February 7, 1969, Navy SN James E. Pierce from Covington died in the Vietnam War.
On February 7, 1970, Keen Johnson, Kentucky's 45th governor (1939-42), died.  Johnson was the only journalist to be a Kentucky governor.
On February 7, 1970, Dan Issel scored 53 points in a 120–85 victory over Ole Miss, breaking Cliff Hagan's single-game record of 51.  Issel's mark held for almost four decades until Jodie Meeks scored 54 points against Tennessee on January 13, 2009.
February 7, 1981, Louisville native Greg Page won the vacant USBA Heavyweight title with a seventh-round TKO of Stan Ward.
February 7, 1993, La Grange native Jack Retherford Starkey, better known as Buddy Pepper, who played music with the Hollywood elite, died.
February 7, 2007, UofL named Freedom Hall's basketball court the "Denny Crum Court." The KFC Yum! Center retained the name "Denny Crum Court" when the Cardinals moved to the new arena in 2010.
February 7, 2010, conservationists and bird-watchers kept a close eye on eight endangered wild whooping cranes that made Jefferson County their temporary home.
February 7, 2012, the Crabb Family, from Beaver Dam, released a new album, Together Again.
On February 7, 2015, in one of the most thrilling races of the year, a Kentucky bred takes Santa Anita Park's GIII $150,000 Robert B. Lewis Stakes for three-year-olds.
February 7, 2015, the Thomas Edison House in Louisville celebrated his 168th birthday, with a special open house.
February 7, 2019, a lawsuit filed in Lexington claimed veterinarians at a prominent practice falsified dates on x-ray images of horses sold at the Keeneland sales for more than a decade.
February 7, 2020, Governor A. Beshear declared a state of emergency after the worst flooding since 1977.  Pike County, Bell County, Knox County, and Harlan County all received calls for rescues.
February 7, 2021, for the 4th week in a row, Kentucky reported a decrease in new coronavirus cases. It was the first time since the pandemic began that there were four straight weeks with a reduction in new positive cases.