Kentucky Trivia ● Kentucky Tweets
January 30, 1777, George Rogers Clark, John McClelland, Robert Patterson, Captain Edward Worthington, Robert Todd, and others, with their families, arrived to reinforce Fort Harrod. They had survived an attack at McClellands' Fort in Georgetown, and they knew more fighting to be inevitable.
Historical Sketches of Kentucky: History of Kentucky, Volume 2 by Lewis Collins
January 30, 1861, John W. Stevenson representing the 10th district in the U.S. House, denounced radical Republicans in a speech the Dictionary of American Biography called the most notable of his career. He blamed them for not following many compromises on the table and ensuring the civil war.
January 30, 1872, Grand Duke Alexei Alexandrovich of Russia, the son of Russia's Czar, arrived in Louisville. The following day, he visited Mammoth Cave. He arrived in New York on November 21, 1871, escorted by the Russian Navy. Two days later, President Grant received him at the White House. The highlight of his trip was his big buffalo hunt in Nebraska on his 22nd birthday after he left Kentucky. His entourage would set sail from Florida on February 22 for the Far East. The press said he was more interested in "pretty girls and music" than the country he was visiting. Still, he did spend most of his time trying to get an understanding of the country.
January 30, 1885, a new era was ushered into Lexington when the Lexington Hydraulic & Manufacturing Company provided water from Lake Ellersile on Richmond Pike to the new courthouse in downtown.
January 30, 1885, Oldham County native Richard James Oglesby was sworn in as Illinois's 14th governor.
Tuesday, January 30, 1900, at 11:00 a.m., a sniper shot William Goebel while walking to the capitol building with his bodyguards present.
Tuesday, January 30, 1900, at 9:00 p.m., Governor Taylor notified the General Assembly to adjourn and meet in London on February 6 at noon. The armed militia men would not let anyone meet in the capitol building.
On January 30, 1900, Deputy William S. Wright, Letcher County Sheriff's Office, died from ambush by two Ku Klux Klan (KKK) members.  The sheriff got caught up in a Klan war, protecting a woman and her son who had been beaten by KKK members.  Two suspects were convicted and sentenced to life.  Governor Beckham pardoned one in 1905 and Governor Wilson pardoned the other in 1909.
January 30, 1910, Deputy Sheriff Gordon Givens, Bell County Sheriff's Department, was killed while attempting to arrest a drunk miner.
Localtonians wish a Happy Birthday to Elroy native Evelyn West, born in 1921 in Adair County. Evelyn was better known as Evelyn "$50,000 Treasure Chest" West or the "The Hubba-Hubba Girl."
January 30, 1923, Special Policeman George Yaden, Corbin Police Department, was shot and killed in the Louisville and Nashville Railroad yards in Corbin.
On January 30, 1925, while working to enlarge the Sand Cave's small passage, Auburn native Floyd Collins became trapped in a narrow crawlway 55 feet below ground. The rescue operation to save Collins became a national newspaper sensation and one of the first major news stories reported using the new technology of broadcast radio. The rescue attempt grew to become the third-biggest media event between the world wars.
January 30, 1926, Kentucky, coached by Ray Eklund defeated Georgetown College, coached by Walter Hovater, 25-20 in Lexington's Alumni Gymnasium. Winchester native Gayle Mohney received high scoring honors for Kentucky with 10 points.
January 30, 1934, nearly 500 persons attended two balls in Lexington to celebrate President's Roosevelt's birthday and to aid the Warm Springs Foundation in the treatment of Infantile-Paralysis suffers. About 250 attended the Phoenix Hotel Ball and the same amount enjoyed the Pythain Temple Ball on Main Street.
January 30, 1941, the UK Senate met in McVey Hall and approved the names of 121 candidates for degrees.  These included 80 bachelor's degrees and 41 advanced degrees.  On February 2, the graduation ceremony took place in Memorial Hall, and UofL President Dr. Kent provided the commencement speech.  
Localtonians wish a Happy Birthday to Louisville native Michael Dorris, born in 1945.  Michael was a novelist and scholar who became the first Chair of the Native American Studies program at Dartmouth College.  His works include the novel A Yellow Raft in Blue Water (1987) and the memoir The Broken Cord (1989).
January 30, 1951, Harlan native, 1st Lt., Carl Henry Dodd, distinguished himself by going beyond the call of duty in action against the enemy during the Korean War. For his selflessness on this day, he received the Congressional Medal of Honor, from President Truman, later in the year.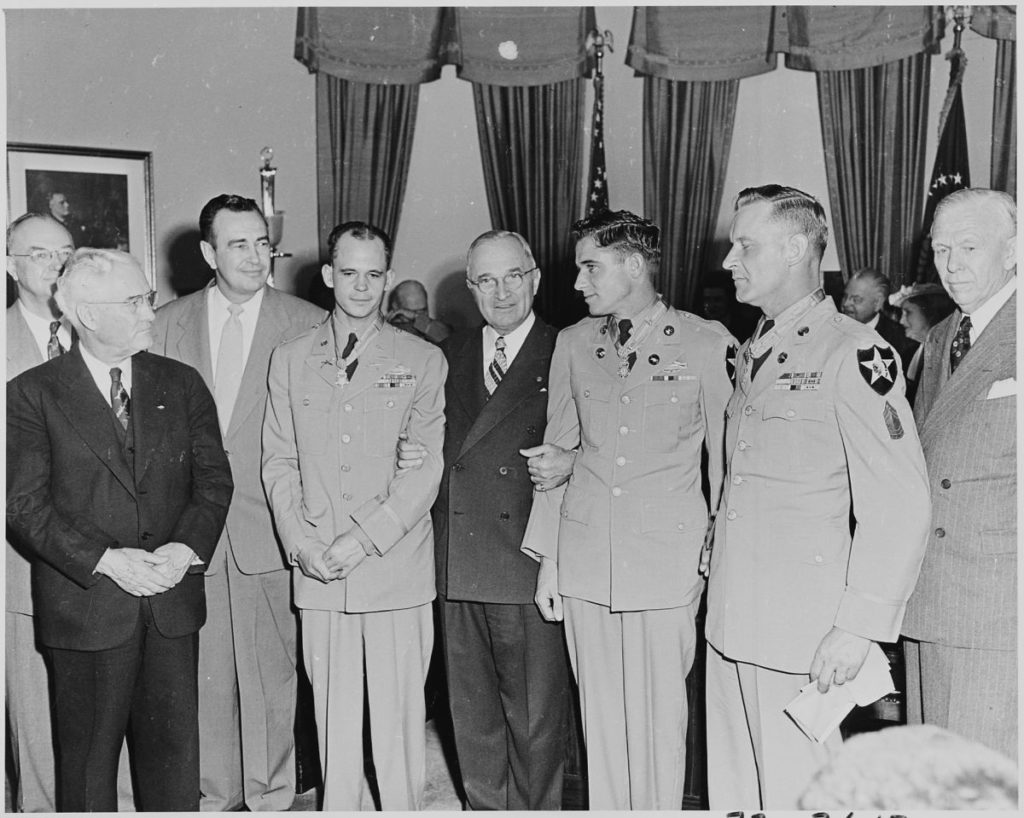 January 30, 1953, Mrs. Mary Breckinridge, founder and guiding spirit of the world-famed Frontier Nursing Service, received the Kentucky Press Association's Kentuckian of the year award at a banquet at the Brown Hotel.
January 30, 1968, Army 1LT Lawrence D. Greene from Ft. Knox died in the Vietnam War.
January 30, 1969, Marine Corps PFC Homer West from Middleburg in Casey County died in the Vietnam War.
January 30, 1972, it was a frigid Blue Grass Day in Lexington. Blue Grass Day was an annual event where local businesses discounted their goods throughout the city.
January 30, 1980, 61-year-old Claude Canada, a multimillionaire Pike County coal operator, died from his estranged wife's shotgun at 3:00 a.m. in a Jessamine County farmhouse. Leona Canada, who sued him for divorce three weeks prior, was charged with murder and placed in jail. She said she shot him because he was going to "do away with" her and their 14-year-old son. Central Kentucky received seven inches of snow this night.
On January 30, 1992, Deputy Arthur Clay Briscoe and Sheriff Steve Bennett, Powell County Sheriff's Department, were shot and killed while attempting to arrest a suspect with outstanding warrants.
January 30, 2006, Exxon Mobil Corporation reported the highest profit in U.S. history: $10.71 billion for the 4th quarter of 2005 and $36.13 billion for the year.  The high profits during the Middle Eastern Wars sparked renewed calls for legislators to tax oil companies and seek alternative energy methods.
On January 30, 2006, the average temperature was 42.7 degrees for January 2006, making it the 5th warmest Kentucky January in 111 years.
January 30, 2011, the world famous Lipizzaner Stallions perform in Rupp Arena.
On January 30, 2019, the man who stole $900,000 when he drove off in an armored truck in Louisville got caught in Connecticut trying to get a fake driver's license.  A majority of the cash was found nearby.
On January 30, 2020, Senator R. Paul challenged the U.S. Supreme Court Chief Justice to read out loud, on national television, the alleged whistleblower's name, whose complaint sparked Trump's impeachment.  Judge Roberts did not take the bait, and it caused an uproar.  This was the 18th day of the 1st impeachment trial.
January 30, 2021, coronavirus had infected more than 3,000 inmates and 500 employees in local jails since the pandemic began in March.  County jail population has risen 800% since 1980.  In February 2020 there were over 24,000 inmates in county jails.  One third of county jails were operating at an average 170% above capacity.  Another third of the jails were operating at an average 128% over capacity.