Kentucky Trivia ● Kentucky Tweets
January 12, 1825, Kentucky created Edmonson County from Grayson County, Hart County, and Warren County and named it in honor of John Edmonson, the military captain killed at the Battle of Frenchtown. Brownsville is the county seat. Other localities include: Asphalt, Bee Spring, Big Reedy, Cedar Spring, Chalybeate Springs, Huff, Lincoln, Lindseyville, Mammoth Cave, Pig, Rhoda, Rocky Hill, Roundhill, (partly in Butler County) Sunfish, Sweeden, and Windyville. The 79th county, Edmonson County, covers 302 square miles.
January 12, 1825, to alleviate Ohio River traffic at Louisville, the General Assembly approved "an act to incorporate the Louisville and Portland Canal Company." Sixteen prominent Kentuckians, including Robert Breckinridge, Samuel Churchill, and James Guthrie, formed the corporation "for opening and constructing a canal navigation with suitable locks, docks, and basins around the falls of the River Ohio within the State of Kentucky."
January 12, 1827, Kentucky legislatures finally approved funds for a 3rd state capitol building. They selected a young Gideon Shryock, the state's 1st native-born, professionally trained architect who designed the Greek Revival building. Legislatures held their 1st session in December 1829 while still under construction. Many thought the structure to be the most elaborate capital building in the country.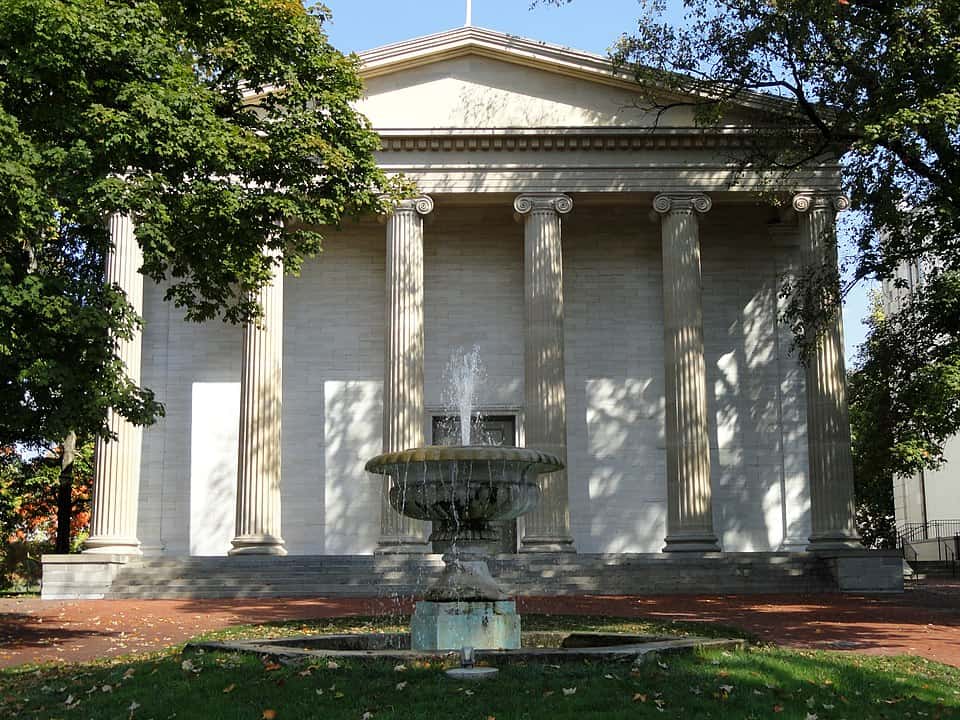 January 12, 1858, Lexington native William A. Richardson became the 5th governor of the Nebraska Territory. Richardson County, Nebraska is named after him.
January 12, 1875, Thomas Elliott Bramlette, Kentucky's 23rd governor, passed away. Locals elected him in 1863, where he guided the state through the latter part of the Civil War and the beginning of Reconstruction.
January 12, 1875, Trimble County native Charles Henry Hardin became Missouri's 22nd governor. Charles founded and chaired Hardin College and is the namesake of the small city of Hardin, Missouri.
January 12, 1889, the Lexington Daily Press carried a story about locals demanding the city close down several brothels, including ones run by Belle Brezing and Molly Parker. Signees included presidents of Kentucky University (Transy) and College of the Bible (Lexington Theological Seminary). Madam Belle by Maryjean Wall, pg: 64.
January 12, 1895, Susan B. Anthony & Carrie C. Catt spoke at First Unitarian Church in Louisville on their southern tour promoting women's suffrage. Ms. Anthony talked about gender equity and political action in the church's Sunday school room. Twenty-five years later, women received the right to vote.
Localtonians wish a Happy Birthday to Brandon's Chapel native Keen Johnson, Kentucky's 45th governor, born in 1896. Brandon's Chapel is now part of "The Land Between the Lakes." He bought and revived the struggling Elizabethtown Mirror newspaper and later sold it to obtain his journalism degree from UK in 1922. Johnson was the only journalist to be a Kentucky governor.
On January 12, 1911, Ellen Broady became an apparent victim of Spontaneous Human Combustion, burning up to a crisp in the house but not burning the house itself in Metcalfe County.
January 12, 1912, State College, Lexington (UK) basketball team played their 5th and last game in Boyle Humphrey Stadium in Danville against Central University. The Wildcats defeated Central University 32-13. It was Central's 1st game of the season, and the 2nd game and victory for State.
January 12, 1951, Army PFC Clifford V. Coffey from Morgan County died in the Korean War.
January 12, 1952, Army PVT Donald R. Maynard from Boyd County died in the Korean War.
January 12, 1955, Trans World Airlines (TWA) Flight 694 departed Greater Cincinnati Airport en route to Cleveland at 9:02 a.m.  At 9:04 a.m., controllers in the tower saw a flash of fire and smoke rising from the ground.  The TWA flight and an unreported DC-3 had collided.  There were no survivors.
January 12, 1965, the National Historic Landmark accepted the Dr. Ephraim McDowell House, the site of 1st successful ovariotomy surgery.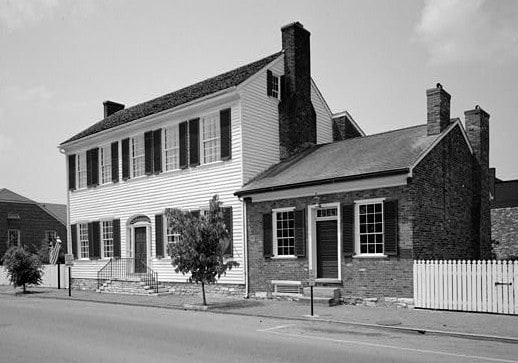 January 12, 1968, Army CPL William B. Hubble from Waynesburg in Lincoln County and Army PFC Johnnie K. Perkins from Louisville, died in the Vietnam War.
January 12, 1971, approximately 200 employees of Ashland Petroleum Company in Catlettsburg maintained a picket line at plant #1 for a new contract.
On January 12, 1985, General Butler State Resort Park ski slopes held its opening day. The Carroll County slopes operated as Kentucky's 1st and only ski resort. Unfortunately, the park shut down in the mid-'90s due partly to a lack of snow.
Localtonians wish a Happy Birthday to McCreary County native Allie Leggett, born in 1994. Today she is a model and social media star who rose to fame after winning the Miss Kentucky USA title in 2013. Before her title, she worked as a restaurant hostess and studied at Somerset Community College.
January 12, 1996, Kentucky's top two lawmakers, House Speaker Jody Richards and Senate president John "Eck" Rose, stated complaints about skyrocketing health insurance rates would prompt them to change Kentucky's fledging healthcare reform law.
January 12, 2001, Affirmed passed away. His great duels with Alydar may be the best Triple Crown races of all time. Lazaro S. Barrera trained, and Lou and Patrice Wolfson of Harbor View Farm owned and bred the TC winner.
January 12, 2003, UK retired Valerie Still's #12 jersey, the 1st female to have a jersey retired at Kentucky in any sport. She played from 1979-83 and is the leader among all Wildcats (men or women) for career scoring (2,763) and rebounding (1,525). In September 2005, she became enshrined in the 1st class of the UK Athletics Hall of Fame.
January 12, 2004, Lexington native William T. Young passed away.
January 12, 2011, Bill Samuels Jr., President of Maker's Mark, announced his retirement, ending 35 years at the helm. His son Rob Samuels replaced him.
January 12, 2019, Arnason's Icelandic Horse Farm, located in Rosser, Manitoba just 10 minutes outside the city of Winnipeg bred the winner of Santa Anita's GIII $100,351 La Canada Stakes for fillies and mares four-year-olds and upward.
January 12, 2021, Frankfort consulted the FBI for security reasons after the U.S. Capitol riots and gun-toting protestors on the state's capitol grounds. Meanwhile, the state continued its 1st vaccination phase for healthcare workers and nursing home staff. The next stage would start in February for K-12 personnel, 1st responders, and people over 70.
January 12, 2022, Dr. Fauci finally confirmed that everyone would catch the coronavirus, vaccinated or not. Additionally, the doctor said the vaccinated would possibly fare better in relation to getting sick or dying.