Kentucky Trivia ● Kentucky Tweets
January 7, 1812, Captain Nathaniel G.S. Hart, a brother-in-law of Henry Clay, and Samuel E. Watson, both of Lexington, appeared on "the Field of Honor" in Indiana, just opposite Louisville. They called off the duel after one round, and neither was injured. The Squire' Sketches of Lexington by J. Winston Coleman, Jr.; pg: 28
Localtonians wish a Happy Birthday to Henderson native Ann Rutledge, born in 1813, Abraham Lincoln's 1st love.
January 7, 1824, Kentucky created Spencer County from Shelby County, Bullitt County, and Nelson County and named it in honor of Spears Spencer, a military captain killed at the Battle of Tippecanoe. Taylorsville is the county seat. Other localities include: Fisherville, Elk Creek, Little Mount, Mount Eden, Rivals, Waterford, Whitfield, and Yoder. The 77th county created, Spencer County, covers 193 square miles.
January 7, 1852, Kentucky created Powell County from Clark County, Estill County, and Montgomery County and named it in honor of Lazarus Whitehead Powell, 19th Kentucky governor. The county seat is Stanton. Other localities include Clay City and Slade. The 101st county created, Powell County covers 180 square miles.
January 7, 1865, Jim Vance, a Hatfield, shot Asa Harmon McCoy in a cave along Peter Creek in Pike County. Vance shot Asa due to his connections to the Union Army, more so than his last name, regardless no one got prosecuted. Many feel this was the 1st recorded incident between the Hatfields and McCoys. More than a decade would pass before the feud truly began.
On January 7, 1867, Kentucky rejected the 14th Amendment. The U.S. Congress passed it in 1868. Governor Thomas E. Bramlette opposed it because he thought the Confederate states' post-war treatment was unfair, and the ratification process corrupted, the Kentucky House and Senate agreed. Kentucky finally ratified it in 1976. The 14th Amendment guaranteed African Americans citizenship and all its privileges. However, it was more complicated than just that one issue. It is one of the most litigated parts of the Constitution, forming the basis for landmark decisions such as Brown v. Board of Education (1954), Roe v. Wade (1973), and Bush v. Gore (2000).
On January 7, 1878, Deputy Sheriff John Ruggless, Lewis County Sheriff's Department, died near Concord while he and a posse attempted to apprehend one of two brothers who wanted to steal horses. The brothers were also part of a larger feud between two families that had left several members of each family dead over several years. When the Sheriff received word that the man had returned to Lewis County, he immediately gathered a posse and searched for him. The suspect opened fire striking Deputy Ruggless in the chest.
January 7, 1885, the liquor men of Livingston took a stand against prohibition laws enforced in their community. Once Mt. Vernon authorities released a member of their brotherhood, the liquor men defied the local authorities to enforce the General Assembly's new stricter laws on saloons.
January 7, 1901, Newport native Frank Williams Hunt became Idaho's 5th governor. Elected governor in 1900 at the age of 38; Hunt remains the youngest governor in Idaho history.
January 7, 1948, 25-year-old Captain Thomas F. Mantell, a Kentucky Air National Guard pilot, died in the crash of his P-51 Mustang fighter after being sent to pursue an Unidentified Flying Object (UFO). The event became one of the most publicized early UFO incidents in America.
January 7, 1951, Army CPL Paul L. Daniels from Johnson County, Army CPL Paul M. Gordon from Grant County and Army SFC Earl C. Lewis from Perry County, all died in the Korean War.
January 7, 1955, Marian Anderson made her debut with the Metropolitan Opera, the 1st African-American member in the organization's 71-year history.
On January 7, 1960, Constable William Austin "Bud" Boyatt, McCreary County Constable's Office, died from gunshots as he approached four individuals in a vehicle he suspected of bootlegging.
January 7, 1968, Marine Corps LCPL Paul H. Webb from Elsmere in Kenton County and Marine Corps SSGT Claude H. Dorris from Louisville, both died in the Vietnam War.
January 7, 1970, Army SSG Gene G. Wells from Pulaski died in the Vietnam War.
On January 7, 1981, a historic press conference announced that two legendary congressmen were willing to pass the torch to a new generation. Carl D. Perkins, 68, and 71-year-old William H. Natcher declared their intention to retire in 2000. Much mirth surrounded their decision. Perkins left office in 1984 and Natcher in 1994.
January 7, 1991, Pete Rose left federal prison for a halfway-house after serving five months for tax evasion. Baseball's all-time hit leader would spend three months at the facility.
January 7, 1992, Bruce Wilkinson said, "It's got something on it….It does! Fell it," as he talked to lobbyist Jay Spurrier in a Capitol Plaza hotel room when they noticed the bribe money they were counting had a sticky powder on it. Just one of many memorable quotes from the BOBTROT investigation that exposed Frankfort's corruption.
Friday, January 7, 2000, Governor P. Patton flew to Owensboro to offer victims of the tornado low-interest loans to rebuild. Over 2,500 citizens had no power during the governor's visit.
January 7, 2000, vowing to find the truth, the U.S. Attorney began an extraordinary excavation at the Paducah Gaseous Diffusion Plant. The U.S. Justice Department ordered an investigation into a whistleblower lawsuit that alleged the plant lied about their pollution and contamination to get millions of dollars in performance incentives.
January 7, 2007, Jared Lorenzen played his 1st play in the NFL; in the Giants' wild card loss to the Philadelphia Eagles. On the opening drive, he lined up at quarterback on a third-and-one and got the first down, "shifting the pile" in the process, on the way to a Giants touchdown.
January 7, 2009, for the 1st time since 1981, the president and all the living former presidents met at the White House. The president-elect, President Obama, called it an extraordinary gathering. Carter's administration was the only administration that didn't fire a single shot, kill a single person, and didn't lead America into a war – legal or illegal.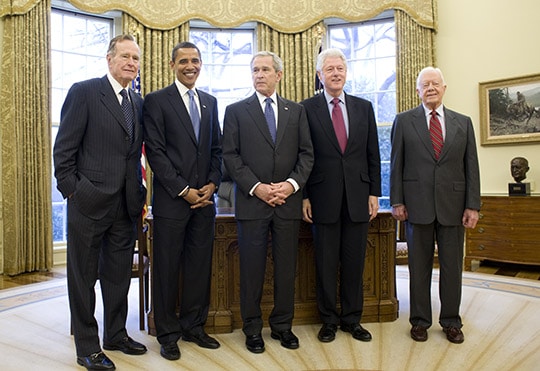 January 7, 2018, a Kentucky bred won the GII $201,035 Santa Ynez Stakes for three-year-old fillies at Santa Anita.
January 7, 2019, Raynor Mullins, 74, a UK dentistry professor, returned to work with a pay raise and new job after winning a lawsuit that included cash. University officials pushed him out after he publicly criticized Governor M. Bevin's Medicaid waiver because it reduced dental coverage for Kentuckians. Mullins sued UK over the 1st amendment.
January 7, 2021, Governor A. Beshear presented his $12 billion budget and a request to immediately provide financial help to struggling small businesses.  The governor also reported a spike in coronavirus cases and deaths over the holidays, claiming, "We are in a dangerous place."  Meanwhile, President Trump's 1st cabinet member resigned, Secretary Chao, Mitch's wife, allegedly over the riots a day earlier.  Many people inside the beltway called for Trump to leave immediately.
On January 7, 2022, Central Kentucky received 10 inches of snow while temperatures plummeted to single digits in the 1st major snowstorm of the year, making it the 7th snowiest day in the city's history. Meanwhile, the U.S. Supreme Court appeared skeptical of the Biden's administration authority to impose coronavirus vaccine-or-testing requirements for the nation's largest employers.