Kentucky Trivia ● Kentucky Tweets
Localtonians wish a Happy Anniversary to Governor James Garrard and his childhood sweetheart, Elizabeth Mountjoy, who wed in 1769. They had five sons and seven daughters. One son and two daughters died before reaching age two. All the surviving sons participated in the War of 1812. All served in the Kentucky General Assembly. A number of his grandsons served in the Civil War, two becoming Union Generals. Another grandson, James H. Garrard, was elected to five consecutive terms as state treasurer, serving in 1857 until he died in 1865.
December 20, 1792, during the Kentucky General Assembly's 1st session, they passed an act that created the state seal and adopted the state motto.  More specifically, the legislation stated that the seal was "to be engraved with the following: two friends embracing, with the name of the state over their heads and around about the following motto: United We Stand, Divided We Fall."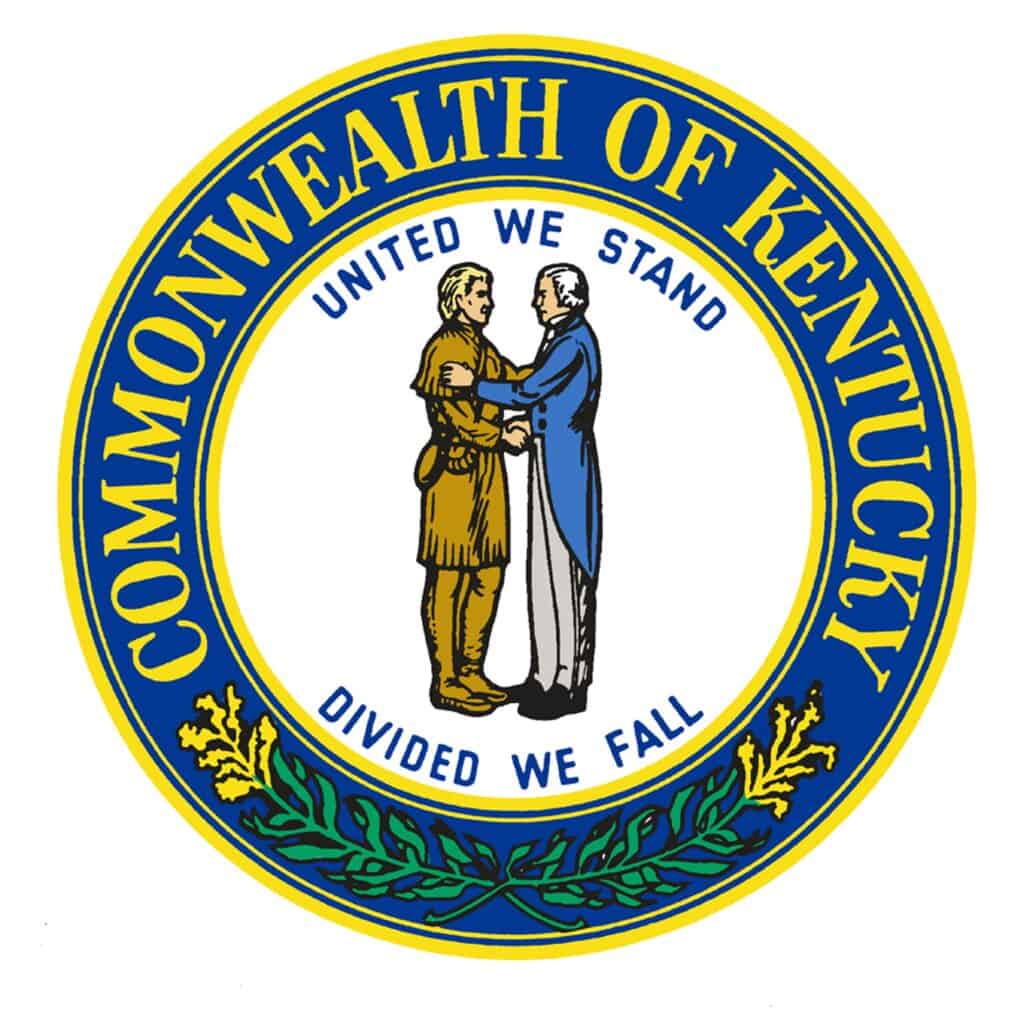 December 20, 1792, Kentucky created Green County from Lincoln County and Nelson County and named in honor of Nathanael Greene, Revolutionary War General. Greensburg is the county seat. Other localities include: Black Gnat, Exie, Pierce and Summersville. Green County today covers 289 square miles and was the 16th county created.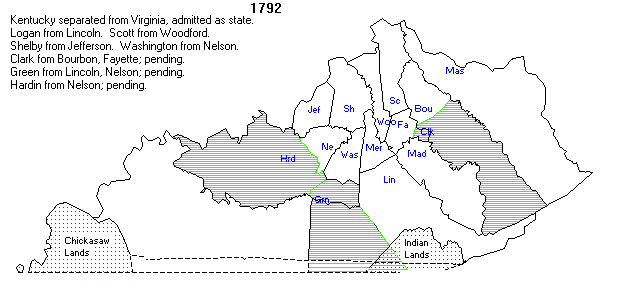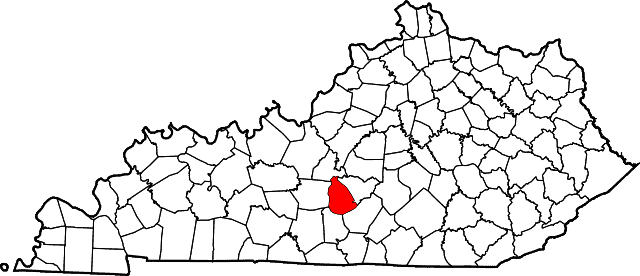 December 20, 1798, Kentucky created Barren County from Green County and Warren County and named for the Barrens, a Kentucky grassland region. Glasgow is the County Seat. Other cities and towns located in the county include Cave City, Park City, Hiseville, Austin, Eighty Eight, Lecta, Rocky Hill, Finney, and Temple Hill. The 37th county created and covers 500 square miles.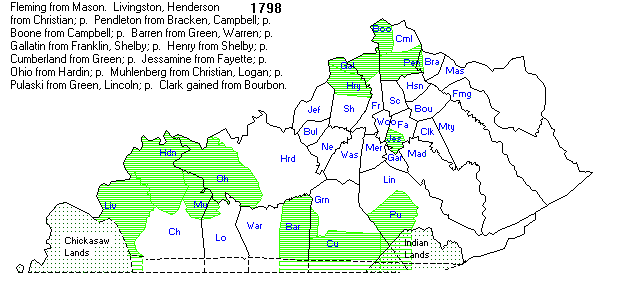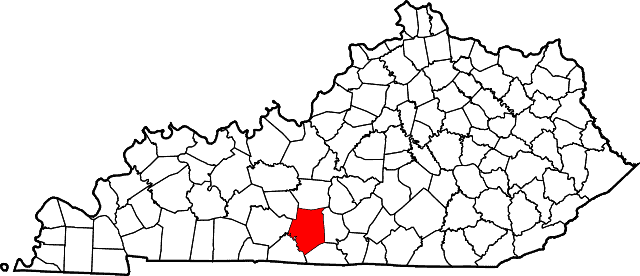 December 20, 1864, Confederates burned the Hartford Courthouse in Ohio County. CSA General Lyon also captured the city's garrison. Dr. Samuel O, Peyton helped save the county records by pleading to the intruders. Roadside History: A Guide to Kentucky Highway Markers edited by Melba Porter Hay, Dianne Wells,Thomas H. Appleton, Jr., Thomas H. Appleton; pg: 10
December 20, 1865, Russellville native David Shelby Walker became the 8th Florida governor.
Localtonians wish a Happy Birthday to Louisville native Irene Dunne, born in 1898. Irene was an actress and singer who appeared in films during the Golden Age of Hollywood. She is best known for her comedic roles, though she performed in films of other genres.
December 20, 1901, a public hanging took place for the murderer of a Danville police officer, nine months after the killing.
December 20, 1904, Patrolman John Dolan, Louisville Police Department, succumbed to a gunshot wound sustained four months earlier when he attempted to quell a disturbance at a bar. He was taken to City Hospital where he remained until his death.
December 20, 1947, Deputy Sheriff David Galloway and Deputy Sheriff Willard Hall, Letcher County Sheriff's Office, died serveing a warrant on a man for being drunk in public. The man was also suspected of beating his wife earlier in the day. As the two spoke with the suspect in his home a second man, hiding behind a closed door, opened fire with a shotgun.
Localtonians wish a Happy Anniversary to Governor Edward T. "Ned" Breathitt Jr. and Frances Holleman of Mayfield, who wed in 1948. The couple had four children: Mary Fran, Linda, Susan, and Edward III.
December 20, 1956, a Glasgow craps game led to the arrest of six people after a police raid. The operator used an electromagnetic charge, initiated when two nails in the floor made contact with steel plates on his shoes, which enabled him to roll sevens at will.
December 20, 1956, the Kentucky Exposition Center held their dedication ceremony.
December 20, 1963, George D. Widener, Jockey Club Chairman, announced that Spindletop Research Inc. would form a national data center for the Thoroughbred Industry. Records for 450,000 thoroughbreds, dating back to 1920, would be stored on magnetic tape. The Racing Form also supplied vital information.
December 20, 1963, although winter didn't start till another 24 hours, Kentucky already experienced its 9th day in a row of freezing weather with no relief in sight. Cities across the nation, including Florida, set record low temperatures.
On December 20, 1966, a majority of Kentucky legislatures asked Governor N. Breathitt to call a special session to consider keeping the state on standard time, also known as slow time. The governor then commissioned a public poll which showed Kentuckians evenly divided. Under a new federal law, states had to adopt daylight savings time, April to October, starting in 1967, unless state legislatures opted out.
December 20, 1974, Somerset native John Sherman Cooper became the 2nd U.S. Ambassador to East Germany.
December 20, 1980, Kentucky laid Harlan Sanders to rest in Lot 57, Section 33 in Cave Hill in one of the largest burial services in the historic cemetery's 300-acre………. until the "Greatest" arrived.
December 20, 1983, Joe B. Hall's Wildcats defeated the Cincinnati Bearcats 24-11. It was a painful game to watch but it did highlight the reason a shot clock was implemented in 1985.
December 20, 1986, Patrolman John R. Herron, Falmouth Police Department, died after being struck by a vehicle while investigating an accident on US 27. It is believed that the darkness caused the accident.
December 20, 1988, Campbellsville native and Kentucky State Trooper Johnny Edrington died from a gunshot during a traffic stop on Highway 80 outside London. Kentucky designated US HWY 68 in Taylor County the Trooper Johnny M. Edrington Memorial Highway. The suspect(s) are still at large.
December 20, 1990, Louisville native Marine Corporal Greg Dawson turned himself in at Fort Knox a month late. Dawson, a UofL mathematics major, applied as a conscientious objector to Operation Desert Shield.
December 20, 1995, Kentucky approved their 1st for profit methadone treatment facility but only after the operators threatened to sue Lt. Gov. Steve Henry. The Louisville clinic planned to serve 400 addicts.
December 20, 1997, Kentucky State stopped Livingston College three times in the final seconds from inside the 3-yard line to win the inaugural Pioneer Bowl, 30-26 in Georgia. It was the 1st bowl victory in 49 years for Kentucky State, which improved to 4-3 in bowls all-time. The Thorobreds finished 7-3 after a 0-3 start.
December 20, 2001, Louisville native Foster Brooks passed away.
December 20, 2015, more than a hundred people participated in the Louisville Urban League's Walk to Work. The group wanted to bring attention to Louisville's homicide rate, which was higher than any other year except 1979. The league president read the names of the 81 homicide victims who died in 2015.
December 20, 2017, Will Wolford, St. Xavier alumni and lineman for three NFL teams, stepped down as head coach of his alma mater's football team.
December 20, 2018, Paducah native and UK football player J.D. Harmon appeared in MTV's Ex on the Beach debut. The show was a social experiment where ten celebrities thought they are running away to a romantic get-a-way, but just as the party gets started; unwanted visitors arrive to spoil the fun.
December 20, 2018, President D. Trump signed Congress' omnibus Farm Bill into law, legalizing hemp at the federal level in a move to help boost America's burgeoning hemp and CBD industry.
December 20, 2019, Lexington native Tyler Lee Clippard signed a one-year contract with the Minnesota Twins. In 2020, with the Twins, he appeared in 26 games, compiling a 2-1 record with a 2.77 ERA and 26 strikeouts in 26.0 innings pitched.
December 20, 2020, Governor A. Beshear celebrated the authorization the Moderna vaccine, the 2nd vaccine approved by the federal government. The governor also announced 1,765 new cases, 26 new deaths (2,397 total), and 1,607 in hospitals due to the virus.
Positives: 1,765 / 242,321
Deaths: 26 / 2,397 – 1st Death 3/16/20
50&over: 2,335 / 49-30: 59 / 29&under: 3
December 20, 2021, as Governor A. Beshear prepped citizens for a potential omicron surge, school officials cancelled the UK-UofL basketball game while Kentucky school buses loaded up with supplies for the Western Kentucky tornado victims.
Positives: 1,215 / 831,033
Deaths: 32 / 11,857 – 1st Death 3/16/20
50&over: 11,180 / 49-30: 611 / 29&under: 56