Kentucky Trivia ● Kentucky Tweets
Localtonians wish a Happy Birthday to Gabriel Slaughter, born in 1767. A farmer by trade, he migrated to Kentucky in 1799/1800 to become our 7th governor and the 1st to ascend to the office upon the sitting governor's death. He never shed the title of "acting governor" given to him by his enemies. He was also on the 1st board of trustees of Georgetown College.
December 12, 1792, Kentucky created Hardin County from Nelson County.  Named in honor of John Hardin, pioneer, Elizabethtown is the largest city and county seat.  Other localities include: Muldraugh (partly in Meade County), Radcliff, Sonora, Upton (partly in LaRue County) Vine Grove, West Point, Cecilia, Fort Knox, Rineyville, Big Spring, Blue Ball, Colesburg, Dever Hollow, Eastview, Glendale, Harcourt, Howell Spring, Hardin Springs, Howe Valley, Kraft, Mill Creek, New Fruit, Nolin, Old Stephensburg, Quaker Valley, Red Mills, St. John, Star Mills, Stephensburg, Summitt, Tip Top, Tunnel Hill, Vertrees, White Mills and Youngers Creek.  Hardin County covers 630 square miles today and was the 16th county created.
December 12, 1794, the Kentucky legislature chartered the Kentucky Academy under the Transylvania Presbytery. The Squire' Sketches of Lexington by J. Winston Coleman, Jr.; pg: 22
December 12, 1803, Kentucky created Greenup County from Mason County and named in honor of Christopher Greenup, Kentucky's 3rd governor.  Greenup is one of three county seats in Kentucky to share its name with its county; the other two being Harlan and Henderson.  Other localities include: Bellefonte, Flatwoods, Lloyd, Raceland, Russell, South Portsmouth, South Shore, Worthington and Wurtland.  Greenup County was the 45th county created and covers 350 square miles.
December 12, 1825, Kentucky created Laurel County from Whitley County, Clay County, Knox County, and Rockcastle County and named for the Mountain Laurel trees prominent in the area.  London is the county seat.  Other localities include East Bernstadt, North Corbin, Keavy, and Lake.  Laurel County was the 80th county created and covers 434 square miles.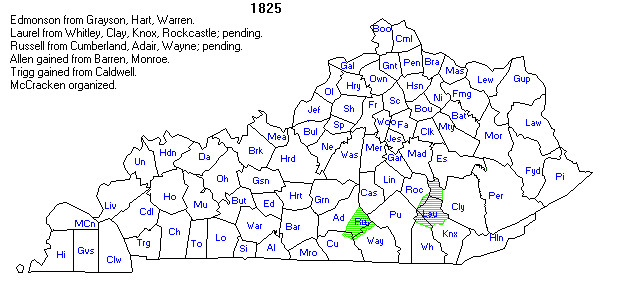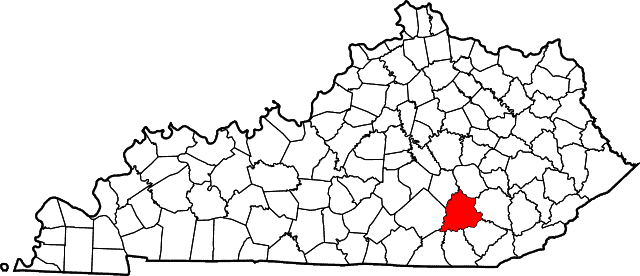 December 12, 1864, General Hylan P. Lyon, with 800 Confederate soldiers, invaded Kentucky and burned the Hopkinsville Courthouse in Christian County to enforce CSA draft laws. In 23 days, Gen. Lyon burned seven Kentucky courthouses used by Union forces; Hopkinsville was the first. Roadside History: A Guide to Kentucky Highway Markers edited by Melba Porter Hay, Dianne Wells, Thomas H. Appleton, Jr., Thomas H. Appleton; pg: 29
Localtonians wish a Happy Birthday to Covington native Ben Lucien Burman, born in 1895. His Catfish Bend series sold in 11 different languages.
December 12, 1899, Town Marshal, T. Edward Park, ended his watch in Irvine County. Marshal Park died arresting a man creating a disturbance. Despite being mortally wounded, Marshal Park returned fire and wounded the subject.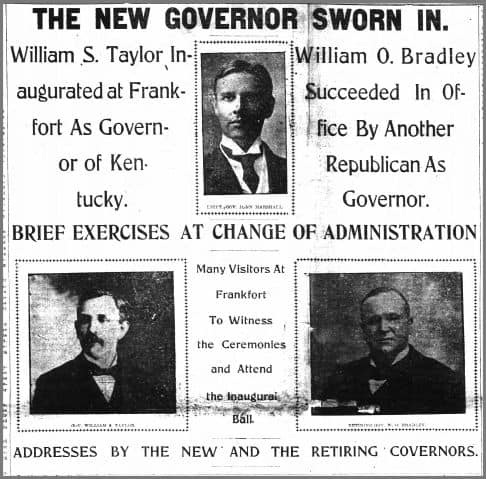 December 12, 1907, Officer Charles Hoard, Hopkinsville Police Department, died by one of three men he had arrested for drunkenness. One suspect, a popular young attorney, claimed self-defense and posted a $5,000 bond. His 1st trial ended with a hung jury. His 2nd trial resulted in an acquittal. After the trial the suspect's health began to fail, and he shot himself.
December 12, 1911, Kentucky swore in James B. McCreary as Kentucky's 37th governor and joined a select group who served two nonconsecutive terms as governor. He became the 27th governor and the 25th individual to hold the office.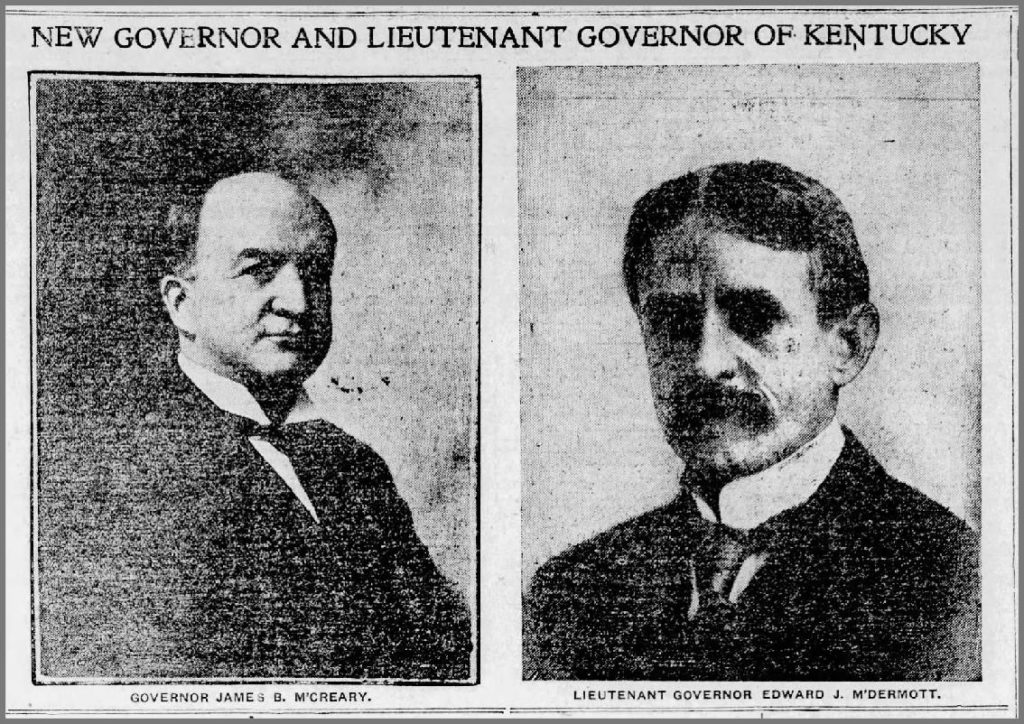 December 12, 1939, Governor Keen Johnson took the oath of office for the 2nd time after winning the general election. As Lt. Governor, he took the same oath two months earlier when Happy Chandler resigned to become a U.S. Senator.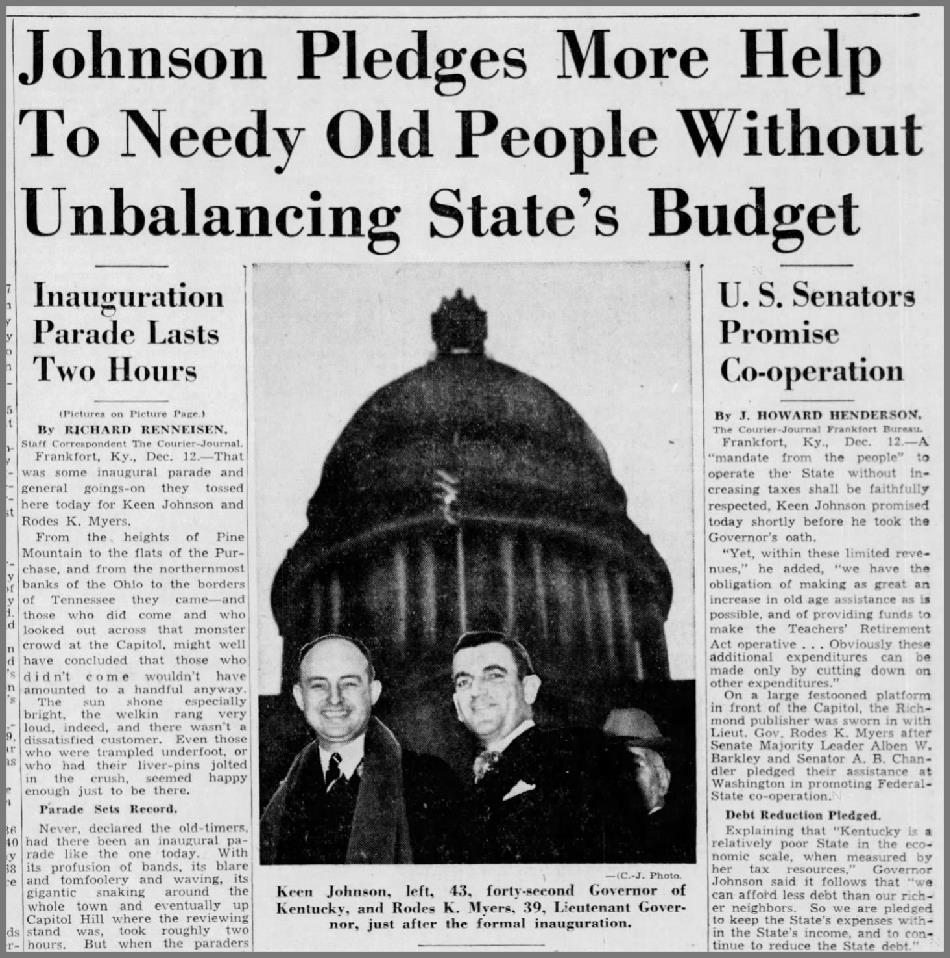 Localtonians acknowledges the birthday of Casey County native Wallace Wilkinson, Kentucky's 57th governor, born in 1941.
December 12, 1942, more than 20,000 people turned out to watch Calumet Farm's Whirlaway win the inaugural Louisiana Handicap at the Fair Grounds Race Course. The newly formed Thoroughbred Racing Association staged the event as a war-relief effort. It would be his last race in a brilliant career. In 1942 he earned his 2nd straight Horse of the Year title.
December 12, 1950, Army PFC James E. Bryant from Harlan County, Army PFC James D. Gayhard from Perry County, Army PFC Ova L. Haire from Breckinridge County, Army PVT Donald Maddox from Fleming County, Army PFC Chester Rice from Bell County, Army PFC Charles L. Simpson from Bath County, Army PFC Forrest Thomasson from Ohio County and Army SGT Arthur Junior Wooten from Lawrence County all died in the Korean War.
December 12, 1967, Louie B. Nunn became the 52nd Kentucky governor. Governor Nunn oversaw the University of Louisville's entry into the state's public university system.
December 12, 1970, fans paid $4 to watch the Kentucky / Indiana basketball game in Memorial Coliseum on close circuit television. Kentucky won 95-93 on OT in Bloomington's Indiana Fieldhouse.
December 12, 1973, the House on the Hill burned badly 43 years after Belle Brezing died in it. Thompson-Riley Auctioneers administered the final disposition of artifacts three months after the fire and then razed it.
December 12, 1987, Kentucky retired Dan Issel's jersey.
On December 12, 1990, bitter individuals set fifty fires along the edge of Robinson Forest in retaliation against UK's opposition to a strip-mining project in the forest; they felt UK cost them their jobs. Rain helped contain the fire to 300 to 500 acres.
December 12, 1992, J. Peterman Company's 1st retail store opened in Lexington. The iconic store enjoyed pop culture success from 1995 to 1998 thanks to the TV show Seinfeld.
December 12, 1995, Fallsburg native Governor Paul Edward Patton became Kentucky's 59th governor.
December 12, 2002, Commissioner Ray B. Franklin, Kentucky Office of Charitable Gaming, succumbed to injuries sustained eight days earlier from an automobile accident on I-64 in Frankfort.
December 12, 2017, the UK Board of Trustees approved a plan to demolish the Blanding-Kirwan Towers at an estimated cost of $15 million compared to the $126 million to renovate. The trees planted in 1969 remain.
December 12, 2019, Governor A. Beshear signed an executive order that restored voting rights to more than 140,000 non-violent felons who served their sentences. Later that night, the last full moon of the decade shined bright.
December 12, 2020, a man ex-Governor M. Bevin pardoned for killing his infant son woke up in jail after being arrested for assault, domestic violence, and 1st degree strangulation.
Sunday, December 12, 2021, Governor A. Beshear appeared on Meet the Press and stated he was hoping for miracles after Western Kentucky tornadoes killed 80 people on Friday and Saturday.
9 – University of Kentucky All American Lowball Barware Old Fashion Glasses
Vintage – Mid Century Modern – Rare
Glasses Features UK All-American Players in Basketball & Football up to 1966.
Basil Haydon, Sam Ball, Herschel Turner, Bill Spivey, Cliff Hagan, Wah Jones and more.