Kentucky Trivia
November 12, 1788, Woodford County, created from Fayette County, was approved by the state of Virginia.  It would be the last county created by Virginia.  Woodford was named in honor of William Woodford, Revolutionary War General.  The county seat is Versailles.  Other localities include: Huntertown, Midway, Millville, Milner, Nonesuch, Mortonsville, Pinckard, Pisgah, Wallace and Troy.  Woodford County today covers 192 square miles.  It was the 9th county created.
On November 12, 1866, John H. Grassup and John Blair, both of Bowling Green and Confederate soldiers, dueled in their hometown.  Pistols at ten paces were specified. At first fire, Grassup received a slight wound in the right arm; Blair was shot through the left breast, the ball coming out of his shoulder.  Both parties made up, shook hands, and parted friends. It was about a South Carolina woman.
Famous Kentucky Duels by J. Winston Coleman, Jr.; pg: 145
November 12, 1881, the University of Kentucky (UK) played its first football game when the University was called A&M College or Kentucky State College. Their opponent was Kentucky University, known today as Transylvania University (UT). It was the inaugural Battle on Broadway, a rivalry that lasted 30 years on the gridiron. The game resembled more of a rugby match than football and the scoring procedure is still unclear. UK beat UT 7 ¼ to 1. The UK team finished 1-2 in their first year, but the second season would have to wait nine years.
Localtonians wishes a Happy Birthday to Liberty native Carl Mays, born in 1891, and who pitched 15 seasons in Major League Baseball from 1915 to 1929. During his career, he won over 200 games, 27 in 1921 alone, and was a member of four World Series-champion teams. Mays threw the pitch that fatally injured Ray Chapman of the Cleveland Indians on August 16, 1920. Chapman, also a Kentuckian, became the only major league player to die due to an on-field injury.
November 12, 1913, in Louisville's first season at Eclipse Park they hosted Kentucky for the 2nd Governor's Cup.  Kentucky won 20-0.
November 12, 1915, Officer Rufus A. Beagle, 52, of the Cynthiana Police Department, was shot and killed by a drunken man after responding to a public disturbance call. The suspect was arrested, convicted of murder, and sentenced to life.
November 12, 1927, the Louisville Cardinals play the Eastern Kentucky Colonels for one of the first times. The game took place in Richmond and the Cardinals won 21-13. Since this game, the overall record stands at 19-7-1 in favor of the Cardinals.
November 12, 1933, Pauline Tabor opened her first brothel in Bowling Green.  Pauline's clientele included wealthy business people, political figures, and GIs from nearby Ft. Knox and Ft. Campbell and regional students.  Around the 1980s, urban renewal took her house on Clay Street and entrepreneurs sold the bricks as souvenirs. 
The Kentucky Encyclopedia edited by John E. Kleber; pg: 713
November 12, 1940, the Livermore Bridge was dedicated in a grand affair accompanied by a banquet.  Governor Keen Johnson gave the dedication address.  The Livermore Bridge does not contain a distinctive architectural structure or a one of a kind design.  However, the bridge is like no other bridge in the world.  The structure is claimed to be the only river bridge that begins in one county (McLean) but spans two rivers (Green and Rough) and crosses another county (Ohio) to end in its county of origin (McLean).  The Livermore Bridge crosses Ohio County in only a small sliver.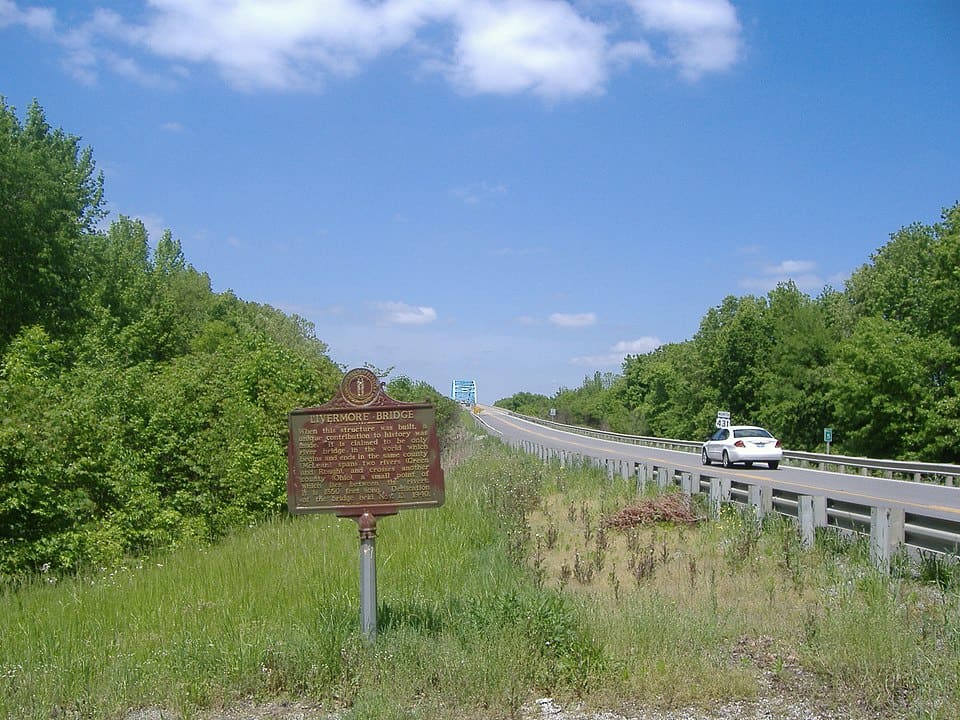 Localtonians wishes a Happy Birthday to Mount Sterling native Governor Ernie Fletcher, born in 1952.  Before politics and becoming our 60th governor, Fletcher was a family physician and a Baptist minister.  He is the second physician to be elected governor; the first being Luke P. Blackburn in 1879.
November 12, 1965, Army SP4 from Earnest G. Sears from Alcalde in Pulaski County died fighting in the Vietnam War.
November 12, 1966, Marine Corps LCPL Jerry W. Dunigan from Benton Marshall County and Army CPL Cecil Walker from Manchester in Clay County died fighting in the Vietnam War.
November 12, 1967, Army SP4 Elzie Sanders Jr. from Smiths Grove in Warren County died fighting in the Vietnam War.
November 12, 1968, Marine Corps CPL Marvin E. Gay from Lexington, Marine Corps PFC Ronald L. Reed from Benton in Marshall County and Marine Corps CPL William H. Schaeffer from Louisville all died fighting in the Vietnam War.
November 12, 1970, Army PFC David B. Hockensmith from Frankfort died fighting in the Vietnam War.
November 12, 1973, several hundred people gathered at Blue Grass Airport in Lexington to greet Secretariat on his flight from New York into retirement in Kentucky. A voice from the tower crackled over the airplane radio: "there's more people for Secretariat than to greet the governor."
Kentucky Trivia:  Secretariat took his first plane ride to his last race, the Canadian International at Woodbine.  He flew back to retire at Claiborne Farm in Paris.
November 12, 1984, Covington native Ben Lucien Burman, an author and journalist, passed away.  He fought in both World Wars and graduated from Harvard University.  He was married to Alice Caddy, who illustrated many of his children's books, including his most popular books, the Catfish Bend books, published in eleven languages.
November 12, 1985, Rockcastle County native John Lair, pioneer country music broadcaster, music collector, and community historian, passed away. There are supposedly more than 500 songs written by Mr. Lair. One of them, "Freight Train Blues," was recorded by a list of talent that includes none other than Bob Dylan, Doc Watson, Roy Acuff, Hank Williams, and the Weavers. His real mark on country music was the massive impact on the Ohio and Kentucky music scene by founding the Renfro Valley Barn Dance in 1937 in Ohio and moving back to his home state a few years later.
November 12, 1988, Campbellsville University and Georgetown College met for the first time on the football field,in Georgetown. The Tigers win 51-7. The overall record today stands at 24 Georgetown wins to Campbellsville's six.
November 12, 1988, the Kentucky Vietnam Veterans Memorial was officially dedicated by Governor Wilkinson. It cost more than $1 million, of which the State of Kentucky provided $100,000. The rest of the money came from private donations. Overlooking the capitol, the memorial honors the 125,000 Kentuckians who served during the Vietnam era (1962-1975) and the 1,105 Kentuckians who died. Each name is precisely located, so the shadow of the sundial pointer, or gnomon (pronounced 'noman'), touches each veteran's name on the anniversary of his death. Thus, each individual is honored with a personal tribute. Helm Roberts (1931-2011), a Veteran from Lexington, designed the unique memorial.
November 12, 2008, the Army began draining and neutralizing lethal nerve agent, 15 months after a leak was identified at the Blue Grass Army Depot. The project named "Operation Swift Solution" did not go as swiftly as the Army or Depot had hoped. The August 27, 2007 leak represented the most severe leak on record in Richmond.
November 12, 2014, Churchill Downs announced they were buying Seattle-based Big Fish Games, which billed itself as the world's largest producer and distributor of online games for $885 million.  It would be the largest social media acquisitions to date.  In 2018, Churchill Downs sold Big Fish to an Australian slots manufacturer, Aristocrat Leisure, for $990 million.
November 12, 2019, Governor M. Bevin, one week after Election Day, told an audience that he was not conceding the gubernatorial election to the Democratic challenger because "people are trying to hijack our political process." Bevin stated that he just wanted the process "legit."
November 13, 2019, Bardstown High School star JJ Traynor signed with Louisville along his side was his father Jason Osborne who also was a Cardinal.
November 13, 2020, Matthew Mitchell has stepped down as women's basketball coach at the University of Kentucky.