Kentucky Trivia
November 1, 1780, Kentucky's original three counties Lincoln, Jefferson and Fayette became effective. At the time, the territory was home to five established communities: Boonesborough, Fort Harrod/Boiling Springs, St. Asaph, later called Logan's Station, McClelland's Station and Leestown.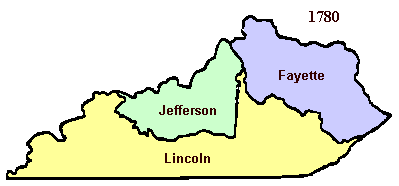 November 1, 1793, forty-seven members of Kentucky's general assembly met for the first time in Frankfort in the farmhouse of Maj. James Love.
November 1, 1811, Kentuckian James Allen dueled Thomas Fuller, an Englishman in Southern Illinois. An argument over the war resulted in the challenge. They used pistols after ten paces and on the first fire, Fuller got hit. Both fired again and Fuller was shot above the heart but did not fall. Upon examination, "a Dutch blanket in eight folds and one quire of paper was opened and spread under his waistcoat." Allen, who received no wounds, "exposed the boasting Englishman to eternal contempt and disgrace."
Famous Kentucky Duels by J. Winston Coleman, Jr.; pg: 137
November 1, 1855, Edward Mann Butler passed away. Mr. Butler was one of Kentucky's most prominent early educators. He is best remembered as being the first president of what would become the University of Louisville and heading the first public school in Kentucky.
November 1, 1903, Deputy Sheriff Tom Stewart, Bell County Sheriff's Department, was shot and killed while attempting to arrest a man. The convict was sentenced to life on February 10, 1915 but not for the murder of Deputy Stewart.
November 1, 1913, Deputy Sheriff Albert Johnson Franklin, Metcalfe County Sheriff's Office, succumbed to gunshot wounds sustained days earlier, while attempting to arrest two brothers who were drinking on the veranda of the Shirley Hotel on Main Street in Edmonton. The boys held a grudge against Deputy Franklin for having arrested their father several years earlier.
November 1, 1921, Deputy Sheriff Miles Hall, Letcher County Sheriff's Office, succumbed to a gunshot wound sustained hours earlier while attempting to quell a disturbance. As he attempted to separate the men one of them became combative and Deputy Hall struck him with his pistol. As a doctor tended to the injured man's wound someone else shot Deputy Hall in the stomach, fatally wounding him.
November 1, 1924, UK's football stadium, Stoll Field, renamed the grandstands McLean Stadium in honor of Price Innes McLean, a former center for the Wildcats who had died from injuries sustained in the 1923 Kentucky-Cincinnati game.
November 1, 1929, Patrolman McKinley Massengale, Somerset Police Department, was shot and killed while searching a restaurant for illegal whiskey. One of the suspects inside the restaurant opened fire through a window, killing him.
Localtonians wishes a Happy Birthday to Lexington native David "Davey" S. Moore, born in 1933. Davey was the Featherweight World Champion from 1959 to 1963. He was able to retain the title for a large period of time relative to boxing years, successfully defending his title five times.
Localtonians wishes a Happy Birthday to Hazard native Johnny Cox, born in 1936.  A 6'4″ guard from Hazard High School, Cox starred at the University of Kentucky from 1956 to 1959.  He scored 1,461 points in 84 career games and won an NCAA Championship in 1958.  His #24 jersey was later retired.  Cox played one season (1962–63) in the NBA as a member of the Chicago Zephyrs.  He averaged 7.8 points per game in 73 games.  He also played in the American Basketball League.
On November 1, 1938, Seabiscuit met War Admiral in what was dubbed the "Match of the Century." The event was run over 1 3⁄16 miles at Pimlico Race Course. From the grandstands to the infield, the track was jammed with fans with an estimated 40,000 at the track. 40 million listened on the radio. War Admiral was the 1-4 favorite. Two hundred yards from the wire, Seabiscuit pulled away again and continued to extend his lead over the closing stretch, finally winning by four lengths despite War Admiral's running his best time for the distance.
Localtonians wishes a Happy Birthday to Lakeville native Larry Flint, born in Magoffin County, in 1942.
November 1, 1947, Man o' War had a heart attack at 30 in Lexington. Three days later, more than 2,000 people attended his funeral, which was broadcast on NBC Radio and featured nine eulogies. He passed away less than a month after his longtime groom Will Harbut died. Although Man o' War never raced in Kentucky, he spent most of his life in the Bluegrass State. There are estimates that as many as three million visitors traveled to Mr. Riddle's Faraway Farm between 1921 and 1947 to see the legendary horse in retirement. Many also went to hear Will, who nicknamed him, "the mostest horse that ever was." tell tales of his exploits on the track. Man o' War made his debut on June 6, 1919, when attendance and purses at racetracks were at record lows. By the time he retired 16 months later, he was a national hero, joining Babe Ruth as the Roaring Twenties' first shining stars. The charismatic horse's popularity had brought fans back to the track. He was originally interred at Faraway Farm, but in the early 1970s, his remains moved to a new burial site at the Kentucky Horse Park.
On November 1, 1947, UK's football team lost 13-0 to Alabama at Stoll Field. Coach Paul "Bear" Bryant was in his second season as head coach of the Cats. Four games later, he led UK to its first-ever bowl victory, 24-14 over Villanova in the Great Lakes Bowl.
November 1, 1950, Army CPL James T. Higgins from Harlan County and Army PFC Ardell M. Neal from Ohio County both died fighting in the Korean War.
November 1, 1951, Army PVT Raymond E. Conner from Boyle County died fighting in the Korean War.
November 1, 1952, Army PFC Lenox Stacy from Perry County and Army PVT James W. Woods from Jefferson County both died fighting in the Korean War.
November 1, 1955, the Vietnam War begins.
November 1, 1961, Allen County native Mordecai Fowler Ham, Jr. passed away. He once stated that "From the time I was eight years old, I never thought of myself as anything but a Christian. At nine, I had definite convictions that the Lord wanted me to preach…." Ham studied at Ogden College in Bowling Green. He believed that problems involving liquor could best be resolved by conversion to Christianity and the placement of new believers in churches which stress abstinence of alcoholic beverages. In November 1934, Billy Graham was converted under Mordecai Ham's preaching in a revival in Charlotte, NC.
November 1, 1966, Army SP4 Randy B. Wright from Elkhorn City died fighting in the Vietnam War.
November 1, 1968, Army SGT James E. Graves From Drake in Warren County died fighting in the Vietnam War.
November 1, 1986, the 3rd Breeders' Cup was held for the first time under the majestic San Gabriel Mountains at Santa Anita. A record Breeders' Cup crowd of 69,155 were on hand to witness the 4-year-old Lady's Secret go wire to wire to win the Distaff and become the first Breeders' Cup champion to be named Horse of the Year.
Thursday, November 1, 1990, rampaging students smashed tables and windows at Magoffin County High School in Salyersville to protest schedule changes aimed at limiting their smoking. School was canceled for two days.
November 1, 1991, smoke from about 50 fires in Eastern Kentucky spread over much of the state, setting off smoke detectors in Lexington. 11,000 acres were burning.
November 1, 1992, in Hopkinsville, V. P. Dan Quayle ridiculed Arkansas Governor Bill Clinton as another Jimmy Carter, which led to a boisterous crowd of cheers in the conservative town.
November 1, 1993, Frankfort recommended that the University of Kentucky Dental schools merge with the University of Louisville Dental School, which prompted angry exchanges among members of a task force charged with streamlining Kentucky higher education. UK President Charles Wethington reacted strongly to the Cabinet Secretary's statement that "It is clear to me we need one dental school and that Louisville needs to be the physical location." Wethington, clearly upset, asked why they were not discussing closing one of the three law schools? The Secretary replied, "I do not know." Wethington replied, "how do you know about dentistry and not law?" The Secretary responded that law schools do not need expensive equipment and extensive supervision and are cheaper to run than dental schools.
November 1, 2003, Arkansas beats Kentucky 71-63 in seven OTs at Commonwealth Stadium. The game tied the NCAA record for the longest game in college football history.
November 1, 2004, marked the first time Kentucky recognized and celebrated "Native American Indian Month."
Friday, November 1, 2013, fans enjoyed a spectacular two days of racing at the 30th Breeders' Cup, set again against the iconic mountain backdrop of Santa Anita Park.
Saturday, November 1, 2014, day two of Breeders' Cup opened with 62-1 longest shot winning the Juvenile Fillies in a 14 horse field at Santa Anita. The win extended trainer D. Wayne Lukas' record number of Breeders' Cup victories to 20. Main Sequence battled Flintshire in the Longines Turf. The Niarchos family won the 6th BC Mile. The Classic was won by a nose and a stewards' inquiry. This was the 31st Breeders' Cup World Championships.
November 1, 2015, Louisville native Justin Thomas wins the 2015 CIMB Classic at the Kuala Lumpur Golf and Country Club in Malaysia. This was Justin's first PGA tour event win and the Malaysian Prime Minister, Najib Razak, presented him with his trophy.
Friday, November 1, 2019, for the second year in a row, all five Breeders' Cup races on "Future Stars Friday" were for two-year-olds. The five winners won all their races by less than four lengths, in the 36th Breeders' Cup held at Santa Anita Park.
November 1, 2019, the "Old Rivalry" between Male and Manual High Schools continued on after 126 years. It is the oldest in Kentucky, having played almost every year since 1893. Male was riding a 15-game winning streak and was 15th in the nation heading into the game. Manual was looking to end a six-game losing streak.
November 1, 2019, the "Old Rivalry" between Male and Manual High Schools continued on after 126 years. It is the oldest in Kentucky, having played almost every year since 1893. Male was riding a 15-game winning streak and was 15th in the nation heading into the game. Manual was looking to end a six-game losing streak.