Kentucky Trivia
On October 18, 1770, British representatives insisted on negotiating a new treaty with Native Americans. The new treaty would move the northeastern boundary of Cherokee country from the New River of West Virginia to the land within the extreme western corner of Kentucky, today known as Pike County. Two years later, Great Britain requested another treaty to purchase all the lands between the Ohio and Kentucky Rivers.
October 18, 1881, while Jesse James ate dinner incognito in a Bardstown roadhouse, someone walked in with a newspaper and yelled that the James Gang had just robbed a bank in Kansas. Angered, Jesse stood up, announced who he was, carved his name and the date into a windowpane with his diamond ring to prove that he couldn't have done it, and ran away.
October 18, 1902, Kentucky State College (UK) beat Georgetown 28-0 in Lexington.
October 18, 1911, ten thousand people witnessed the unveiling of the equestrian statue of Brigadier General John Hunt Morgan in downtown Lexington. The Kentucky Historical Society's United Daughters of the Confederacy (UDC) raised $15,000 for Pompeo Copii's 15-foot bronze memorial. The dedication ceremony included Morgan's brother-in-law, Confederate General Basil Duke, and Governor Augustus E. Willson. Lexington moved the statute to the Lexington Cemetery on October, 18, 2017.
The Squire' Sketches of Lexington by J. Winston Coleman, Jr.; pg: 78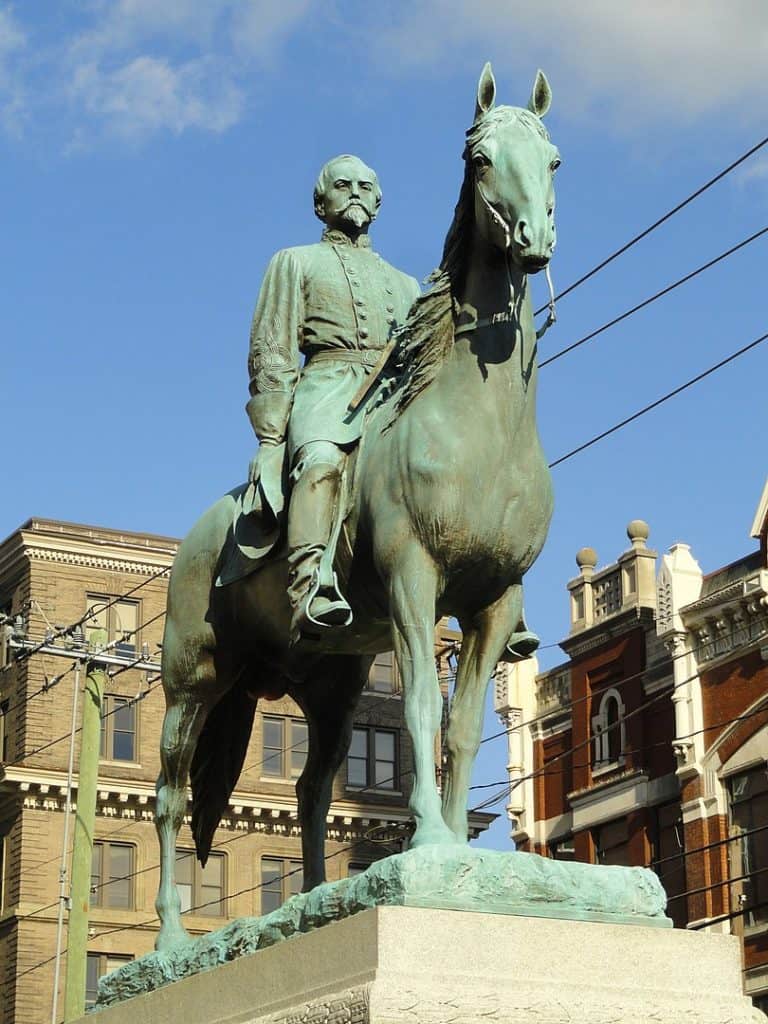 On October 18, 1914, the Idlewild launched in Pennsylvania. The steamboat served as a ferry between Memphis, TN, and West Memphis, AR moving freight and people. Her name later changed to the Belle of Louisville.
October 18, 1926, Chief of Police Robert S. Woolum, Pineville Police Department, died from a gunshot attempting to arrest an intoxicated man at the railroad depot. The suspect shot the chief three times in the abdomen and ankle. The man was arrested and sentenced to 21 years in prison.
October 18, 1951, Army SGT Robert L. Baker from Wayne County, Army PVT Bill D. Shaw from Allen County, and Army CPL Burnice D. Powers from Scott County, died fighting in the Korean War.
October 18, 1956, Nashua, the world's leading money-winning thoroughbred, made his final public appearance at Keeneland in front of 9,000 fans under Leslie Combs II's silks. Eddie Arcaro galloped Nashua once around the track before breezing a brisk quarter-mile. In the infield ceremonies, Shelby Kincaid, Lexington's mayor, presented the colt's owners with a key to the city. Keeneland President Duval A. Headley then gave Combs, a member of the syndicate purchasing Nashua, a gold trophy. Trainer James Fitzsimmons and E. Arcaro also received gold julep cups, suitably inscribed for the occasion. The following January at Keeneland's breeding stock sale, Stavros Niarchos paid a record $126,000 for Nashua's dam, Segula.
October 18, 1968, Army SGT Randall E. Welch from Covington died fighting in the Vietnam War.
Sunday, October 18, 1970, Latonia Race Track held Quarter Horse racing. Never before had legal betting existed on the Sabbath in Kentucky. Latonia didn't know how many would attend, but 3,524 bet $65,862, a 31% increase from Saturday's card.
October 18, 1972, the U.S. National Register of Historic Places added Farmington in Louisville to their list. John and Lucy Speed, close friends of Abraham and Mary Todd, owned the vast hemp plantation.
October 18, 1982, Governor John Y. Brown ordered an immediate hiring freeze in the state government and told a majority of state agencies to cut cost by 2%.
On October 18, 1984, UofL announced that 23 companies and/or individuals made a five-year, $175,000 commitment to the athletic department by leasing 19 suites at Freedom Hall to watch UofL basketball. Don Russell, associate athletic director, stated he knew of no other university to offer such a deal.
October 18, 1991, in an unexpected turnabout, the newly appointed Kentucky State University President, John T. Wolfe Jr., resigned and averted his ouster. The two-month presidential saga ended on this date for the university.
October 18, 1993, a civilian employee at Fort Knox shot and killed three co-workers and critically wounded three others before driving to Louisville and killing himself.
October 18, 1994, Frank Stronach bought the 615-acre Margaux Stud on Old Frankfort Pike for $2.8 million. Margaux Stud foreclosed and stayed on the market for years until Stronach upped his Kentucky land acreage to 1,600.
October 18, 1996, the Cumberland Gap Tunnel opened after 17 years in the making.
October 18, 2000, the federal government announced a sweeping review of all 653 coal-waste impoundment dams nationwide. The previous week's catastrophic Martin County dam breach, rated "a moderate risk" of failing, made the government reevaluate.
October 18, 2002, a Knott County jury ordered a Pittsburgh energy company to pay more than $270 million in the largest jury verdict ever awarded in Kentucky. A man received injuries after his water well pump house exploded.
October 18, 2008, the Kentucky Wildcats beat the Arkansas Razorbacks 21-20 in Lexington in a thriller. It was only one of two SEC wins for the season, but the Cats did go on to win the Liberty Bowl against East Carolina.
October 18, 2010, Governor S. Beshear stated that Kentucky can and does mine coal while at the same time protecting Kentucky's environment.  Beshear also called the EPA's rules to protect water "arbitrary and unreasonable."
On October 18, 2011, UofL signed Charlie Strong to a seven-year contract extension during his 2nd year as head coach.  His pay increased from $1.6 million to $2.3 million annually through June 30, 2018.  He coached his last game in December 2013 as a winner in the Russell Athletic Bowl.
October 18, 2017, UofL fired Tom Jurich as Athletic Director. The board of trustees agreed to a $4.5 million settlement and cleared him of any wrong doing. They phrased his termination as "retirement."
October 18, 2017, Lexington quietly began removing the statues of former U.S. Vice President John C. Breckinridge and Confederate General John Hunt Morgan from Fayette County courthouse grounds. The monuments had been downtown for more than 100 years.
On October 18, 2019, Kentucky announced plans to lease a private prison in Lee County, the Southeast State Correctional Complex.  CoreCivic, which owns three private prisons in Kentucky, now has two operational in the state.
October 18, 2020, as fear replaced fatigue and frustration over the eight month pandemic, the Kentucky governor's mansion installed a security fence to protect the 1st family after protestors hung an effigy of the governor months earlier.
Positives: 812 / 87,607
Deaths: 5 / 1,317 – 1st Death 3/16/20
50&over: 1,280 / 49-30: 35 / 29&under: 2
October 18, 2021, marked the 25th anniversary of the opening of the Cumberland Gap Tunnel.