Thank You For Visiting
October 9, 1829, a famous Lexington Duel between Pro-Slavery Charles Wickliffe and Lexington Gazette editor and Anti-Slavery George J. Trotter occurred shortly before 9:00 a.m. on the Scott/Fayette border. The duel has its roots in the acquittal of Charles Wickliffe for the murder of Thomas R. Benning, editor of the Kentucky Gazette. Wickliffe shot Benning during a disagreement over editorials, which criticized his father, politician Robert Wickliffe. Henry Clay acted as Wickliffe's lawyer during his trial. Later that same year, Wickliffe challenged the new editor of the newspaper, George J. Trotter, to a duel over articles questioning the trial's fairness. At the duel, each fired: Trotter's bullet grazed Wickliffe's hip and Wickliffe missed. "I demand a second fire," Wickliffe demanded sharply. "Sir, you will have it with pleasure," replied Trotter. Fifteen minutes later, the duelist fired again, and again Wickliffe missed, while Trotter's bullet inflicted a mortal wound. As Wickliffe lowered himself to the ground, he was asked if he was satisfied and he replied, "I am sir, I am unable to fire again."
Famous Kentucky Duels by J. Winston Coleman, Jr.; pg:72
Localtonians wishes a Happy Birthday to Covington native Frank Duveneck an American figure and portrait painter, born in 1848. His work is displayed at the Metropolitan Museum of Art in New York City, National Gallery of Art in Washington, DC, Museum of Fine Arts in Boston, Cincinnati Art Museum, Richmond Art Museum, Hyde Collection in Glen's Falls, NY, Kenton County Library in Covington and several other galleries. A portrait, Young Man with Tousled Hair (the Street Urchin), now in the Smithsonian American Art Museum, was previously in the collection of Kurt Vonnegut. Among his most famous paintings are Lady with Fan (1873) and The Whistling Boy (1872).
Kentucky Trivia: Frank Duveneck's work has been offered at auction multiple times, with prices from $140 to $385,000, depending on the piece. Since 2000 the record price is $385,000 for Venetian Fruit Market, sold at Christie's New York in 2007.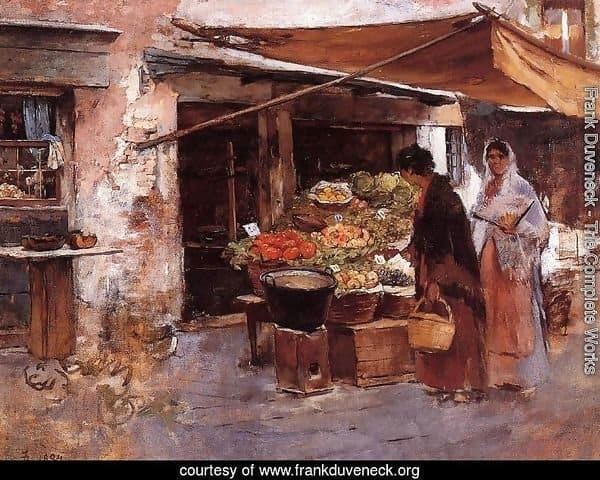 On October 9, 1888, Elijah Morgan, a French man though a son-in-law of Josiah Combs, was killed from ambush as he and Frank Grace were on their way to Hazard to try to bring the two warring sides together and stop the feud in the French-Eversole War. There had been rumors for weeks that he was marked for death, and no one was surprised when he fell. It was generally believed he was killed in retaliation for the death of Shade Combs.
October 9, 1893, the Kentucky Futurity, one of the Commonwealth's oldest and richest horse races debuted at The Red Mile. The crowd watched a shiny black colt by the name of Oro Wilkes score a grueling five-heat victory for driver J.A. Goldsmith. Oro Wilkes's fastest Futurity heat was 2:14 ½, and the purse for the inaugural was $11,880. The Kentucky Futurity, which dates back to 1893, is the oldest harness horse race of any importance. By contrast, the Hambletonian only goes back to 1926.
October 9, 1894, Berry Rich an unknown male was lynched for arson and theft in Crittenden County. There were 135 recorded lynching in Kentucky from 1882-1921.
October 9, 1927, Chief of Police William Lou "Bill" Osborne, Martin Police Department and his 17-year-old son were shot and killed by a man who was seeking revenge against the Chief for a previous shooting. The Chief had shot and wounded the suspect's uncle the previous week while attempting to arrest him. The man went to Chief Osborne's home and opened fire without warning, killing him and mortally wounding his son. Despite the wound, he was able to return fire and fatally shot the suspect. Chief Osborne was 50 years old and was survived by his wife and 12 children.
Localtonians wishes a Happy Birthday to Louisville native Ambassador Thomas Graham Jr. born in 1933. Ambassador Graham is a former senior U.S. diplomat involved in the negotiation of every single international arms control and non-proliferation agreement from 1970 to 1997. The talks included the Strategic Arms Limitation Talks (SALT Treaties), the Strategic Arms Reduction Treaties (START Treaties), the Anti-ballistic missile (ABM) Treaty, Intermediate-Range Nuclear Forces Treaty (INF) Treaty, Treaty on the Non-Proliferation of Nuclear Weapons Treaty (NPT), Treaty on Conventional Armed Forces in Europe (CFE) Treaty and Comprehensive Nuclear-Test-Ban Treaty (CTBT). Ambassador Graham attended Louisville Male High School.
October 9, 1939, Governor A.B. ("Happy") Chandler resigned as the 44th Governor of Kentucky and Lt. Governor Keen Johnson became the 45th Governor. Governor Johnson then appointed Chandler to the vacant U.S. Senate seat left open by the death of Senator M.M. Logan. Chandler went on to win the special election and later the general election to serve as Senator until 1945, when he resigned to become the Commissioner of Baseball.
October 9, 1951, Army CPL Roy L. Layne from Floyd County and Army PFC Robert C. Dick from Pulaski County died fighting in the Korean War.
October 9, 1952, Army SGT Billie A. Smoot from Nicholas County died fighting in the Korean War.
October 9, 1967, Marine Corps James G. Farmer from Wallings in Harlan County died in the Vietnam War.
October 9, 1968, Marine Corps PFC Wardell L. Armstrong from Glasgow and Marine Corps LCPL Gary H. Smith from Pleasure Ridge Park, died fighting in the Vietnam War.
October 9, 1969, Army SSG George A. Elkins from Jefferson County died fighting in the Vietnam War.
Queen Elizabeth II, with William Farish III on October 9, 1984, inspected mares at Farish's Lane's End Farm in Woodford County. The queen, on a six-day visit to the Bluegrass, toured several horse farms and presented a silver Georgian trophy to the winner of a new Keeneland race named in her honor: the Queen Elizabeth II Challenge Cup.
October 9, 1992, South East Coal informed Kentucky authorities that they intended to mine up to one million tons of coal under Lilley Cornett Woods in Letcher County. They went on to claim that if they were not able to mine the coal, they expected the state to pay for the one million tons of coal that is legally theirs. Lilly Cornett worked for South East Coal as a miner and saved his money to buy the forest. He succeeded in protecting the tract from mining and logging and following his death in 1964, his family sold it to the state, it has been protected ever since.
October 9, 1992, the Peekskill Meteorite fell to planet earth. It is among the most historic meteorite events on record. The famous meteorite broke up over Kentucky and passed over West Virginia and Pennsylvania on its north-northeast trajectory before striking a parked 1980 red Chevy Malibu at approximately 7:50 pm EDT in Peekskill, NY.
October 9, 1993, Bluegrass Downs in McCracken County switched their racing format from Quarter Horse racing to racing Thoroughbreds. The track changed formats again and shut down in 2019.
October 9, 2007, one the largest coal-fired plants in the world, America Electric Power in Rockport Ind., agreed to cut coal-fired pollution in a sweeping $4.6 billion deal with the EPA. The plant is located across the Ohio River from Owensboro and the pollution carried to Louisville and beyond.