Kentucky Trivia ● Kentucky Tweets
There is no evidence of any kind except that is directed toward Oswald. John Sherman Cooper
August 23, 1814, the Sisters of Charity of Nazareth founded the Nazareth Academy, the 3rd oldest educational institution west of the Allegheny Mountains. The motherhouse remains a short distance from Bardstown in Nelson County.
Localtonians wish a Happy Birthday to Somerset native John Sherman Cooper, born in 1901. John was the 5th Ambassador to India, the 2nd Ambassador to E. Germany, and the 33rd, 36th and 39th Class II Senator from Kentucky.
August 23, 1907, Constable L. R. Campbell, Knox County Constable's Office, died while attempting to quell a disturbance at the Knox County Fairgrounds. A group of people fired at each other, killing Constable Campbell.
August 23, 1919, Man o' War, in his 8th race and giving five pounds, won the 6F Grand Union Hotel Stakes by two lengths. It was a clean start for all, going in 1:12.00. Upset ran second. This was the 7th running of the stakes race with a purse of $10,000; the winner received $7,600.
August 23, 1914, Town Marshal John A. Collins, Berea Police Department, died from a gunshot as he and a county constable searched for several men suspected of stealing chickens.
August 23, 1932, Patrolman Fielden Collins, Jefferson County Police Department, died when he got struck by a vehicle, immediately after arresting several subjects he had just placed in the patrol wagon.
August 23, 1950, Army PFC Robert Browning, Jr. from Greenup County and Army PFC Robert F. Scott from Kenton County, died in the Korean War.
August 23, 1952, Constable Hans R. Gassaway, Barren County Constable's Office, succumbed to injuries sustained in an automobile accident in Warren County. He was returning to Barren County after taking a patient to Western State Hospital.
On August 23, 1961, over 30 IRS Agents raided the Sportsman Club in Newport, describing it as a headquarters for the numbers racquet in the greater Cincinnati area. About 150 patrons witnessed the agents enter the club with sledgehammers. The Newport-Covington gambling raid rivaled the great slot machine raid in 1951.
August 23, 1963, Patrolman Cosby Harris Whitted, Jr., Louisville Police Department, died in a motorcycle accident in the line of duty.
August 23, 1968, Air Force CAPT Harreld P. Martin from Cromwell in Ohio County died in the Vietnam War.
August 23, 1968, Louisville native Hunt Stromberg died. In a prolific 30-year career beginning in 1921, Stromberg produced, wrote, and directed some of Hollywood's most profitable and enduring films. He won the 1936 Academy Award for Best Picture.
August 23, 1974, after a little less than a month of rest, Ruffian ran in her 5th race, the 6F Spinaway (GI) at Saratoga. A reporter asked Ruffian's groom Minnor Massey how much his filly would win by; without thinking, Massey answered thirteen lengths. He worried that his rash statement would make him appear foolish. Suspended again, Jacinto Vazquez would miss the mount, and Vince Bracciale once again got the call. Ruffian led wire to wire to set a new stake record of 1:08 3/5 and won by thirteen lengths.
August 23, 1975, Deputy Sheriff Roby Fairchild, Johnson County Sheriff's Office, died from a gunshot while arresting two men for public drunkenness at a store in Sitka.
August 23, 1977, Elvis Presley planned to perform in Rupp Arena but died seven days earlier.
August 23, 1985, Officer Roy Hobson Mardis, Lexington-Fayette Urban County Police Department, accidentally got shot by another officer in Mercer County while he and his bloodhound tracked an escapee who had committed a double-murder.
August 23, 1985, Paul Hornung received $1,160,000 fine by a Louisville court against the NCAA who barred him as a college football analyst for betting on games.
August 23, 1985, Ward Hall, a Greek revival antebellum plantation mansion in Georgetown received admission to the U.S. National Register of Historic Places.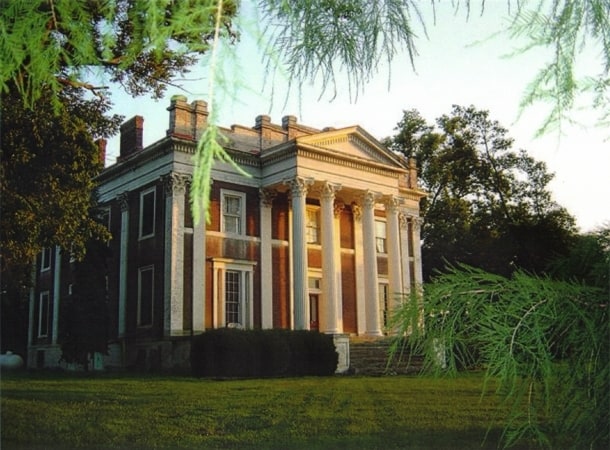 On August 23, 1990, four Kentucky State University (KSU) regents quit in a heated public meeting. KSU President John Wolfe Jr accused former Governor Nunn of improperly intervening in operations. Former Governor N. Breathitt and three other regents resigned because Wolfe's appointments did not receive a vote. State law requires the KSU board approves KSU hires. Citizens attending the meeting accused Nunn of racism.
August 23, 2003, a Kentucky rock climbing group launched an ambitious plan to buy 700 acres of rugged land near the Red River Gorge. The land included miles of over-hanging cliffs nicknamed: "Scooby-Doo," "Supa Fly," Chocolate Waterfall," and Breakfast Burrito."
August 23, 2008, a Kentucky bred won the GI $1,000,000 Travers Stakes by a nose, the 139th edition.
August 23, 2009, Dr. Richard Gardner said he was not the guy to take issues to the streets, but he joined 50 others in support of healthcare reform. In thirty years of being a doctor, the doctor said he changed his position 100% and now supports universal healthcare or a single-payer system.
August 23, 2014, a Kentucky bred won Saratoga's GI $1,250,000 Travers Stakes by a nose. A Keeneland graduate exacta takes the 145th edition of the Mid-Summer Derby.
On August 23, 2019, Kentucky legislatures learned they had to solve the local jail overcrowding crisis, or courts would force the mass release of inmates. Eleven thousand state inmates had no room in Kentucky's 12 prisons and stayed in local jails. At the time, the Rockcastle jail had a 184% capacity rate.
August 23, 2019, while Lexington native Kelly Craft served her last day as the 31st U.S. Ambassador to Canada, Samir Bajric caught a state record Mooneye weighing ten ozs. in the Barren River. The day ended when Great Crossings High School opened their world-class football stadium in Georgetown when they hosted their cross-town rival the Scott County Cardinals.
On August 23, 2020, the governor announced nine deaths: 63, 63, 72, 73, 77, 78, 99, 90, and 91. Meanwhile, Kentucky's top health officials addressed journalist questions about how coronavirus deaths are counted again via the "car wreck death." If you die in a car wreck and are positive for COVID-19, is your death counted as one caused by the coronavirus? Dr. Steven Stack, the state public health commissioner, stated a coronavirus death is only counted if the virus "contributed" to the death.
Positives:  467 / 43,529
Deaths:  9 / 881 – 1st death March 16, 2020
50&over:  854 / 49-30: 26 / 29&under: 1
August 23, 2021, "there are more people with coronavirus hospitalized, filling intensive care unit beds, and relying on ventilators to breathe than at any time during the pandemic," Governor A. Beshear said. He then canceled his August 10 executive order requiring students to wear school masks.