Kentucky Trivia ● Kentucky Tweets
Courtesies of a small and trivial character are the ones which strike deepest in the grateful and appreciating heart. Henry Clay
Localtonians wish a Happy Birthday to John Brown, born in 1757. John was one of the founding fathers of Kentucky.
September 12, 1816, Kentucky artist Joseph H. Bush wrote Henry Clay and apologized for being unable to refund the money that Clay loaned to him.
Jouett-Bush-Frazer Early Kentucky Artist by William Barrow Floyd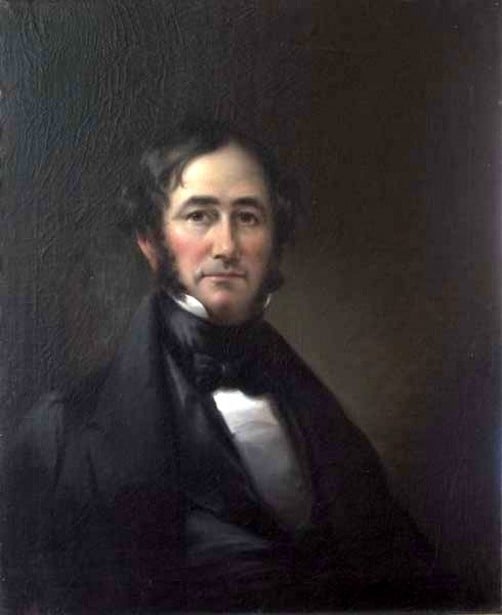 September 12, 1850, Presley O'Bannon died in Henry County. Presley was a 1st lieutenant in the U.S. Marine Corps, famous for his exploits in the First Barbary War (1801-1805). In recognition of his bravery, the military presented him a sword for his part in attempting to restore Prince Hamet Karamanli to his throne as the Bey of Tripoli. This sword became the model for the Mameluke Sword, adopted in 1825 for Marine Corps officers, which is part of the formal uniform today.
Localtonians wish a Happy Birthday to Louisville native William Gilbert Barron, born in 1894 in a dressing room at the Hopkins Opera House in Louisville. Billy was a comedian, actor, writer, and film director known for his comic sneeze routines. He appeared in over 200 feature films, short subjects, and television shows starting in 1929.
September 12, 1901, Ballard County lynched three black males; Frank Howard, Samuel Reed, and Ernest Harris for murder.
September 12, 1910, with only 12 members remaining, the Shakers of Pleasant Hill near Harrodsburg faced their colony's demise and contracted to sell their 1,800 acres of land and buildings to Col. George Bohon. In return, Bohon agreed to care for them and allow them to stay on their property for the rest of their lives.
September 12, 1915, Ford Motor Company opened their new plant in Louisville on a 2.5 acre site on South Third Street. Initially the plant employed 53 people and produced 15 cars per day, many of which were Model T's.
The Kentucky Encyclopedia edited by John E. Kleber; pg: 309
September 12, 1925, a California girl arrived on campus to begin classes the following week. UK had already started to attract out-of-state students, and the local newspaper ran a front-page article on her decision to attend. Her father, from LaGrange, was a wealthy banker and traveled from LA to Lexington via an automobile to visit campus with her. He then drove to NY for a Bankers convention. He wanted his daughter educated in his home state.
September 12, 1935, Louisville native Earl Browne made his MLB debut with the Pittsburgh Pirates.
At 4:00 p.m. on September 12, 1945, the 47th year of Oneida Baptist Institute, James Anderson Burns, founder, builder, and President Emeritus, passed away in his room in Anderson Hall.
September 12, 1950, Army PVT Bobby R. Harris from Warren County and Army PFC Thomas E. Maye from Bourbon County died in the Korean War.
September 12, 1951, Army PFC Leo Chaffins from Knott County died in the Korean War.
September 12, 1952, the U.S. Government announced they would acquire 36,000 acres in Bullitt and Hardin Counties to expand Ft. Knox.
On September 12, 1953, the Hollywood Playground Auditorium held a banquet to honor Louisville native Madame Sul-Te-Wan, the 1st black actress to sign a Hollywood film contract.
September 12, 1964, UK's football coach Charlie Bradshaw, announced it would junk its plan to play three unit football and will revert to two platoons.
September 12, 1967, Army SP4 Frank E. Lyon from Louisville died in the Vietnam War.
September 12, 1968, Army CPL Donald R. Butler from Morehead, Marine Corps LCPL Clifford L. Scholl from Louisville, Marine Corps PFC David M. Sowards from West Liberty, and Army PFC Edgar L. Tomlinson from Williamstown in Grant County, all died in the Vietnam War.
September 12, 1970, judges crowned Phyllis George as Miss America 1971. The Women's Liberation Front demonstrated at the event.
September 12, 1974, an Atlanta jury sentenced Winchester native Marcus W. Chenault to death for the slaying of Mrs. Martin Luther King, Sr, known as Alberta, as she sat the church organ. He shot her on his birthday. As a youth, he adopted the theology of the Black Hebrew Israelites. Chenault's mentor, Rev. Hananiah E. Israel of Cincinnati castigated black civil rights activists and black church leaders as evil and deceptive.
September 12, 1981, comedian Bill Cosby performed at Rupp Arena as part of IBM's celebration of 25 years in Lexington.
On September 12, 1998, Kentucky wide receiver Craig Yeast celebrated after catching a 54-yard touchdown pass from quarterback Tim Couch during the Wildcats' 52-7 win over Eastern Kentucky University, their 1st ever meeting on a gridiron.
September 12, 2006, hip number 425, a colt by Seattle Slew sold for $11,700,000.
On September 12, 2009, locals found Bill Sparkman, Jr., a school teacher and field representative for the U.S. Census Bureau, dead, hanging from a tree in rural Clay County. After a two months investigation, police concluded he died by suicide, staged by him to look like a homicide so that his family could collect life insurance.
September 12, 2019, Lexington native Kelly Kraft became the 30th U.S. Ambassador to the United Nations. Her husband, over the last decade, provided millions of dollars to Republican organizations and candidates and therefore controls the strings for puppets Mitch and Donald. Remember, don't hate the player, hate the game.
Kentucky Trivia: Kelly Kraft announced her candidacy for Kentucky governor on September 9, 2022. No comment from AG Daniel Cameron.
September 12, 2020, Louisville and Western Kentucky University opened the Kentucky college football season by playing each other in the rain.  Louisville won 35-21 to make the series stand at 22-12, advantage Cards.  Due to the 20% capacity rule, 11,179 fans, most wearing masks, attended.
September 12, 2020, a Kentucky-bred and Keeneland graduate won the Kentucky Downs GIII $1,000,000 Calumet Farm Kentucky Turf Cup for three-year-olds and upward.  Meanwhile, in Lexington, Breeders' Cup officials announced there would be no fans in the stands for the 2020 edition at Keeneland.
On September 12, 2021, the vaccine hysteria continued over the Delta variant. Lexington doctor Mark Dougherty told the Lexington-Herald Leader and CNN that "an increasing number of unvaccinated teachers were in local hospitals on ventilators and oxygen over the weekend." He gave no specific data on how many teachers, what hospitals they were in, or what counties were affected. The article's primary goal, along with the doctor, was to vaccinate school children.