Kentucky Trivia ● Kentucky Tweets
June 30, 1780, the Virginia Assembly divided Kentucky County into Fayette, Lincoln, and Jefferson Counties. The new counties all became effective on November 1, 1780. At the time, the territory was home to five established communities: Boonesborough, Fort Harrod/Boiling Springs, St. Asaph, later called Logan's Station, McClelland's Station, and Leestown.
June 30, 1802, the hated Federal Excise tax on whiskey, making sales and transportation of distilled spirits was repealed.  There was much celebration in the streets.  "The Lexington Light Infantry paraded and fired 17 vollies of musquetry, the beels rang joyful peal, the bonfires blazed and shouts filled the air."
The Squire' Sketches of Lexington by J. Winston Coleman, Jr.; pg: 24
Localtonians wish a Happy Birthday to Breckinridge County native George Washington Swink, born in 1836. G.W. was a landowner and politician in Colorado and is said to have been the holder of the first timber claim certificate in the U.S., issued by President Grover Cleveland in 1887.
Localtonians wish a Happy Birthday to Louisville native Matt Winn, born in 1861.
June 30, 1923, Deputy Sheriff Jesse Peters, Harlan County Sheriff's Office, succumbed to gunshot wound sustained two months earlier while attempting to arrest a man for being drunk in public.
June 30, 1933, Policeman Charlie W. Howard, Corbin Police Department, died while investigating a disturbance at a local restaurant. He and two other officers entered the restaurant and Policeman Howard sat down across from one of the persons involved and began speaking to him. The man suddenly fired a pistol underneath the table and struck Policeman Howard in the left leg and he bled to death within a few minutes.
June 30, 1934, Patrolman Richard D. Coffee, Greenup Police Department, died after responding to a restaurant after receiving complaints of a drunk patron. Patrolman Coffee arrived and told the man to go home and return when he was sober. The man went home, obtained a gun, and returned and shot Patrolman Coffee.
June 30, 1968, Army SGT James V. Denham from Richmond died in the Vietnam War.
June 30, 1969, Army CPL Rex D. Harlow from Glasgow in Barren County died in the Vietnam War.
June 30, 1973, three weeks after he won the Triple Crown, Secretariat scored another victory, a nine-length win in the Arlington Invitational Stakes at Arlington Park. He was sent off at the shortest odds in his career, 1-20. With no place or show wagering on the four-horse race, the track had a minus win pool of $17,941. More than 40,000 spectators turned out for the event.
June 30, 1973, Vent Haven Museum opened to the public in Fort Mitchell. The vast collection of dummies began as the personal hobby of William Shakespeare Berger, who was a huge fan of ventriloquism.
June 30, 1974, Miles Park's stewards put up the wrong horse as the winner in a photo finish.
June 30, 1975, Muhammad Ali (48-2) fought Joe Bugner (51-6-1) in Merdeka Stadium, Kuala Lumpur, Malaysia. A $2 million purse lured Ali to only his second fight in a Muslim country. The rematch with Bugner didn't generate much hype, so Ali was persuaded to say this might be his last fight to drum up interest. Ali danced around the ring most of the fight, throwing combinations every so often, and won the 15-round decision with ease.
June 30, 1978, Spectacular Bid won his first race, at Pimlico, by 3 1/4 lengths.
June 30, 1980, Deputy Sheriff Hiram A. Ritchie, Perry County Sheriff's Office, died and another deputy was seriously wounded during a gun battle with five men near Buckhorn Lake.
June 30, 1984, basketball legend Larry Bird ducked under some trees to line up a golf shot during the 3rd annual Children's Charity Golf Classic at the Greenbrier Golf and Country Club in Lexington.
June 30, 1989, the Belle of Louisville, one of the last authentic steamboats in existence, became a National Historic Landmark.  Originally named Idlewild in 1914, she started her service on the Allegheny River.  She then came to Louisville in 1931 and ran trips between the Fontaine Ferry amusement park near downtown Louisville and Rose Island, a resort about 14 miles upriver from Louisville.  Idlewild operated a regular excursion schedule from 1934 through World War II.  In 1947, she was renamed Avalon and visited ports all along the Mississippi.  By 1962, Avalon had fallen into disrepair and might have seen the end of her days when Jefferson County Judge Marlow Cook bought her at an auction for $34,000 in hopes of restoring the city's connection to the waterfront.  Belle of Louisville made her 1st cruise in a race against the steamboat Delta Queen in 1963.
June 30, 1989, the Mayor Andrew Broaddus became a National Historic Landmark. She is the only surviving floating lifesaving station of the US Life-Saving Service.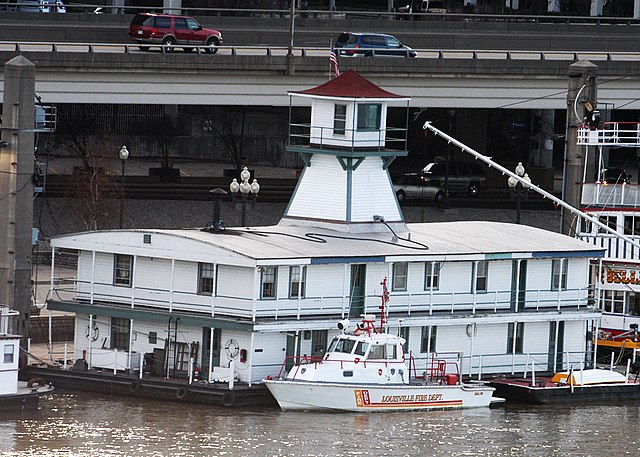 June 30, 1990, retired jockey Bill Shoemaker won his first race as a trainer, sending two-year-old filly Tempest Cloud to her maiden victory at Hollywood Park.
June 30, 1991, one year after his first victory as a trainer, Bill Shoemaker recorded his first Grade I win, with Alcando in the Beverly Hills Handicap at Hollywood Park.
June 30, 2000, Governor Patton joined more than 100 state and local officials and dedicated the new stretch of 421 near where Madison, Rockcastle, and Jackson counties meet. Before the state blasted out 3.4 million cubic yards of dirt and rock, the steep, winding, and dangerous road caused many accidents and deaths. Big Hill Road might need a new name now.
On June 30, 2010, Army Sgt. 1st Class Kristopher D. Chapleau, 33, of La Grange, died in Afghanistan of injuries sustained in a non-combat incident during Operation Enduring Freedom.
June 30, 2014, a divided Supreme Court gave corporations more personal rights when they said large companies could deny birth-control coverage to their employees.  The corporate takeover of America was in full swing by 2014.
On June 30, 2019, Campbell County Deputy John Sayers served 61 years, 11 months, and 21 days.  His career spanned 14 Kentucky governors, from Happy Chandler to Matt Bevin, and 12 presidents, from Dwight D. Eisenhower to Donald Trump.  Mr. Sayers was the longest-serving officer in the state's recorded history.
On June 30, 2020, after seven days of waiting, Kentuckians received their election results due to the coronavirus pandemic.  Amy McGrath defeated Charles Booker for the Democratic Senate race, while almost 29% of Kentuckians voted in the highest turnout in a Kentucky primary since 2008.  Meanwhile, Governor A. Beshear, in his daily announcement, became more pointed in the state's directive that Kentuckians must wear a mask to prevent spikes.
On June 30, 2021, after the World Health Organization (WHO) advised individuals to continue wearing masks, Governor A. Beshear told the press he would take advice from the Center for Disease Control (CDC) instead and not require fully vaccinated people to wear the masks.