Kentucky Trivia ● Kentucky Tweets
Localtonians wish a Happy Birthday to Richard Henderson, born in Hanover County, Virginia in 1735. Even though his Transylvania Government failed, he was compensated by North Carolina and Virginia for improvements he made to Kentucky lands.
April 20, 1865, one of the very last Kentucky Civil War skirmishes took place in Lyon County.
April 20, 1898, as Baldy George Baker was being laid to rest in Laurel County, shots rang out from the woods and the funeral was hastily moved to another location. Not even a short truce seemed possible for the Clay County feud between the Howards and Bakers.
Localtonians wish a Happy Birthday to Mayfield native Ellis Wilson, born in 1899. In 1928, Wilson moved to Harlem, where he joined the Harlem Artists Guild. At the time, black artists could not exhibit their work in mainstream galleries so he became an active member of the Harlem Renaissance, a collaborative effort to promote and display the work of black artists. Ellis participated in many of the exhibitions associated with the movement.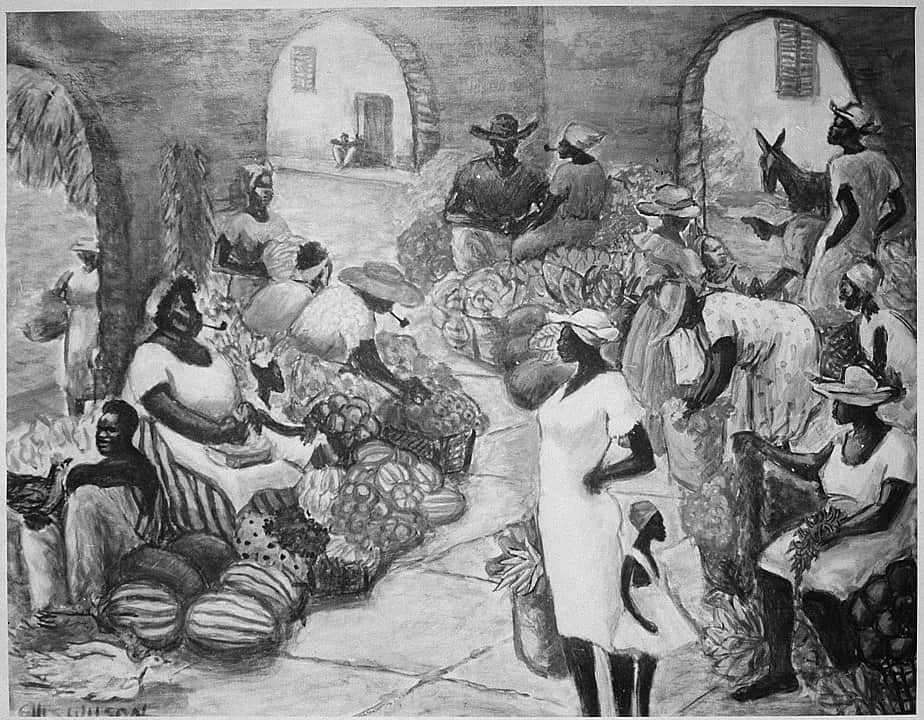 Localtonians wish a Happy Birthday to Louisville native Lionel Leo Hampton born in 1908. Hampton worked with jazz musicians from Teddy Wilson, Benny Goodman, Buddy Rich, Charlie Parker, Charles Mingus, and Quincy Jones. He was awarded the National Medal of Arts in 1996.
April 20, 1911, the infamous Livermore Lynching that attracted international attention occurred in McClean County. Will Potter was the black manager of a segregated poolroom where Clarence Mitchell, a young white man, was asked to leave. A fight ensued and Potter fired two shots at Mitchell. The city marshal immediately arrested Potter and brought him to the local theater, securing him in a dressing room behind the stage. A mob of 50 gathered, took Potter to the center of the stage, tied him to a pole, and turned on the stage lights. The mob sat in the orchestra pit, and on cue, fired 200 shots; nearly half entered the body of Mr. Potter.
The Kentucky Encyclopedia edited by John E. Kleber; pg: 563
April 20, 1920, Deputy Sheriff Jerry Cornett, Perry County Sheriff's Office, succumbed to a gunshot wound sustained three two weeks earlier while attempting to arrest several men for possessing moonshine at the Fourseam Block Colliery Company mine camp on Buffalo Creek, three miles from Hazard.
Localtonians wish a Happy Birthday to River native Hylo Brown, born in 1922, in Johnson County. Hylo was a bluegrass and country music singer, guitarist, and bass player.
April 20, 1929, with The Kentucky Theatre's success, the Lafayette Amusement Company opened a second theater right next door. This 950 seat State Theatre, with a 200 seat racially segregated balcony, showed second-run features with lower ticket prices complementing the Kentucky.
April 20, 1933, Deputy Sheriff John C. Carnes, Harlan County Sheriff's Office, succumbed to gunshot wounds sustained 11 days earlier when he and a deputy constable were ambushed outside of a dance hall in the mining community of Laurel.
April 20, 1956, Lt. Governor Harry Lee Waterfield and his family moved into the newly renovated Old Governor's Mansion in downtown Frankfort. The home is the second oldest governor's residence in the United States; the Federal-style structure was home to 35 governors during their terms in office, beginning with James Garrard, Kentucky's 2nd governor, in 1797 to James McCreary in 1914.
April 20, 1966, Army CPL Ronald V. Silbersack from Cold Spring in Campbell County died in the Vietnam War.
Localtonians wish a Happy Birthday to Louisville native Allan Houston, born in 1971. He played in the NBA from 1993-2005 as a shooting guard.
April 20, 1973, Patrolman Tommy Ray, Louisville Police Department, succumbed to gunshot wounds received one month earlier while responding to a burglary call at a supermarket.
April 20, 1980, in an uplifting, revival-style ceremony, Dr. Martin Luther King, Sr. brought his message of love and brotherhood to Louisville, twelve years after his son was assassinated.
April 20, 1991, although a cold day kept the crowds low, Kentuckians gathered in Frankfort to celebrate of the 20th anniversary of Earth Day, which is officially the 22nd of April every year.
April 20, 1991, Martha Wilkinson's gubernatorial campaign announced they wanted to make it illegal for individuals doing business with the state to give gifts or money to lawmakers' campaigns. She said she proposed to end them because she is tired of reading "story after story after story" about contributions to her campaign who have received large state contracts from her husband's administration. She went to say that she will help newspapers write about other stories.
Kentucky Trivia: Martha Wilkinson created "Martha's Army" to fight adult illiteracy. The army used a telephone hotline and financial incentives to encourage Kentucky high school dropouts to earn a GED. In 1990, country-music singer Waylon Jennings, who dropped out of school in the 10th grade, earned a GED through Martha's Army.
April 20, 1996, Patrick Witty, a Western Kentucky University student from Glasgow, was named college photographer of the Year.
April 20, 2000, on the first anniversary of the shooting at Columbine High School in Colorado, law-enforcement students at Prestonsburg Community College staged a mock takeover of the college's administration building.
April 20, 2007, Sara Walter Combs, Chief Judge of Kentucky Court of Appeals, and Project Director Joe Bowen unveiled Governor Bert T. Combs Statue in Stanton.
April 20, 2008, Nashville's Walk of Fame dedicated a star to Paducah native Steven Curtis Chapman for his Christian music contributions.
April 20, 2011, Mickey Nilsson, a 62-year-old resident of Bardstown, demonstrated his car that runs on Kentucky Bourbon Whiskey.  According to Mickey, it will run on almost any bourbon created; however, the engine prefers Maker's Mark.
April 20, 2014, Owensboro native Justin Marks made his MLB debut for the Kansas City Royals at age 26.
April 20, 2018, Keeneland ran their GIII $100,000 Doubledogdare Stakes for fillies and mares four-year-old and upwards.
April 20, 2019, SPC Ryan Riley, 22, of Richmond, died in Iraq, in a non-combat-related incident while fighting in Operation Freedom's Sentinel.
April 20, 2020, Governor A. Beshear told superintendents that K-12 schools would not reopen for in-person classes for the remainder of the school year. Instead, he wanted all schools to continue non-traditional learning and be creative for celebrations like graduations. At the time of the announcement, 3,000 Kentuckians had tested positive, and 154 persons had died from the flu strain.
On April 20, 2021, The Nature Conservancy added a small but important piece of land to the Big South Fork National River and Recreational Park in Southeastern Kentucky. The 460-acre tract was one of the largest remaining pieces of privately-held land, called an in-holding, inside the 125,000-acre park.
April 20, 2021, Chase Kirk from Lexington caught a state record Fantail Darter weighing .16ozs. in Hickman Creek in Jessamine County.