Thank You For Visiting
June 5, 1869, Fenian wins the 3rd Belmont Stakes over seven others in a 1 5/8 mile test in 3:04 ¼, to win $3,350. Fenian never raced again due to "bad legs.
June 5, 1869, Lexington finally accepts Standard Time over Solar Time at 12:40 p.m.
Madame Bell by MaryJean Wall pg: 108
June 5, 1887, Andrew Cowan wrote a 2,500-word essay titled "Public Parks: A Plan to Promote the Pleasure, Happiness, and Prosperity of the People." Mr. Cowan outlined a proposal for a system of public parks in Louisville, including a large park in each of the city's "Ends," connected by grand boulevards, lined with expensive homes. This proposal would become Cherokee, Iroquois, and Shawnee Parks and the parkways that connect them.
June 5, 1899, Garrard County Carrie Nation believed she received a vision from God, telling her to smash saloons in Kiowa, Kansas.
June 5, 1910, Patrolman William C. Sube of the Louisville Police Department, died after contracting tetanus as a result of wound received while on patrol.
June 5, 1939, the log house of Col. Robert Patterson, founder of Lexington and Cincinnati, was returned to Transylvania Campus after being removed from Kentucky in 1901. The one room cabin is thought to be one of the first to be erected in Lexington.
The Squire' Sketches of Lexington by J. Winston Coleman, Jr.; pg: 17
Localtonians wishes a Happy Birthday to Lexington native Mark F. Jarmon, born in 1952.
June 5, 1953, Mount Victory native Vermont Garrison earned the Medal of Honor while fighting in the Korean War.
June 5, 1955, Dean Martin sings Kentucky Babe on the Colgate Comedy Hour.
June 5, 1960, Rudell Stitch, a professional boxer from Louisville, died trying to save his friend's life in the Ohio River. He died the day before he was to sign for a rematch with Luis Manuel Rodriguez. The fight would have taken place on July 24, 1960.
June 5, 1966, Air Force A1C Jerry D. Olds from Elizabethtown in Hardin County died in the Vietnam War.
June 5, 1967, Army PFC James W. Ramage from Burna in Livingston County died in the Vietnam War.
June 5, 1968, Army SP4 Dennis O. Akers from Louisville, Army SGT Larry D. Maggard from Isom in Letcher County and Marine Corps LCPL Michael W. Simon from Owensboro died in the Vietnam War.
June 5, 1969, Marine Corps PFC Hank Sally from Covington died in the Vietnam War.
June 5, 1971, Pass Catcher at 34-1 wins the 103rd Belmont Stakes in 2:30 3/5 to win $97,710. The race drew a record crowd of over 80,000, swelled by thousands from the New York City Latino community. They came to cheer for Canonero II, the Venezuelan colt, winner of the Kentucky Derby and Preakness Stakes.
June 5, 1980, the Troublesome Creek Times newspaper began. The colorful weekly paper is published in Hindman and serves Knott County and beyond. By 1990, the Times's aggressive and investigative reporting had won 220 state and national press awards for excellence. The National Newspaper Foundation named it a national blue ribbon newspaper. Noted for its sense of humor, the Times publishes an annual April Fool news edition on its front page.
June 5, 1982, watch the 109th running of the Belmont Stakes and Stanton native Woodford Cefis Stephens win his first of five Belmont's in a row.
June 5, 1991, a train derailed just north of Cave City causing the evacuation of 300 people because two carloads of granular chemicals spilled and the possible leak of 34,000 gallons of propane.
June 5, 1991, the eleventh launch of Space Shuttle Columbia occurred.  It was the first journey solely dedicated to biology and the first spaceflight that included three women crew members.
June 5, 1999, Lemon Drop Kid, a Keeneland graduate, wins the 99th Belmont Stakes in 2:27.88 to win $600,000.  The longshot ended Charismatic's bid for the Triple Crown.
June 5, 2000, a man shot and killed a Kentucky prosecutor at his home in Cumberland County. The murder took place hours before the man was to appear before the prosecutor for child molestation charges. Prosecuting Attorney Fred Capps killed his assailant in his home before he died of his injuries while protecting his family.
June 5, 2007, Army PFC Timothy R. Vimoto, 19, of Fort Campbell, died in Korengal Valley, Afghanistan, by small-arms fire in Operation Enduring Freedom.
On June 5, 2009, Louisville native Dan Uggla reached 100 career home runs in his 502nd game, faster than any other second baseman.
June 5, 2010, watch the 142nd Belmont Stakes.
June 5, 2015, a Louisville businessman described by federal prosecutors as a "serial fraudster" received a 12-year sentence for a massive scheme that a federal judge described as "truly staggering" and "eye-popping." Anthony Huff got his start in crime when in 1996, he illegally provided cars to Cardinal basketball player Samaki Walker.
June 5, 2020, UK President Eli Capilouto announced the removal of Ann Rice O'Hanlon's mural, which troubled Black students for its depiction of slavery. The reaction was swift. Wendell Berry accused Capilouto of "overcooked political correctness." He suggested that to depict slavery in a painting in 1934 had to have taken some courage. "Ann was a liberal; I never heard her utter one racist word," he wrote. The decision came on the heels of Breonna Taylor's and George Floyd's death by police.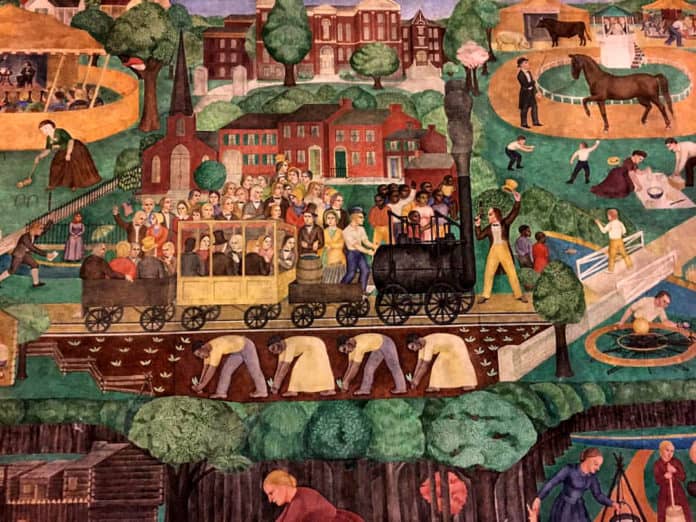 Kentucky Trivia: UK has employed 12 Presidents: Patterson, Barker, McVey, Donovan, Dickey, Oswald, Kirwan, Singletary, Roselle, Wethington, Todd, and Capilouto.  James Patterson served the longest with 41 years.  The shortest tenure was Coach Kirwan's one year.  It was an interim role, but the school retroactively named him the seventh President by the Board of Trustees.  All served less than 20 years except Patterson and McVey.