Kentucky Trivia ● Kentucky Tweets
On February 3, 1801, the Rowan-Chambers Duel occurred. John Rowan's second was George Bibb. Dr. James Chambers chose Major John Bullock. Terms were to stand ten paces, turn, and fire with dueling pistols. They were instructed to act like gentlemen, observe the code, and act as required. First round: both missed and agreed to a second attempt with new pistols. Second round: Chambers died by gunshot.
Kentucky Trivia: When the duel turned into a possible murder, the commonwealth became captivated by the court case. The state eventually dropped the charges and John later expressed remorse. Fourteen years later, Judge Rowan built Federal Hill, My Old Kentucky Home, and in 1825, he became Kentucky's 11th Class III U.S. Senator.
Famous Kentucky Duels by J. Winston Coleman, Jr.; pg: 14
On February 3, 1838, delegates from thirty-four counties met in Frankfort and organized the Second State Agricultural Society of Kentucky. A constitution was adopted, which provided for the collection and dissemination of agricultural and statistical information over the whole state.
February 3, 1850, Robert Perkins Letcher, Kentucky's 15th governor from 1840-44, arrived in Mexico to be the 16th U.S. Ambassador to our southern neighbor.
February 3, 1862, Confederate Secretary Benjamin informed Confederate Governor Johnson that Kentucky raised 46,000 men.
The Civil War in Kentucky by Lowell H. Harrison
February 3, 1871, Preston H. Leslie became Kentucky's 26th governor. He took over from Governor John W. Stevenson, who took the U.S. Senate seat. Later that year, Leslie won the general election to remain governor.
Saturday, February 3, 1900, at 6:45 p.m., despite the care of 18 physicians, William J. Goebel died from an assassin's bullet, Kentucky's 34th governor. Journalists recalled his last words, "tell my friends to be brave, fearless, and loyal to the common people." Irvin S. Cobb uncovered another story from the room. After his last meal, the governor supposedly remarked, "Doc, that was a damned bad oyster." Goebel is the only U.S. governor to be assassinated. He lived five days after the sniper struck and was governor for four.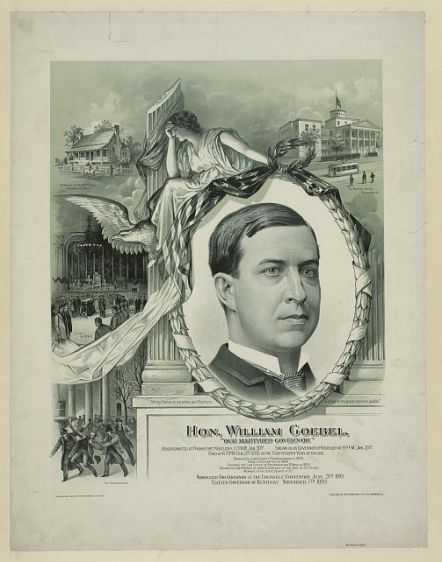 February 3, 1900, Governor John C. W. Beckham took the oath of office within an hour after Goebel's death to become Kentucky's 35th governor.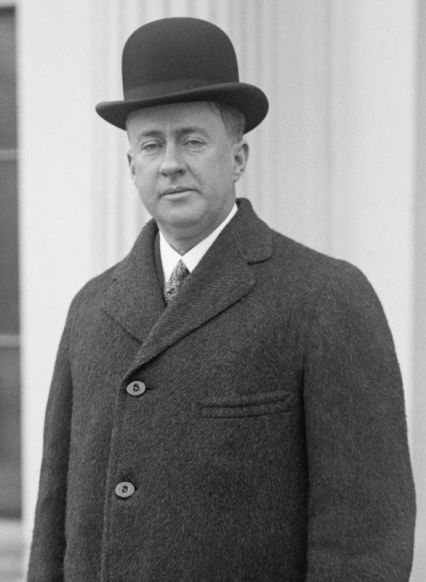 February 3, 1900, New York Governor Theodore Roosevelt publicly recognized Governor William S. Taylor as Kentucky's 33rd governor.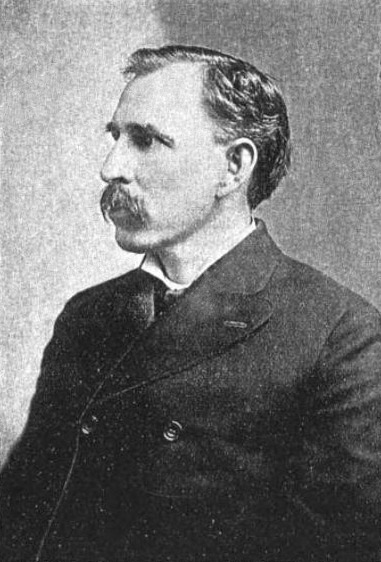 On February 3, 1901, the battleship USS Kentucky (BB-6), acting on its first orders, arrived in the Philippines to support Western forces during the Boxer Rebellion. Over the next three years, it patrolled Asian waters, making numerous port calls in China and Japan. It later served as Rear Admiral Robley D. Evans' Asiatic Fleet flagship.
February 3, 1932, over 250 Kentucky sportsmen asked Governor R. Laffoon to lend his cooperation in conservation movements and to aid their legislative desires to "restore the happy hunting ground, which it claimed to be, and justly so, 150 years ago."
February 3-4, 1937, Kentucky played Tulane two nights in a row. In the first game, Rupp's Cats lose 28-35, with Louisville native Joseph Hagan scoring a game-high 9 points. In the 2nd game, Kentucky gets revenge with a 28-25 victory, again Hagan earning top scoring honors with 10 points. Fogelman Arena hosted both games.
February 3, 1940, the Kentucky General Assembly attempted to deal with an economic problem of growing concern in Depression-era America. The act tried to level the playing field between big business and local merchants.
On February 3, 1948, Rep. Sidney Baer introduced a bill to give veterans law school graduates a 5-to-10 point advantage on their bar examinations. He supported the bill by stating that more than half the states offer veterans the same break.
February 3, 1951, Army PVT Madison B. McAtee from Shelby County died in the Korean War.
February 3, 1951, #1 ranked Kentucky crushes Mississippi in Owensboro in the Owensboro Sportscenter 86-39. Madisonville native Frank Ramsey scores 20 points for high scoring honors. Kentucky played five times in the Sportscenter from 1949-54, winning all five times.
February 3, 1962, Kentucky began to administer, on a mass-immunization basis, the Type III Sabin oral polio vaccine for persons between the ages of 6 months and 16 years.
February 3, 1966, Marine Corps SGT William M. Coomes from Madisonville in Hopkins County died in the Vietnam War.
February 3, 1968, Army SP4 Larry H. Jones from Owensboro in Daviess County died in the Vietnam War.
February 3, 1969, Marine Corps LCPL Donald C. Berry from Louisville died in the Vietnam War.
February 3, 1971, Governor W. Ford proposed a major reorganization of the state's tax system to eliminate $103 million in food tax to shift the burden to coal producers and big corporations.
February 3, 1977, Paducah native Leeman Bennett became a head coach in the NFL for the first time, leading the Atlanta Falcons.
February 3, 1981, at a Frankfort event called the Governor's Day of Prayer and Thanksgiving, Governor John Y. Brown Jr. honored Col. David M. Roeder. Roeder, a decorated Air Force veteran, was one of 52 Americans who spent 444 days in captivity in Iran from 1979-81. About 1,000 state workers attended the event. The governor stated there was not a dry eye in the house.
February 3, 1991, Marine Corps CPT James Thorp of Valley Station dies in Iraq fighting in Desert Storm.
February 3, 1991, Cotton Nash #44 had his jersey retired to the raptors in Rupp Arena. That night, Pitino's Cats beat Georgia 96-84 with Jamal Mashburn scoring 31.
February 3, 1997, with few exceptions, children younger than 16 could no longer get married in Kentucky under a bill passed overwhelmingly by the House. Before this bill, Kentucky had no minimum age for marriage. Meanwhile, Lexington officials and UK decided on a truce and agreed that the Wildcats would continue to play in Rupp Arena for at least six more years.
February 3, 2006, Army SGT Lance S. Cornett, 33, of London, died of injuries sustained while engaging enemy forces during Operation Iraqi Freedom.
February 3, 2008, Campbellsville native J.B. Holmes wins the FBR Open for the second time for his second of five PGA wins!
February 3, 2008, the New York Giants win Super Bowl XLII with Jared Lorenzen as Eli Manning's backup.
February 3, 2015, Kentucky native and swindler David G. Rose, who served 52 months in prison for fleecing oil and gas investors, was at it again. A federal grand jury in Tennessee indicted him on charges of conspiring with his son Brian and 10 other defendants in a $15 million scheme to rip off investors who thought their money was going into coal mines.
February 3, 2018, the 34th annual Fayette County Science Fair attracted more than 700 students and 230 judges. Bryan Station High School hosted.
February 3, 2018, a Keeneland graduate trifecta wins Gulfstream Park's GIII $200,000 Swale Stakes for three-year-olds.
February 3, 2020, in the ongoing Braidy Industries soap opera, the founder, Craig Bouchard, confirmed that the company's board of directors removed him as CEO. For years, the company promised a $1.6 billion aluminum plant near Ashland.
February 3, 2021, Kentucky's covid-19 totals stood at 369,519 positive cases and 3,863 deaths. Meanwhile, a Franklin Circuit Judge halted a new law that changed the covid-19 rules again for business; confusing the public on what to do and how to act during the pandemic.