Kentucky Trivia ● Kentucky Tweets
Localtonians wish a Happy Birthday to Fayette County native Carter Harrison Sr., born in 1825.  He served two terms as Chicago's mayor ending in 1893.
February 15, 1842, Kentucky created two Counties.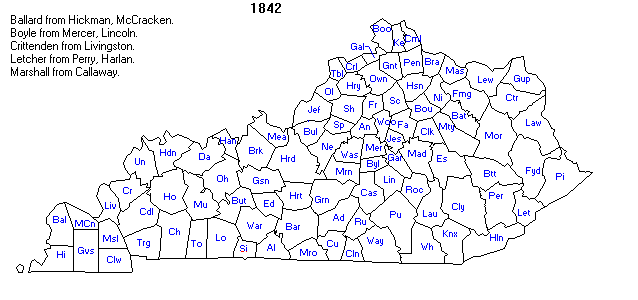 February 15, 1842, Kentucky created Ballard County from Hickman County and McCracken County and named it in honor of Bland Ballard, hero of the Battle of Fallen Timbers and Battle of River Raisin. Wickliffe is the county seat. Other localities include Barlow, Blandville, Kevil, LaCenter, Bandana, Lovelaceville, Monkey's Eyebrow, and New York. The 94th county created, Ballard County covers 274 square miles.
February 15, 1842, Kentucky created Boyle County from Lincoln County and Mercer County and named it in honor of John Boyle, Kentucky Chief Justice.  Danville is the county seat.  Other localities include Aliceton, Alum Springs, (area between Parksville and Junction City) Atoka, Brumfield, Forkland, Junction City, Little Needmore, Mitchellsburg, Needmore, Parksville, Perryville, and Shelby City (annexed by Junction City).  The 91st county created, Boyle County covers 183 square miles.
On February 15, 1865, Joshua Speed wrote to Abraham Lincoln for the last known time. He wrote the letter in Washington to plead parole for a Confederate friend while in town. However, they did meet in person while the president sat for a portrait by Matthew Willson. Mr. Willson completed the piece after Lincoln's death. Speed eventually purchased it. Today it hangs in Louisville's Speed Art Museum and is considered one of Lincoln's finest portraits.
February 15, 1882, A&M College of Kentucky moved to its new campus composed of three buildings: the President's home, boys dormitory (became White Hall), and college building (today the Administration Building).  Governor Blackburn, Lt. Governor Cantrill, and the Speaker of the House attended ceremonies with the Honorable Henry Watterson as Orator of the Day.
February 15, 1896, Policeman Henry Brown, Frankfort Police Department, died from a gunshot in Kagan's Saloon by a drunkard whom he attempted to arrest for causing a disturbance.  His partner killed the subject.
February 15, 1907, State University, Lexington (UK) hosted and defeated Kentucky University (Transy) 16-14 in State College Gymnasium.  The blue and white cadets snatched victory from the Crimson lads in front of the largest crowd of the year.  This game was the 1st athletic event between the two institutions after Transy reinstated athletics after three years of not playing sports.
February 15, 1908, Daisy May, 28, Belle Brezing's only daughter, moved in with a group of older women in the Detroit, Michigan, institution where she resided.  In 1913, she transferred to another Detroit institution; she could not care for herself.  Madam Belle Brezing by Buddy Thompson pg: 73.
February 15, 1915, the Louisville basketball team traveled east to play State University, Lexington (UK) in the Buell Armory Gymnasium.  Coach John Tigert of Kentucky won 34-10 over the Cardinals, coached by Von Walther.
Localtonians wish a Happy Birthday to Lexington native William T. Young, born in 1918.
February 15, 1949, Policeman John Yelenosky, Lynch Police Department, died as he and another officer broke up a fight between union organizers and local workers. The 24-year-old suspect served two years in prison.
February 15, 1951, Army PVT Paul Stamper from Knox County died in the Korean War.
February 15, 1967, Army SP4, Louis R. Soward from Covington in Kenton County died in the Vietnam War.
February 15, 1968, Air Force SGT James H. Bennett from Cynthiana in Harrison County and Air Force SSGT Warren M. Dixon from Catlettsburg in Boyd County both died in the Vietnam War.
February 15, 1969, Army SFC Clarence W. Dunbar, Army SGT Thomas S. Hamilton and Army SP4 Lewis W. Warner Jr., all from Louisville died in the Vietnam War.
Localtonians wish a Happy Birthday to Kentucky bred Seattle Slew, born in 1974 at White Horse Acres near Lexington.
Localtonians wish a Happy Birthday to Kentucky bred Genuine Risk, born in 1977.  Matthew Firestone bought the filly for $32,000 at the 1978 Fasig-Tipton Kentucky summer yearling sale.  Her fans knew her as "Genny" or "Ginny."
Horse Racing Trivia: Genuine Risk produced only two foals, both unraced colts. The elder of the two, Genuine Reward (by Rahy), became a sire of polo ponies in Wyoming, while the younger, Count Our Blessing (by Chief Honcho), was gelded and became a show horse.
February 15, 1978, 36-year-old Muhammad Ali (55-3) lost his heavyweight title by split decision after 15 rounds to Leon Spinks (6-0-1) in Las Vegas Hilton Pavilion.  After only seven professional fights and a Gold Medal, the 25-year-old pulled off one of the great upsets in boxing.  Ali had beaten all the other Olympic gold medalists of his era, and he expected to trounce Spinks.  But Ali trained very little for the fight and lay on the ropes as Spinks built a lead.  For the 1st time, however, Ali could not rally and lost a split decision in Vegas.
On February 15, 1994, trailing by 31 points to LSU with 15:34 remaining, the Wildcats pulled off the Mardi Gras miracle.  Connecting on 11 three-pointers and outscoring the Bayou Bengals 62-27 during the final 15:34, UK stormed back to a 99-95 victory, in one of the most incredible wins in UK history.
February 15, 1997, UK retired the jerseys of John DeMoisey #00 from Walton, Johnny Cox #24 from Hazard, and Kyle Macy #4 to the rafters of Rupp Arena.
February 15, 1998, Shaun Bridgmohan won six races at Aqueduct. At year's end, he had won 199 races, earning him the apprentice Eclipse Award.
February 15, 2003, at approximately 10:30 p.m., radial ice approximately 2 inches thick covered Hardin County to Greenup County, leaving a path of destruction.
February 15, 2007, Marine CPL Timothy D. Lewis, 20, of Lawrenceburg, died as a result of non-hostile action in the Philippines during Operation Enduring Freedom.
February 15, 2009, Rachel Alexandra began her three-year-old campaign with an easy mile victory at Oaklawn's 9th race, the Martha Washington.
Monday, February 15, 2016, a Keeneland graduate exacta won Santa Anita's GIII $200,000 San Vicente Stakes for three-year-olds. The top two finishers also came in 1-2 in the Kentucky Derby.
On February 15, 2019, while another U.S. mass shooting killed five people, President D. Trump formally declared a national emergency on our Southern border.  Meanwhile, Frankfort attempted to address Eastern Kentucky's battle with dirty and unreliable water.  Many smaller water districts struggled to maintain their aging water lines leading to frequent outages, sometimes weeks at a time.
February 15, 2020, a Kentucky bred won Golden Gate's $102,700 El Camino Derby Stakes in an eleven-horse field. Bob Baffert, the winning trainer, is banned from Churchill Downs in 2023.
February 15, 2021, a nasty winter and ice storm left two dead, thousands without electricity, and schools closed across the state. Meanwhile, makers of the coronavirus vaccines tried to figure out how to tweak their recipes against worrisome virus mutations and looked to the flu as a blueprint.
February 15, 2022, Vladimir Putin pulled back troops from Ukraine in another attempt to negotiate peace.  Putin publicly stated he didn't want war and would rather rely on talks to stop Ukraine from joining NATO.  However, the western allies chose not to participate.  Meanwhile, back in Kentucky, the mask mandate conflict continued.  Parents wanted school officials to end the face coverings while the senate introduced a bill to ban the state masks mandates.