Thank You For Visiting
Localtonians wishes a Happy Birthday to Kentucky's 25th Governor John White Stevenson, born in 1812.
May 4, 1890, Deputy Sheriff Calloway Carnes, Knox County Sheriff's Office, was shot and killed while attempting arrest a suspect. The suspect fled the area followed by a posse.
Wednesday, May 4, 1898, Plaudit wins the 24th Kentucky Derby going the mile and a quarter in 2:09, on a good track, winning $4,850 for owner and trainer John E. Madden. He wins by a nose. The third-place horse finished 20 lengths back in the field of four. Willie Simms won his second Derby in as many starts; this would be his last Derby. Simms, who won the 1896 Derby on Ben Brush, is the only African-American jockey to win each Triple Crown race. He was also the first American jockey to win a race in England on an American horse, introducing the short stirrup riding style in Britain.
Thursday, May 4, 1899, Manuel wins the 25th Kentucky Derby for diplomat Dave Hennen Morris and politician Alfred Hennen Morris. Trainer Robert J. Walden and Hall of Fame jockey Fred Taral complete the winning connections. The race ran in 2:12, winning $4,850. John E. Madden's Mazo finished third.
May 4, 1905, Belmont Park Racetrack opened. The track was built by a group of investors including August Belmont, Jr. and William Collins Whitney.
May 4, 1924, Deputy Sheriff Andy R. Baird, Bell County Sheriff's Department, was shot and killed at a mining camp known as Kettle Island near Pineville.
May 4, 1929, Policeman George W. Horn, Prestonsburg Police Department, was shot and killed while chasing a subject who had driven his car onto the railroad depot platform.
May 4, 1935, Omaha wins the 61st Kentucky Derby for Belair Stud, jockey Willie Saunders and trainer James E. Fitzsimmons in 2:05. The winning connections earned $39,925 on their way to the 3rd Triple Crown.
May 4, 1940, Gallahadion wins the 66th Kentucky Derby over seven other entries for owner Ethel V. Mars's Milky Way Farm Stable. Ethel was heiress to the Mars Candy fortune. Jockey Carroll M. Bierman had what sportswriters called "one of the best derby rides," beating the heavy favorite and paying $72.40 to win for trainer James E. Fitzsimmons. The winning time of 2:05 earned $60,150.
May 4, 1946, Texas-bred Assault wins the 72nd Kentucky Derby for King Ranch, jockey Warren Mehrtens and trainer Max Hirsch in 2:06 3/5 for $496,000. Assault would become the 7th Triple Crown winner. The Derby crowd reached 100,000 for the first time.
Localtonians wishes a Happy Birthday to Hardinsburg native Alfred "Butch" Beard Jr., born in 1947. He was the starting point guard with the 1975 NBA champion Golden State Warriors.
May 4, 1957, Iron Liege wins the 83rd Kentucky Derby for Mrs. Gene Markey's Calumet Farm, the sixth Derby for the red and blue silks. Jockey Bill Hartack and trainer Horace A. Jones completed the connections. Shoemaker misjudged the finish line and lost. The winning time of 2:02 1/5 earns $107,950.
Kentucky Trivia: Bill Shoemaker, who has ridden in the most Derbies (26), is a four-time winner and the oldest jockey to win the roses.
May 4, 1961, Governor Bert T. Combs dedicated the Kentucky Floral Clock. The giant hands weigh about a quarter of a ton apiece. There are other giant floral clocks, but Kentucky's is unique because it keeps time over a water pool instead of resting on a bank of earth.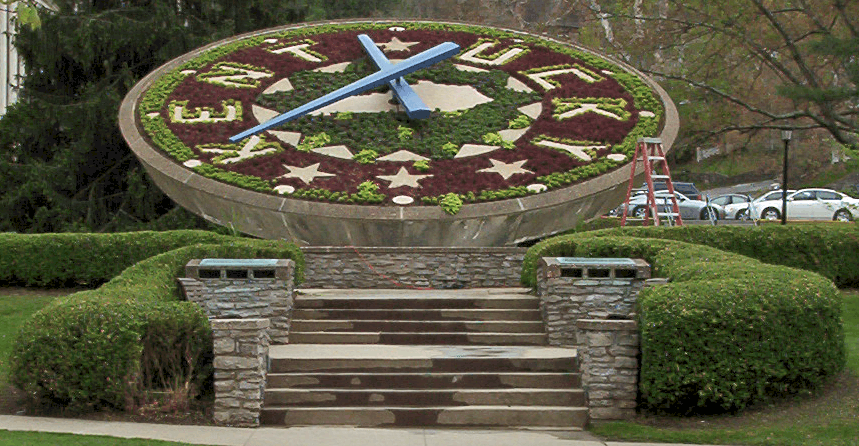 May 4, 1963, Chateaugay wins the 89th Kentucky Derby for Darby Dan Farm against nine other entries in 2:01 4/5. Trainer James P. Conway and jockey Braulio Baeza round out the winning connections to earn $108,900. Braulio was among the first Latino jockeys to win the Run for the Roses.
May 4, 1964, nearly two hundred years after it was first distilled, bourbon whiskey was recognized as a distinct American product by the U.S. Congress.
March 4, 1966, Marine Corps PFC Jerry L. Onan from Lexington died in the Vietnam War.
May 4, 1968, Dancers Image crosses the finish line first in the 94th Kentucky Derby, but his DQ'd for having bute in his system days later. The second-place runner Forward Pass was declared the winner, giving Mrs. Gene Markey's Calumet Farm homebred their 8th and last Derby to date. Nixon, the only President to resign from office, witnessed the first horse DQ'd from the Derby. The following year, Nixon returned to Churchill Downs, fulfilling a promise he made to attend the Derby if he won the Presidency. To this day, Nixon is the only sitting president to attend the Derby. The winning time of 2:02 1/5 earned $122,600.
May 4, 1968, Army SP4 Arthur T. Kramer from Burlington in Boone County died in the Vietnam War.
May 4, 1970, Army SFC Theodore I. Roberts from Valley Station in Jefferson County died in the Vietnam War.
May 4, 1974, Cannonade wins the 100th Kentucky Derby for John M. Olin. Woody Stephens wins his first of two Derbies, and jockey Angel Cordero Jr. wins his first of three. The race ran in 2:04 to win $274,000 in the largest field in the race's history with 23 entries.
May 4, 1985, Spend a Buck goes wire to wire to win the 111th Kentucky Derby by 5 ¼ lengths for Dennis Diaz's Hunter Farm with Ángel Cordero Jr. up. Trainer Cam Gambolati remains the only Connecticut native ever to train a Derby winner. Dennis Diaz's widow sold the Kentucky Derby owner's trophy through an auction in 2015 for $188,305.
May 4, 1991, Calumet Farm bred Strike the Gold wins the 117th Kentucky Derby for owners Brophy, Condren and Cornacchia in 2:03.08. Trainer Nick Zito and jockey Chris Antley both win their first Derby. The winning connections earn $655,800.
May 4, 1996, Grindstone wins the 122nd Kentucky Derby by a nose over Bob Baffert's Cavonnier in his first Derby. Trainer D. Wayne sent out a record five Kentucky Derby starters and scores for W.T. Young's Overbrook Farm's homebred. It was the third Derby triumph out of four for Lukas and his second straight. Jerry Bailey goes in 2:01.06 to win $869,800. For the first time in 20 years, the Derby has a full field of 20, and for the first time, 300 families bet from home in a trial run of new technology.
May 4, 2002, War Emblem wins the 128th Kentucky Derby for Prince Ahmed bin Salman of the Saudi Arabian royal family, principle owner of The Thoroughbred Corporation. Bob Baffert wins his third Derby. Jockey Victor Espinoza won his first of three Derbies in 2:01.13 to win $875,000.
May 4, 2007, Army SGT Christopher N. Hamlin, 24, of London, died in Baghdad of wounds sustained when a bomb detonated near his vehicle during Operation Iraqi Freedom.
May 4, 2007, Jeff Ruby asked O.J. Simpson to leave his Louisville restaurant the night before the Derby. O.J. obliged and left quietly.
May 4, 2013, Orb wins the 139th Kentucky Derby presented by Yum! Brands for Ogden Mills Phipps and Stuart Janney III. Lexington native Claude McGaughey III and jockey Joel Rosario both capture their first Derby. The winning time of 2:02.89 earned $1,414,800. The Road to the Kentucky Derby points system was utilized for the first time.
May 4, 2019, Country House wins the 145th Kentucky Derby presented by Woodford Reserve for owners Mrs. J.V. Shields (also his breeder), E.J.M McFadden and LNJ Foxwoods. The winning time of 2:03.93 earned $1,860,000. Maximum Security was DQ'd, giving trainer Bill Mott and jockey Flavien Prat their first Derby wins. Country House never races again.
May 4, 2020, Governor A. Beshear removed paramedic Robbie Smither from the Kentucky Board of Emergency Services after Mr. Smither made a Facebook post that "publically promoted violent action against law enforcement."