Thank You For Visiting
May 2, 1778, Josiah Collins arrives from Haix County, Virginia to Boonesborough by Wilderness Road.
Lexington, 1779 Pioneer Kentucky As Described by Early Settlers by Bettye Lee Martin
Localtonians wishes a Happy Birthday to Munfordville native Simon Bolivar Buckner, born in 1823. Simon was our 30th Governor who fought in the Mexican-American War and Civil War as a Confederate. He spent most of his term trying to curb violence in the eastern part of the state.
Localtonians wishes a Happy Birthday to Thompsonville native James Thomas Cotton Noe, born in 1864, in Washington County. In 1926 he became Kentucky's Poet Laureate.
May 2, 1882, Louisville native Pete Browning makes his MLB debut with the Louisville Eclipse.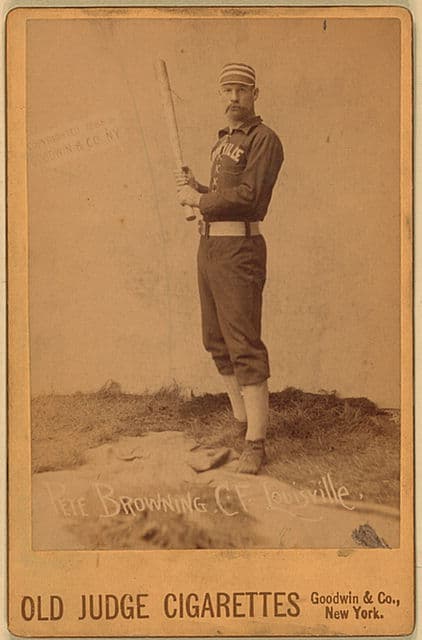 May 2, 1903, Judge Himes wins the 29th Kentucky Derby for Charles R. Ellison, jockey Harold Booker and trainer John P. Mayberry in 2:09.00 for the mile and a quarter. The winning connections earn $4,850. This was the first time the web barrier was used to start the Derby, the elastic tape being four inches wide and stretched across the track, with the starter pressing a button to release the iron arms holding the barrier in place. The barrier was used until 1930, when the starting gate was implemented.
Kentucky Trivia: The Kentucky Derby has been run on every day except Sunday.
Monday, May 2, 1904, Elwood wins the 30th Kentucky Derby for Mrs. Lasca Durnell, jockey Frank Prior and trainer Charles E. Durnell. The Missouri bred wins in 2:08.50 and earns $4,850. Elwood was the first Derby winner to be bred and owned by a woman.
Wednesday, May 2, 1906, Sir Huon wins the 32nd Kentucky Derby for Bashford Manor Stable with Roscoe Troxler up for trainer Peter Coyne. In 1887 George Long purchased Bashford Manor in Louisville and developed it into a leading Thoroughbred horse farm which bred three Kentucky Derby winners. The winning time of 2:08 4/5 earned $4,850.
May 2, 1936, Bold Venture wins the 62nd Kentucky Derby for Morton L. Schwartz with Ira Hanford in the irons, for trainer Max Hirsch. Max wins his first of three Derbies in 2:03.60. The start was described as the roughest in Derby history.
May 2, 1942, Shut Out wins the 68th Kentucky Derby for Greentree Stable with Wayne D. Wright up for trainer John M. Gaver Sr. in 2:04. 4/5. Eddie Arcaro, a two-time Derby winner at the time, no doubt would have wound up with a record six Derbies instead of five had he not chosen Devil Diver, Shut out's stablemate.
May 2, 1953, Dark Star wins the 79th Kentucky Derby for Cain Hoy Stable with Henry Moreno in the irons for trainer Eddie Hayward. This Derby is known as much for the horse who lost, Native Dancer. Dark Star handed "The Grey Ghost" his only defeat in 22 starts. The winning time of 2:02 earned $90,050.
May 2, 1959, Tomy Lee wins the 85th Kentucky Derby for Mr. & Mrs. Fred Turner Jr., Bill Shoemaker, and trainer Frank E. Childs. The winning time of 2:02 1/5 earned $119,650. Tomy Lee survived jockey Bill Boland's foul claim that Shoemaker repeatedly bumped Sword Dancer rounding for home. The stewards deliberated 17 minutes before the order of finish stood. From London, Tomy Lee became the second and last foreign-born Kentucky Derby winner.
May 2, 1964, Blue Grass winner Northern Dancer wins the 90th Kentucky Derby for owner Winfields Farms. Jockey Bill Hartack wins his fourth of five Derbies. The great trainer Horatio Luro gets his second Derby in three runnings, with Decidedly winning in 1962. The 2:00 winning time set a new Churchill Downs record. Net to the winner was $114,300.
May 2, 1967, Army PFC Roy A. Robertson from Danville in Boyle County died in the Vietnam War.
May 2, 1968, Marine Corps PVT Jerry Fields from Lexington died in the Vietnam War.
May 2, 1969, Marine Corps 1LT Gary E. Holtzclaw from Corbin County, Army SGT Jerry R. Meadows from Regina in Pike County, Marine Corps LCPL Troy E. Powell from Newport in Campbell County and Army 1LT Edward C. Powers from Knox, all died in the Vietnam War.
May 2, 1970, Diane Crump became the first woman to ride in the Kentucky Derby. Dust Commander won the 96th Run for the Roses in 2:03.40 for owner Robert E. Lehmann, trainer Don Combs and jockey Mike Manganello. The winning connections earned $127,800.
Sunday, May 2, 1971, Louisville Police Department, Patrolman Wilbur Hayes and Patrolman John Schaefer were shot and killed while checking two men in an alley of a roofing company.
May 2, 1971, Army SP4 Jeffery C. Goodrich from Gratz in Owen County, Army SP4 James R. Stout from Valley Station in Jefferson County and Army SP4 Charles V. Morgan from Warsaw in Gallatin County, all died in the Vietnam War.
April 2, 1973, the Hawkins House, also known as the Cantrill House located in Georgetown is placed on the U.S. National Registry of Historic Places.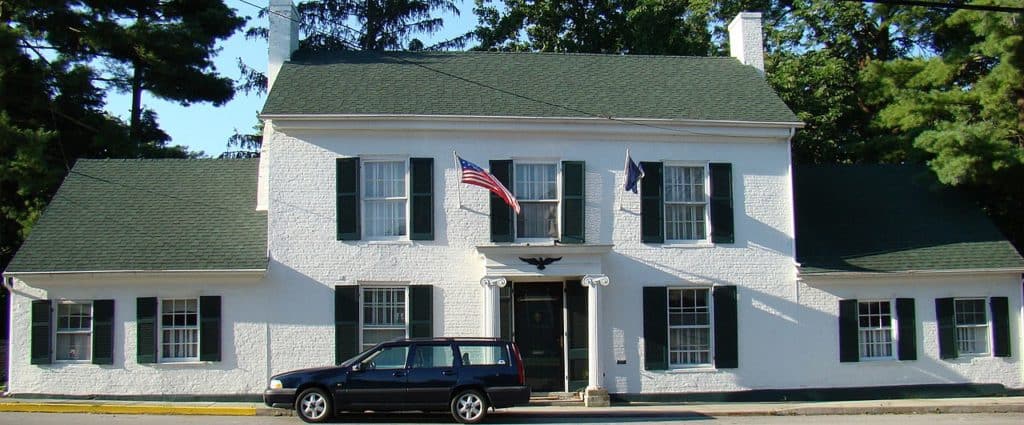 May 2, 1981, Pleasant Colony wins the 107th Kentucky Derby for Thomas Mellon Evans's Buckland Farm, Thomas was one of the early corporate raiders in American business. Trainer John P. Campo and jockey Jorge Velásquez get the colt across the finish line in 2:02.00 earning $317,200.
May 2, 1987, Alysheba wins the 113th Kentucky Derby for Dorothy & Pamela Scharbauer, trainer Jack Van Berg and jockey Chris McCarron in 2:03.40. The winning connections earned $618,600.
May 2, 1992, Pat Day wins his first and only Kentucky Derby. The 118th Derby hosted Arzi, who at 4-5 had captured the hearts of racing fans worldwide. He finished 8th, the worst finish in Derby history by a favorite who was odds-on or less. M.C. Hammer's horse Dance Floor finished 3rd. The winning time of 2:03.04 earned $724,800.
May 2, 1998, Real Quiet wins the 124th Kentucky Derby for McDonald franchise owner Mike Pegram, his friend Bob Baffert and jockey Kent Desormeaux. The winning time of 2:02.38 received $738,800. Real Quiet was a true rags-to-riches story, having been bought for just $17,000 at the 1996 Keeneland September yearling sale.
May 2, 1999, Cigar, the two-time Horse of the Year whose 16-race winning streak was among the top feats in racing history, kicked up his heels after arriving at his new home at the Kentucky Horse Park.
May 2, 2009, Mine That Bird, paying $103.20, wins the 135th Kentucky Derby in 2:02.66 to win $1,417,200 and the trophy. A masterful ride on the rail by Calvin Borel gave the owners Double Eagle Ranch et al. and trainer "Chip" Woolley Jr., the time of their lives.
May 2, 2015, American Pharoah wins the 141st Kentucky Derby for Zayat Stable's homebred. Bob Baffert takes his fifth out of seven Derbies. Victor Espinoza guides the Lexington bred colt home in 2:03.02 to earn $1,418,800 and puts them on the road to the 12th Triple Crown.
Saturday, May 2, 2020, was a Saturday for the history books as no horses turned for home to come down the stretch to win the Kentucky Derby. For the first time in 75 years the race was not run on the first Saturday in May.