Thank You For Visiting
February 9, 1813, the Gazette announced the ambush and terrible butchery at the River Basin. The War of 1812 battle took place in mid-January.
It Happened Today in Kentucky by Robert A. Powell
February 9, 1837, Trimble County was created from Henry County, Oldham County and Gallatin County and was named in honor of Robert Trimble, Associate Supreme Court Justice. Bedford is the county seat. Other localities are Locust, Milton and Wise's Landing. Trimble County was the 86th county created and covers 156 square miles.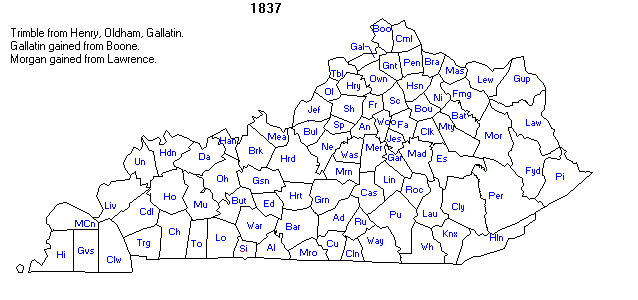 February 9, 1838, Carroll County was created from Gallatin County, Henry County and Trimble County. Carroll was named in honor of Charles Carroll, last living signer of the Declaration of Independence. Carrollton is the county seat. Other localities include: English, Ghent, Prestonville, Sanders and Worthville. Carroll County was the 87th county created and covers 137 square miles.
February 9, 1838, Carter County was created from Greenup County and Lawrence County and was named in honor of William Grayson Carter, Kentucky State Senator. Grayson is the county seat. Other localities include: Olive Hill, Access, Beech Grove, Beetle, Boone Furnace, Carter, Davy Run, Denton, Grahn, Hitchins, Mount Savage, Norton Branch, Rooney, Rush, (part) Smiths Creek, Soldier, Straight Creek and Willard. Carter County was the 88th county created in Kentucky and covers 412 square miles.
Localtonians wishes a Happy Birthday to Madison County native Laura Clay born on her family's estate, White Hall, in 1849.  A self-described "practical farmer," she managed her 300 acres to finance her long public career.  Founder and longtime president of the Kentucky Equal Rights Association (KERA), in 1888, Clay devoted more than fifty years of her life to the cause of women's equality in America.  By the turn of the century, the KERA had lobbied successfully to protect married women's property and wages, a requirement that there be women physicians in state female insane asylums, and women's admission to several all-male colleges.  After 1900 she secured legislation that provided for a women's dormitory at the University of Kentucky, established juvenile courts and raised the age of sexual consent from 12 to 16.  In 1920 at the Democratic National Convention, she was the first woman to have her name placed into nomination for the presidency at a major political party convention.
Kentucky Trivia:  From 1871 to 1874, Mary E. Britton attended Berea College, the first higher learning institution to admit blacks in Kentucky. At the time, the only profession offered to an educated woman of any race was teaching.  After teaching black children in Lexington public schools, she worked as a doctor from her Lexington home.  She was the first woman doctor to be licensed in Lexington in 1902.  Dr. Britton specialized in hydrotherapy, electrotherapy and massage.
Horse Racing Trivia: February 9, 1894, the American Jockey Club was incorporated in New York City by a group of prominent horsemen led by August Belmont II and Wall Street financier James R. Keene.
February 9, 1904, Beckham County is created from Carter, Lewis and Elliott Counties, with the county seat in Olive Hill to become the 120th county. It existed for only 80 days before being dissolved by the Kentucky Court of Appeals.
February 9, 1911, Deputy Sheriff William F. Clair, Wolfe County Sheriff's Office, succumbed to gunshot wounds sustained five days earlier when he was shot by his brother while attempting to arrest him for stabbing another man in Lee City. The brother never went on trial.
Localtonians wishes a Happy Birthday to Athens native Jane Gentry Vance, born in 1941. Awards and Recognitions: Inducted into the Kentucky Writers Hall of Fame, 2019, Thomas D. Clark Medallion recipient for the New and Collected Poems of Jane Gentry, 2017. Hollins University Distinguished Alumnae Award, 2013, Inducted into the University of Kentucky College of Arts and Sciences Hall of Fame, 2013, Served as Poet Laureate of Kentucky, 2007-2008, Great Teacher Award from the University of Kentucky Alumni Association, 1986, etc.
February 9, 1953, Army PVT James S. Walker from Perry County died in the Korean War.
February 9, 1957, the colt Round Table was the focal point of one of the most memorable sales in thoroughbred history. Shortly before the 5th race at Hialeah, with a hand shake, A.B. "Bull" Hancock Jr., sold Round Table to Oklahoma Oilman Travis M. Kerr for $175,000 a bargain for Kerr but Bull kept 20% interest as a stallion.
Racelens by Philip von Borries
February 9, 1965, Army PFC John W. Malapelli from Burlington in Boone County died in the Vietnam War.
February 9, 1966, Marine Corps CPL Robert K. Lovelace from Taylor Mill in Kenton County died in the Vietnam War.
February 9, 1968, Army CPL David E. Littleton from Olive Hill in Carter County died in the Vietnam War.
February 9, 1969, Army SGT Jerry D. Jones from Lexington and Army SP4 Joe E. Hester from Mayfield in Graves County, died in the Vietnam War.
February 9, 1979, Winchester native John Orley Allen Tate died. John was known professionally as Allen Tate, a poet, essayist, social commentator, and Poet Laureate from 1943 to 1944.
February 9, 2009, Army SGT Joshua A. Ward, 30, of Scottsville, died in Iraq of wounds sustained when an explosive device detonated near his vehicle, fighting in Operation Iraqi Freedom.
February 9, 2010, Army SGT Adam J. Ray, 23, of Louisville, died in Afghanistan, of wounds sustained when insurgents attacked his unit with an improvised explosive device fighting in Operation Enduring Freedom.
February 9, 2013, Maker's Mark sent a mass email announcing a plan to reduce the whiskey's alcohol strength, citing supply issues as the reason for the change. The result would reduce the product from 90 U.S. proof to 84 U.S. proof, which would have stretched inventory by about 6%.
February 9, 2017, Harper's Country Hams in Clinton caught fire. It took 55 years for the company to become one of the nation's leading cured ham producers and a few hours for a fire to destroy the family business.
February 9, 2019, the road to the Kentucky Derby is through Tampa Bay Down's $250,000 Sam F. Davis Stakes (GIII). None of these nine starters made it to Kentucky in May.