Thank You For Visiting
February 21, 1792, James Harrod who established Kentucky's first settlement, now known as Harrodsburg, disappeared. Many felt Harrod was either killed by Native Americans or became sick and died in the wilderness while hunting.
February 21, 1834, John Breathitt, Kentucky's 11th Governor, passed away of tuberculosis in the Governor's mansion at 47 years old. John was the second Kentucky Governor to die in office, serving only 18 months. The first Democrat to hold office, he won the election by 1,242 votes from the 80,188 cast.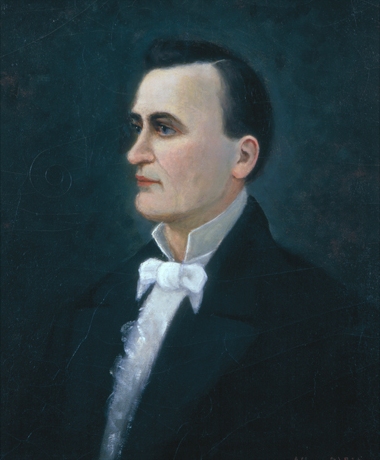 Kentucky Trivia:  Breathitt's election to Governor may have set a record for Oldham County election fraud: 163% of those eligible participated in the election.
February 21, 1834, Bullitt County native James Turner Morehead became the 12th Governor.  He was the first native-born Kentuckian to be a Kentucky Governor.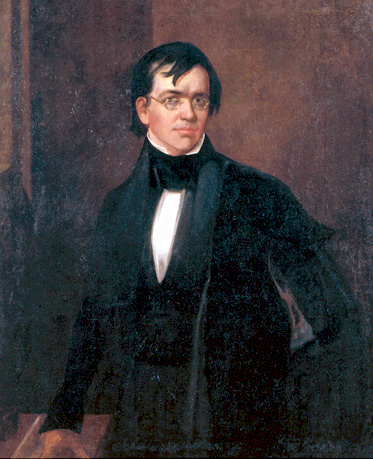 February 21, 1865, Hodgenville Courthouse was burned to the ground by guerrillas however all courthouse records were saved. Union soldiers had used the building as barracks.
Roadside History: A Guide to Kentucky Highway Markers edited by Melba Porter Hay, Dianne Wells, Thomas H. Appleton, Jr., Thomas H. Appleton; pg: 11
Localtonians wishes a Happy Birthday to Elkton native and author David Morton born in 1886. David won the Golden Rose Award, one of America's oldest literary prizes, inaugurated in 1919.
February 21, 1888, the U.S. approved Nathan B. Stubblefield's patent on the mechanical telephone.
Localtonians wishes a Happy Birthday to Louisville native George Charles Devol Jr., born in 1912. In 1954, he filed a patent for a robotic arm that could move with six degrees of freedom and store step-by-step digital commands on a drum or other medium. The robotic arm would become the Unimate industrial robot. Devol's patent represents the foundation of the modern robotics industry.
On February 21, 1922, the U.S. Army created a publicity stunt to make a big showy deal out of destroying confiscated moonshine stills in Newport. The hope was that the media publicity of a tank crushing metal drums would help deter people from making their alcoholic beverages. It didn't work.
February 21, 1926, Deputy Marshal Schley Wilder, Perry County Constable's Office, was shot and killed while attempting to arrest a man at the church house in Allais. The man who shot him was found not guilty by a jury. Schley Wilder's father, Constable Thomas Wilder, was shot and killed three months later while making an arrest.
February 21, 1949, Adolph Rupp mixed mortar during a cornerstone-laying ceremony for Memorial Coliseum. The UK men's basketball team played in Memorial from 1950 to 1976, compiling 306-38 record. The structure was a monument to the more than 10,000 Kentuckians killed in World War II and the Korean War. The Kentuckians who died in the Vietnam War were added to the Memorial after the war.
February 21, 1961, Muhammad Ali (5-0) fought Donnie Fleeman (35-11-1) in Miami Beach Auditorium. Clay won by technical knockout in the seventh round of a scheduled eight-round fight. Fleeman, Clay's first true opponent, was a tough Texan, but he couldn't cope with Clay's speed. Fleeman plodded forward, and Clay picked him off at will. The fight took seven rounds mainly because Clay decided that seven was enough. Fleeman, 28, retired after the fight.
February 21, 1965, Patrolman James Francis Sansbury, Louisville Police Department, was killed in an automobile accident while pursuing a habitual offender near the intersection of Breckenridge Lane and Hillbrook Drive. The suspect escaped but was later apprehended.
February 21, 1965, Augustus Owsley Stanley III's lab was raided by police. He beat the charges and successfully sued for the return of his equipment. The police were looking for methamphetamine but only found LSD.
February 21, 1965 the LaRue County Courthouse was set to fire by guerrillas for a total loss.
February 21, 1967, Army SP4 Ray M. Harmon from Flemingsburg in Fleming County died in the Vietnam War.
February 21, 1970, Dan Issel scored 51 points and Pete Maravich scored 64 in Pistol Pete's last home game of a fantastic collegiate basketball career. The Wildcats beat LSU 121-105 in John Parker Memorial Coliseum. Kentucky only lost one game in the Baton Rouge facility from 1951-1971.
Localtonians wishes a Happy Birthday to Affirmed born in 1975 in Florida. The derivation of the name "Affirmed" has been the subject of speculation.
February 21, 1991, Somerset native Senator John Sherman Cooper died in Washington D.C. John's resume in part read; Kentucky House Representative, U.S. Senator, 5th Ambassador to India and 2nd Ambassador to East Germany.
February 21, 2010, Marine Lance CPL Adam D. Peak 25, of Florence, died while supporting combat operations in Afghanistan during Operation Enduring Freedom.
February 21, 2010, Marine Lance CPL Matthias N. Hanson, 20, of Buffalo in southern LaRue County died while fighting in Afghanistan for Operation enduring Freedom.
February 21, 2015, the GII $400,000 Fountain of Youth Stakes run at Gulfstream Park is won by a Kentucky bred.
February 21, 2016, Governor Bevin proclaimed that every February 21 of each year be "ALS Awareness Day." The day is to encourage Kentuckians to support research into effective treatments and an eventual cure.
February 21, 2020, Governor Andy Beshear signed a law requiring school police to carry guns.