Thank You For Visiting
February 19, 1812, Major Thomas Marshall of Louisville vs. Colonel Charles S. Mitchell of Kentucky dueled in Ohio across from Maysville. On the first fire Mitchell wounded Marshall in the leg. "Both gentlemen acted with great firmness and bravery, as well as good conduct." This account came from the Lexington Reporter three days after. Famous Kentucky Duels by J. Winston Coleman, Jr.; pg: 138
February 19, 1845, Cassius M. Clay announced his antislavery Lexington newspaper, the True American. Lexington newspapers had stopped publication of Clay's antislavery articles, so he secured a building on North Mill in Lexington for an office. Expecting militant opposition, he fortified the building with muskets, brass cannons, a keg of gunpowder, and he created an escape route through trap doors. Citizens seized the press and forced Clay to move to Cincinnati. He later sued and received $2,500 in damages.
February 19, 1868, Thomas Clay McCreery became Kentucky's 17th Class II U.S. Senator.
Localtonians wishes a Happy Birthday to Louisville native John William Sublett, known by his stage name John W. Bubbles in 1902. He performed in the duo "Buck and Bubbles," who were the first black artists to appear on TV. He is known as the father of "rhythm tap."
February 19, 1913, Marshal Asa T. Pettit, Clay City Police Department, was shot and killed as he and two other men attempted to arrest five drunkards who had come into town and started firing their guns in the air. As the officers approached, the men opened fire, killing Marshal Pettit. The other two officers retreated and returned to town to obtain reinforcements.
Localtonians wishes a Happy Birthday to George Edward "Eddie" Arcaro, born in 1916. Eddie is the only jockey to win two Triple Crowns.
On February 19, 1917, Posseman Patton Bartley, Pike County Sheriff's Office, succumbed to gunshot wounds sustained the previous day, assisting deputies apprehending a man involved in a shooting. The posse overtook the man about a mile from the scene and Posseman Bartley got hit in the abdomen.
February 19, 1925, an act creating the Zachary Taylor National Cemetery was signed by President Calvin Coolidge.
February 19, 1928, Garrard County native Bradley Kincaid, made his first recording of Appalachian ballads.
February 19, 1960, Louis "Satchmo" Armstrong warmed up backstage at Memorial Coliseum before Greek Week's appearance at the University of Kentucky. Six thousand fans endured an hour delay as Louis traveled 28 hours from Washington D.C. over icy roads.
February 19, 1966, Army SGT Elizie J. Collins Jr. from Williamsport in Johnson County and Army SGT Raymond L. Naylor from Lancaster in Garrard County, both died in the Vietnam War.
February 19, 1968, Army SP4 Robert W. Seaton from Kevil in Ballard County and Army SSG Jimmy D. Winchester from White Oak Junction in McCreary County, both died in the Vietnam War.
February 19, 1969, Marine Corps PFC Steven D. Tanner from Bromley in Kenton County died in the Vietnam War.
February 19, 1970, Army SP4 Jimmie R. Marshall from Louisville and Army CPL Clifford W. Marshall from Richmond, both died in the Vietnam War.
February 19, 1985, William Schroeder, the 1st artificial heart patient to a leave a hospital, spent 15 minutes outside Humana Hospital in Louisville.
February 19, 1989, Owensboro native Darrell Waltrip wins the Daytona 500.  As his only chance at victory, Waltrip and his Hendrick Racing decided to use fuel strategy, being the only car not to pit in the closing laps.  The victory was Waltrip's first (and only) Daytona 500 race win in his 17th try.
February 19, 1990, Southern High School in Okolona, a Louisville neighborhood, unveiled a statute of U.S. Marine Col. William Richard Higgins, as his wife, Marine Major Robin Higgins, and their daughter looked on.
February 19, 1990, the U.S. Forest Service and the Kentucky Division of Fish and Wildlife Resources announced their plans to reintroduce the Peregrine Falcon into the Daniel Boone National Forest. The last sighting of a Peregrine was in the late 1940s. The pesticide DDT almost destroyed the birds' population. Peregrines six to seven weeks old are best for release.
Kentucky Trivia: Kentucky Department of Fish and Wildlife Resources claim Peregrine Falcons were spotted in 14 counties in 2019.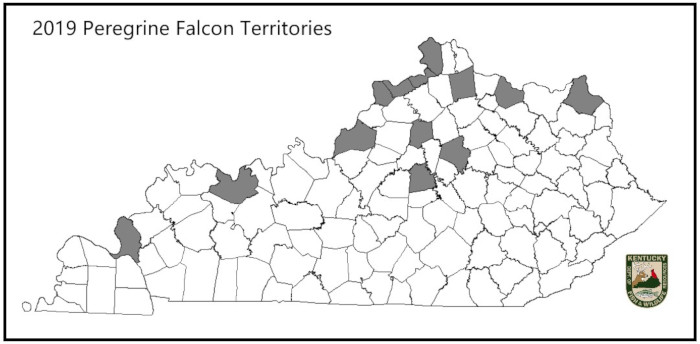 February 19, 1998, Grandpa Jones from Niagara in Henderson County, died. Louis Marshall Jones lived to be 84 years, three months and three days young.
February 19, 2004, Army 2LT Jeffrey C. Graham, 24, of Elizabethtown, died of injuries sustained from small-arms fire and an improvised explosive device attack in Iraq fighting in Operation Iraqi Freedom.
February 19, 2012, Lowes native John Paul Hogan died. A chemist, John helped discover methods of producing polypropylene and high-density polyethylene (HDPE). He earned B.S. degrees in both Chemistry and Physics at Murray State University in 1942. He taught high school and college level before going corporate with Phillips Petroleum Company in 1944.
February 19, 2020, Diane Snyder was awarded $12.5 million after her husband's death. The family sued in Florida, and a jury found that R&J Reynolds Tobacco Company was partly responsible for his addiction and ultimate death.