Thank You For Visiting
January 13, 1794, President Washington authorized an act to change the U.S. flag to a 15-star, 15-stripe flag. The two stripes and two stars were for Vermont's admission (the 14th State) and Kentucky (the 15th State). It was the only U.S. Flag to have more than 13 stripes and lasted 23 years. Francis Scott Key immortalized it during the bombardment of Fort McHenry in 1814. The flag is now displayed in the Smithsonian Museum. Five Presidents served under this flag; George Washington, John Adams, Thomas Jefferson, James Madison, and James Monroe. Faced with the admission of five more states in 1818, the flag design would return to the original thirteen stars and stripes.
January 13, 1817, the Kentucky Legislature moved to prevent a branch of the Second Bank of the United States from entering Kentucky. The bill passed on this day prevented the circulation of private notes in the commonwealth. It was unsuccessful in its attempt, and branches opened soon afterward in Louisville and Lexington. These banks were not popular among the locals, who tended to prefer their state banks. The national bank was not any more fiscally responsible than the state banks, and together they flooded the state with currency. Before the new banks, citizens did not widely use cash in the state, and bartering had been the standard trade method. The new influx of currency and easy credit led to a great deal of speculation and probably contributed to the Panic of 1819.
January 13, 1848, Taylor County was created from Green County and was named in honor of Zachary Taylor, President of the United States. Campbellsville is the county seat. Other localities include: Acton, Bengal, Black Gnat, Elk Horn, Finley, Hatcher, Hobson, Mannsville, Merrimac, Saloma, Spurlington, Sweenyville and Yuma. Taylor County was the 100th county created and covers 277 square miles.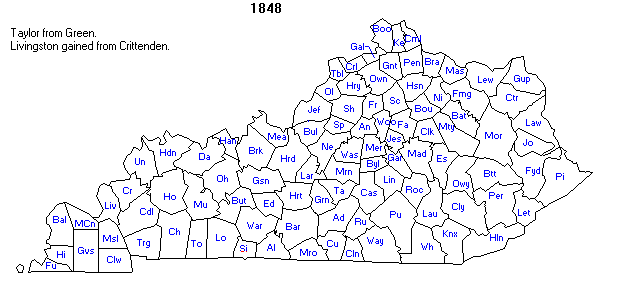 January 13, 1864, Stephen Foster dies at the age of 37 in New York. At 26, Mr. Foster wrote My Old Kentucky Home and in 1928, it was chosen to be Kentucky's state song. It is also the official song of the Kentucky Derby.
January 13, 1873, Richard James Oglesby for the second time became the Governor of Illinois. He would take the oath one more time. Governor Oglesby was born in Floydsburg in Oldham County.
January 13, 1881, Thomas James Churchill from Jefferson County became the 13th Governor of Arkansas.
Localtonians wishes a Happy Birthday to Uniontown native Nathaniel John Cartmell, born in 1883 in Union County. Nate won medals at two editions of the Olympic Games. He is also known for being the North Carolina Tar Heels men's basketball team's first head coach.
January 13, 1889, The Lexington Daily Press carried a "Petition of Citizens" on the front page which urged the closing of "houses of ill fame conducted by Belle Breezing at 194 North Upper Street; Lettie Powell, 196 N Upper Street; and Molly Parker, 154 N Upper Street."
January 13, 1891, Eddyville native John Long Routt became the 7th Governor of Colorado. He was also their first Governor.
January 13, 1933, Deputy Sheriff Crockett M. "Jack" Riddell, Jefferson County Sheriff's Office, was shot and killed while questioning four men who were loitering at the corner of 12th Street and Zane Street. As Deputy Riddell searched the men for weapons one of them shot him in the head with a 12-gauge shotgun from a distance of 15 feet.
January 13, 1937, Corporal John Holzknecht, Louisville Police Department, succumbed to injuries sustained on November 15th, 1937, when he was involved in a vehicle crash at the intersection of Everett Avenue and Slaughter Avenue (modern day Patterson Avenue). The police car that Corporal Holzknecht was a passenger in overturned after colliding with a milk truck at the intersection. The driver of the truck was charged with failure to yield right of way.
January 13, 1939, Chief of Police John D. Gilliam, Cumberland Police Department, was shot and killed while checking on a restaurant while making his rounds. When he entered the restaurant a drunk man inside suddenly jumped up and opened fire on the chief, shooting him three times. Despite being mortally wounded, Chief Gilliam was able to return fire and killed the subject.
Horse Racing Trivia: January 13, 1942, officials of Churchill Downs-Latonia Inc. sold the Latonia track and abandoned racing at the site.
January 13, 1953, Marine Corps CPL Charles R. Kastor from Buechel in Jefferson County died in the Korean War.
January 13, 1967, Army CPL Richard A. Robb from Louisville died in the Vietnam War.
January 13, 1968, Marine Corps LCPL Delmer Anderson from Bellevue died in the Vietnam War.
January 13, 1969, Army SSG Glen Everett Rountree from Williamsburg in Whitley County died in the Vietnam War.
January 13, 1972, President Nixon states that U.S. forces in Vietnam will be cut to 69,000 by May 1.
January 13, 1972, Kentucky proposed creating the Department of Environmental Protection in a bill filed by Rep. Joseph P. Clarke D-Danville. The bill would make sweeping governmental structure changes to consolidate most environmental problems under one agency's mandate. The proposed department would exclude strip-mining regulation.
January 13, 1982, after working for almost a year and holding eight public meetings around the state, Governor John Y. Brown, Jr. received the much anticipated Agriculture Land Study and Policy Committee. The study gently suggested providing tax breaks to farmers and land developers who make efforts to save Kentucky's best farmland.
January 13, 1994, UK's Pi Kappa Alpha members were sentenced to 2,000 hours of community service for taking sports memorabilia from Duke and North Carolina campuses. Christian Laettner's retired #32 jersey was one of many items taken.
Kentucky Trivia: The first enamel bathtub was made in Louisville in 1856.
January 13, 2009, Jodie Meeks scored 54 points against the #24 ranked Tennessee in a 90-72 win. This feat broke Dan Issel's 53 points in a 120–85 victory over Ole Miss, which broke Cliff Hagan's single-game record of 51.
January 13, 2016, Owensboro native and actress Tera Wray passed away.
January 13, 2020, Governor Andy Beshear reappointed Alston Kerr, a friend of his mother's, to the Kentucky Horse Park Commission and gave her the chairmanship of the 1,200-acre tourist site.  Bevin removed Kerr in 2016.  The park's operating loss was $10 million in FY2018 and $8 million in FY 2019.
January 13, 2020, for the second time in less than a year, Eastern Kentucky coal miners occupied rail tracks to stop trains from delivering coal to protest unpaid wages.