Thank You For Visiting
January 11, 1815, Allen County was created from Barren County and Warren County and was named in honor of John Allen, hero of the Battle of Frenchtown in the War of 1812. Scottsville is the county seat. Other cities and towns include: Adolphus, Amos, Halifax, Halfway, Holland, Meador, New Roe and Petroleum. Allen County was the 57th county created in Kentucky and covers 352 square miles.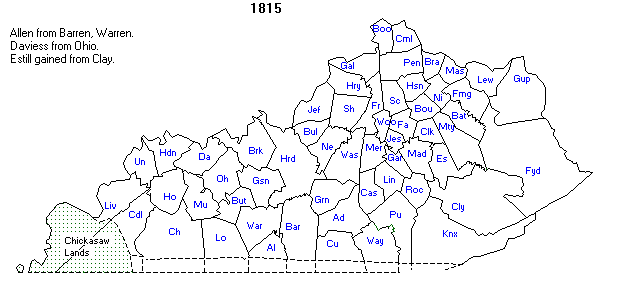 January 11, 1849, Dr. John Croghan passed away. The good doctor helped establish the United States Marine Hospital of Louisville and organized some experimental tuberculosis medical experiments inside Mammoth Cave during 1839–1849.
January 11, 1862, Battle of Lucas Bend in Carlisle County took place. The Union ironclads Essex and St. Louis, transporting troops down the Mississippi in fog, engaged the Confederate cotton clad warships General Polk, Ivy and Jackson.
January 11, 1869, Eagle Creek native John McAuley Palmer became the 15th Governor of Illinois. Eagle Creek is located in Scott County. John was also the 1896 National Democratic Party nominee running on the gold standard, free trade, and limited government.
Localtonians wishes a Happy Birthday to Alice Hegan Rice or Alice Caldwell Hegan born in Shelbyville in 1870. Her 1901 novel Mrs. Wiggs of the Cabbage Patch became a play and four films.
January 11, 1901, John Gregg Fee, abolitionist, minister, educator and founder of Berea and Berea College passed away. During the American Civil War, Fee worked at Camp Nelson to have facilities constructed to support freedmen and their families, and to provide them with education and preaching while the men were being taught to be soldiers.
January 11, 1926, John Wesley Langley, Floyd County, resigned as a Member of the U.S. House of Representatives from Kentucky's 10th district. Also known as "Pork Barrel John," he had to relinquish his office after being convicted of illegally selling alcohol. Langley had deposited $115,000 in his bank account over three years despite earning only $7,500 a year as a congressman. He had arranged for "medicinal" alcohol to be released to New York-based bootleggers during prohibition. He also tried to bribe a Prohibition officer. His wife, Katherine, then ran for his seat in a special election and won, declaring that her husband had been the victim of a conspiracy and resolving to clear his name. President Calvin Coolidge granted John Langley a pardon in 1928 with a stipulation he never runs for office again.
January 11, 1929, Deputy Sheriff George W. Clemons, Breathitt County Sheriff's Office, was shot and killed while attempting to serve an arrest warrant on his brother-in-law's adult son. He and several other deputies had gone to the man's home on Spring Fork in order to serve the warrant for burglary. The brother-in-law became upset and opened fire on the deputies, killing Deputy Clemons. The other deputies returned fire, killing the man and wounding one of his juvenile children. The wanted son escaped from the home during the incident.
January 11, 1929, Night Policeman William Lee Johnson, Walton Police Department, was shot and killed when he surprised three burglars attempting to enter the Kroger Store. All three were captured a short time later. One of the suspects admitted that he alone shot Policeman Johnson. On March 16, 1929, he was convicted of first degree murder and sentenced to life in the Kentucky State Penitentiary at Frankfort. One of the other suspects was convicted of manslaughter and sentenced to ten years.
Localtonians wishes a Happy Birthday to Garrard County native Jody Payne born in 1936. Jody is best known as a longtime guitarist in Willie Nelson's band, The Family.
January 11, 1936, Chief of Police Samuel John Murphy, Weeksbury Police Department, was shot and killed by the brother of a man he had arrested earlier in the day for being drunk in public. The arrestee's brother kicked in the door of the city jail and shot Chief Murphy in the chest with a rifle, killing him. The man turned himself in the following the day. He was convicted of Chief Murphy's murder and subsequently sentenced to life in prison.
Localtonians wishes a Happy Birthday to Ashland native Naomi Judd born in 1946.
January 11, 1956, three of the stars of the movie "Glory," John Lupton, left, Margaret O'Brien and Byron Palmer, attend the world premiere at the Kentucky Theatre. The movie told the story of a young woman who raised a filly named Glory to become a Kentucky Derby champion. Part of the movie was filmed in Keeneland, Calumet Farm and Churchill Downs.
January 11, 1967, Marine Corps CPL Ernest H. Wilson from Corinth in Grant County died in the Vietnam War.
January 11, 1971, Fayette Circuit Judge N. Mitchell Meade, citing reports of possible "syndicate" connections, charged a grand jury to investigate illegal gambling in Lexington. Meade also asked the jury to investigate reports of "alleged bribery" and "payoffs" to Lexington's elected officials.
Horse Race Trivia:  January 11, 1971, Lexington Veterinarian Arnold G. Pessin, who already challenged the horse establishment by building the Kentucky Training Center, announced he and a partner would build a $15 million racetrack on the site.
January 11, 1971, Kentucky Quarterback (QB) George Blanda, the "Ageless Marvel" of Oakland Raiders, was named AP Male Athlete of Year.  The 43-year-old grey beard sub QB and kicking specialist gave new light to middle-aged men the world over.
January 11, 1972, Army SGT Leonard H. Mantooth, Jr. from Louisville died in the Vietnam War.
January 11, 1972, crews work on one of the twin spires.
Kentucky Trivia: Dixie cups and plates are made in two Kentucky facilities by the Georgia-Pacific company, Bowling Green and Lexington.
January 11, 2008, Louisville bans smoking in public places.
January 11, 2010, Bell County native Leonard Lawson who made a fortune in blacktop and whose campaign donations gave him access to Governors, began trial on charges of bribing state officials for inside information. Bill Nighbert, former Transportation cabinet secretary during Fletcher's term, stood beside him as co-defendant.
January 11, 2010, Louisville loses their first game when Pitino calls for a white-out. The white-out had worked in its previous three games. The Cardinals lost to #4 Villanova in Freedom Hall.
January 11, 2020, in a sign of the times, the Lexington-Herald Leader Saturday edition begins an on-line edition only.
January 11, 2020, to oversee Kentucky's troubled nursing home industry, Governor Andy Beshear chose an executive from Signature Healthcare. This Louisville-based corporation owns more than two dozen low-rated nursing homes around the state. Adam Mather will oversee nursing homes in Kentucky.