Thank You For Visiting
January 8, 1810, Rockcastle County was created from Pulaski County, Lincoln County, Knox County and Madison County and was named for the Rockcastle River, the boundary between Rockcastle and Laurel County. Cities and towns located in the county include: Brodhead, Livingston and Mount Vernon which is the county seat. Rockcastle County was the 52nd county created and covers 318 square miles.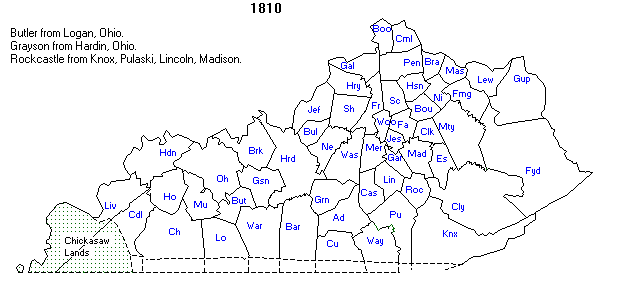 January 8, 1861, Elizabethtown native John LaRue Helm chaired a meeting in Louisville that advocated for Kentucky's neutrality in the Civil War. Mr. Helm was governor before and after the Civil War, one of only four men who held the governorship twice in non-consecutive terms.
January 8, 1877, Monticello native Shelby Moore Cullom became the 17th Governor of Illinois.
Horse Racing Trivia: Five Belmont Stakes have had only two horses in the field: 1887, 1888, 1892, 1910 and 1920.
January 8, 1914, Governor Simon Bolivar Buckner passed away. The 30th Governor spent much of his time curbing violence in Eastern Kentucky. Shortly after his inauguration, the Rowan County War escalated to vigilantism when residents of the county organized a posse and killed several clan leaders. Though this nearly ended the feud, the violence had been so bad that Buckner's adjutant general recommended that the Kentucky General Assembly dissolve Rowan County. In 1888, a posse from Kentucky entered West Virginia and killed a Hatfield clan leader in the Hatfield-McCoy feud. The murder caused a political conflict between Governor Buckner and Governor Emanuel Willis Wilson of West Virginia, who complained that the raid was illegal. Federal courts cleared Buckner of any connection to the raid. Later in Buckner's term, feuds broke out in Harlan, Letcher, Perry, Knott, and Breathitt counties.
January 8, 1928, Newport native Josephine Kirby Henry died. In 1888, Josephine and Laura Clay co-founded the Kentucky Equal Rights Association. Josephine later sought passage of the Kentucky Married Woman's Property Act, and it passed in 1894. It is sometimes referred to as "The Husband and Wife Bill." Author and publisher Michael N. Marcus blogged these illuminating words about the act and Josephine's influence: Henry regarded the Property Act as the first step toward women's suffrage because she understood the importance of economic independence and security. She called for women to no longer be "treated as outlaws and all their property confiscated at marriage." After years of speeches, articles and lobbying, the Property Act, though criticized as antifamily and unladylike, finally passed the General Assembly and was signed into law. Ms. Henry was the first woman to campaign publicly for a statewide office in Kentucky.
January 8, 1955, the greatest home-court winning streak in division one college basketball, came to an end when the Cats fell to Georgia Tech, 59-58. The loss ended a 129-game streak that started in 1943. That's over 12 years of winning and three presidential terms. Led by Adolph Rupp, the winning streak included NCAA titlse in 1948, 1949, and 1951. In 1954 the team went 25-0 and was ranked No. 1 by the Associated Press, but the NCAA ruled some players ineligible at the last minute before the tournament. As a result, Rupp decided to boycott the tournament.
January 8, 1966, Marine Corps LCPL Arvel D. Akers from Grethel in Floyd County died fighting in the Vietnam War.
January 8, 1968, Army MSG Freddie A. Blackburn from Lexington and Army PFC Paul J. Lively from Cynthiana both died fighting in the Vietnam War.
January 8, 1970, Army CPL George M. Hines from Somerset died fighting in the Vietnam War.
January 8, 1984, Judge-Executive Hallice Upchurch ended a three-hour hearing by refusing to issue a business permit for a self-proclaimed psychic who wanted to practice as a clairvoyant in rural Wayne County. The judge's decision ended a three-month controversy, but accusations that Ms. Reboulet was a witch continued.
January 8, 1984, Lt. Gov. Steve Beshear announced he would oppose a constitutional amendment to abolish his office.
January 8, 1984, two families tried to settle a dispute in Fogertown, in Clay County, with gunfire. Four were injured and two landed in the hospital for extended stays after being shot in the foot, chest and arm.
January 8, 1991, the Bluegrass Parkway became toll-free. Today the road is called the Martha Layne Collins Bluegrass Parkway.
January 8, 1991, the Kentucky Supreme Court refused to reconsider the theft conviction of state Agriculture Commissioner War "Butch" Burnette, setting the stage for impeachment proceedings. There have been four impeached Kentucky politicians, two convicted; Butch resigned before his impeachment vote.
Localtonians wishes a Happy Birthday to Lexington native Olivia Jones, born in 1999. Olivia is a fashion and beauty blogger with a website called Livbien; she enjoys searching for other blogs and Instagrams for all things fashion and beauty.
Kentucky Trivia: Only one president, Franklin D. Roosevelt, and one Congressional delegation in 1974 have been inside Fort Knox's vault.
January 8, 2009, Augusta native Donald Poe Galloway passed away. Donald was a 1955 graduate of Bracken County High School where he played varsity basketball and a 1959 graduate of the University of Kentucky where he studied drama. He is a best known as Detective Sergeant Ed Brown in the long-running crime drama series Ironside (1967–75) and reprised the role for a made-for-TV film in 1993.
January 8, 2012, Army PFC Dustin P. Napier, 20, of London died in Afghanistan of injuries sustained from enemy fire fighting in Operation Enduring Freedom.
January 8, 2017, twenty-three-year-old Justin Thomas wins the SBS Tournament of Champions in Maui, Hawaii, for the second straight year, becoming the first multiple winner of the 2016-17 PGA TOUR season. His three tour victories up to this day were the 2015 CIMB Classic, 2016 CIMB Classic and 2017 SBS Tournament of Champions.
January 8, 2020, Governor Andy Beshear disclosed who paid for his $601,976 inaugural parade. A shortlist of corporate donors included the Kentucky Hospital Association ($25,000), Spectrum ($25,000) and UPS ($13,000). A few individual donors include the Goldman family of Texas ($50,000), James Chao ($10,000), a Kentucky factory owner, Shannon Cales ($25,000), owner of a medical company and Clarence Mitchell ($10,000), owner of a defense contracting company.