Thank You For Visiting
Localtonians wishes a Happy Birthday to Governor Thomas Elliott Bramlette, born in 1817 in Cumberland (now Clinton) County. He was the last of three Kentucky Governors to hold office during the Civil War; his term was 1863-1867. A keen politician, Bramlette provided strong leadership during one of the most traumatic periods in Kentucky's history. While devoted to preserving the Union and the Constitution, he defended the state against what he saw as invasions of its rights. He responded angrily when the Union army began to enlist blacks. Bramlette took pride in reducing the state's debt, an apparent decline in crime, and the establishment of the Agricultural and Mechanical College, now the University of Kentucky.
January 3, 1829, Hancock County was created from Daviess County, Ohio County and Breckinridge County. It was named in honor of John Hancock, signer of the Declaration of Independence. Hawesville is the county seat. Other localities include: Lewisport, Adair, Cabot, Chambers, Dukes, Easton, Floral, Goering, Patesville, Pellville, Petri, Roseville, Sanders, Skillman, Utility, Waitman, Weberstown and Boling Chapel. Hancock County was the 83rd county created and covers 199 square miles.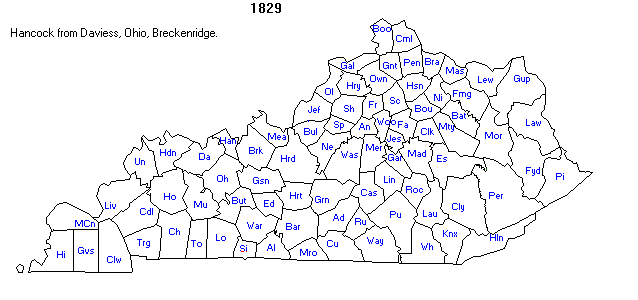 January 3, 1861, Fleming County native Claiborne Fox Jackson became the 15th Governor of Louisiana.  He was forced out by Unionist during the Civil War in July.
January 3, 1865, Confederate General Lyon burns his last of seven Kentucky courthouses in Burkesville, Cumberland County.  For an encore, he robbed several different stores and took the town's horses as he retreated.
Roadside History: A Guide to Kentucky Highway Markers edited by Melba Porter Hay, Dianne Wells, Thomas H. Appleton, Jr., Thomas H. Appleton; pg: 10
January 3, 1873, Barbourville native Silas Woodson became the 21st Governor of Missouri.
Localtonians wishes a Happy Anniversary to Madison County native Mary Kavanaugh Eagle and Governor James Philip Eagle who wed in 1882. Mary was a community leader, clubwoman, book editor, and activist in Protestant missionary work. James was the 16th Governor of Arkansas.
January 3, 1893, Constable W. F. Deskins, Magoffin County Constable's Office, was shot and killed when a group of men attacked the county jail in an attempt to free a prisoner.
On January 3, 1908, while the soldiers guarded Hopkinsville's tobacco and other points, the night riders raided Russellville with 55 men and destroyed two factories. The Black Patch War continued.
Localtonians wishes a Happy Birthday to Covington native Frank Duveneck born in 1919. Frank was a nationally recognized figure and portrait painter.
January 3, 1945, Christian County native Edgar Cayce passed away. Edgar was a clairvoyant who claimed, uniquely, to channel his own higher self. Cayce's channeling sessions happened in a trance state induced with help from friends or family. Cayce would answer questions on subjects as varied as healing, reincarnation, dreams, the afterlife, past-life, nutrition, Atlantis, and future events during these sessions. As a devout Christian and Sunday school teacher, his channeling claims were also a source of trouble because practitioners of his faith typically criticized channeling as demonic.
January 3, 1946, George Monroe Woolf fell from Please Me, in the fourth race at Santa Anita, as they turned for home. George died the next day in the hospital. Horse Racing Trivia: Nicknamed the "The Iceman," George was a Canadian born thoroughbred racehorse jockey. An annual U.S. jockeys' Guild gives a yearly award in his name. He is known for riding the people's champion, Seabiscuit, to victories in 1938.
Localtonians wishes a Happy Birthday to Lexington native Beth Anderson born in 1950. Beth is a neo-romantic composer best known in her field for her swales, a musical form she invented based on collages and samples of newly composed music rather than existing music. She told a reporter for The New York Times in 1995 she named the form based on this definition of the word: "A swale is a meadow or marsh where a lot of wild things go together."
January 3, 1951, Army PFC Charles Taylor from Greenup County died in the Korean War.
January 3, 1966, Harry Sykes, Lexington's first black city commissioner was sworn in by County Judge Joseph E. Johnson. After graduating from Kentucky State University in 1952, Sykes played basketball for the Harlem Globetrotters through the 1954 season. Mr. Sykes passed away in 2012.
January 3, 1967, Officer Danny L. Redmon, Lexington Police Department, was killed in a motorcycle accident while chasing a speeding truck on Winchester Road. His motorcycle collided with another car. Officer Redmon was survived by his wife and two sons.
January 3, 1968, Navy P02 Thomas P. Moore from Louisville died in the Vietnam War.
January 3, 1985, was Alabama native Mitch McConnell's first day as a Senator representing Kentucky.
January 3, 1999, Senator Wendell Hampton Ford retired from his Senate Minority Whip position and public service. At the time of his retirement, he was the longest-serving senator in Kentucky's history, a mark surpassed by Mitch McConnell in 2009. Mr. Ford is a Daviess County native.
Kentucky Trivia: Kentucky is the "Mother of Governors" having produced more than 100 native Kentuckians who have been elected governors of other states, while Ohio claims the most presidents.
January 3, 2000, an unusual winter tornado touched down in Owensboro leaving 8,000 locals without electricity.
January 3, 2005, Louisville football coach Bobby Petrino apologized for the week long uproar he caused when he interviewed with LSU right after signing an extension with the Cardinals. He was gone the next year but would return in 2014.
January 3, 2005, Sergeant Larry Dale Cottingham, Henderson County Sheriff's Office, suffered a fatal heart attack shortly after disarming a suicidal woman. Sergeant Cottingham was a US Army veteran of the Korean War. He had served with the Henderson County Sheriff's Office for 25 years. He was 64 and survived by his wife, three sons, two sisters, and two grandchildren.
January 3, 2009, Marine Lance CPL Chadwick A. Gilliam, 29, of Mayking in Letcher County, died at Camp Buehring, Kuwait during Operation Iraqi Freedom.
January 18, 2018, eight members of the House of Representatives formed a formal charge calling for the expulsion of House Speaker Jeff Hoover following his decision to remain Speaker even though he had promised to step down amid a sexual harassment scandal in 2017.
January 3, 2019, Big Pharma gets bigger and becomes more powerful when Bristol-Myers buys Celgene for $74 billion.
January 3, 2019, the Lexington Herald-Leader runs a story on the front page about a man who uses a wheelchair and relies on marijuana not to go blind.  The story explains how he tries to be present in Frankfort for every medical marijuana hearing and gives credit to Rep. John Sims-Flemingsburg, who has helped him in Frankfort and other related issues.
January 3, 2019, Bob Burrow, one of the greatest UK basketball players, died. He is the co-holder for most rebounds in a single game with 34; a record that many say will never be broken. He holds the record with Bill Spivey. Mr. Burrow had his #50 jersey retired to the rafters in 1999.