Thank You For Visiting
December 13, 1796, Bullitt County was created from Jefferson County and Nelson County and was named in honor of Alexander Scott Bullitt, Lieutenant Governor of Kentucky. The county seat is Shepherdsville. Other localities include: Fox Chase, Hebron Estates, Hillview, Hunters Hollow, Lebanon Junction, Mount Washington, Pioneer Village, Brooks, Brownington, Clermont and Solitude. Bullitt County today covers 300 square miles and was the 20th county created.
December 13, 1796, Christian County was created from Logan County. The county was named in honor of William Christian, Revolutionary War Soldier and founder of Louisville. The county seat is Hopkinsville. Other localities include: Crofton, Hopkinsville, LaFayette, Oak Grove, Pembroke, Fairview, Fort Campbell North, Apex, Bainbridge, Bennettstown, Bluff Spring, Casky, Edgoten, Empire, Fearsville, Fruit Hill, Garrettsburg, Gracey, Hensleytown, Herndon, Honey Grove, Howel, Julien, Kelly, Mannington, Newstead, Saint Elmo and Sinking Fork. Christian County was the 21st county created and covers 722 square miles, the second largest county.
December 13, 1798, Pendleton County was created from Bracken County and Campbell County.  It was named in honor of Edmund Pendleton, member of the Continental Congress.  Falmouth is the county seat.  Other cities and towns include: Butler, DeMossville, Mt. Auburn, and Morgan, Kentucky.  Pendleton County was the 28th county created and covers 282 square miles.
December 13, 1798, Livingston County was created from Christian County.  The county was named in honor of Robert Livingston, one of the Committee of Five that drafted the Declaration of Independence.  Smithland is the county seat.   Other localities include: Carrsville, Grand Rivers, Salem, Burna, Ledbetter, Hampton, Joy, Lola, Iuka and Tiline.  Livingston County was the 33rd county created and covers 342 square miles.
December 13, 1798, Boone County was created from Campbell County and was named in honor of Daniel Boone.   Burlington is the county seat.  Other cities and towns located in the county include: Florence, Hebron, Francisville, Petersburg, Union, Walton, Oakbrook, Richwood, Verona, Big Bone, Bullittsville, Hamilton, Richwood, Taylorsport, Constance and Rabbit Hash.  Boone County was the 35th county created and covers 256 square miles.
December 13, 1798, Muhlenberg County was created from Christian County and Logan County and was named in honor of Peter Muhlenberg, Revolutionary War General. Greenville is the county seat. Other localities include: Bremen, Central City, Drakesboro, Powderly, South Carrollton, Beechmont, Cleaton, Dunmor, Beech Creek, Belton, Bevier, Browder, Depoy, Ennis, Frogtown, Gishton, Graham, Gus, Luzerne, Millport, Moorman, Nelson, Nonell, Penrod, Rosewood and Weir. Today Muhlenberg County covers 479 square miles and is the 31st county created.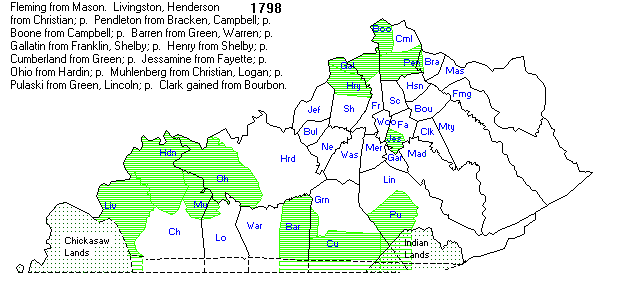 December 13, 1799, Floyd County was created from Fleming County, Mason County and Montgomery County and was named in honor of John Floyd, surveyor and pioneer. Prestonburg is the county seat. Other localities include: Allen, Martin, Wayland, Wheelwright, Auxier, Betsy Layne, Dwale, Maytown, McDowell, Alphoretta, Banner, Beaver, Blue Moon, Blue River, Bonanza, Burton, Bypro, Cliff, Dana, David, Dema, Drift, Eastern, Emma, Estill, Garrett, Glo, Grethel, Halo, Harold, Hi Hat, Hippo, Hueysville, Ivel, Jacks Creek, Jump Station, Lackey, Langley, Ligon, Melvin, Minnie, Orkney, Printer, Pyramid, Risner, Stanville, Teaberry, Tram, Warco, Watergap, Weeksbury, Wonder and Woods. Floyd County was the 40th county created and covers 396 square miles.
December 13, 1799, the Kentucky General Assembly sought to check the spread of dueling, which was becoming vogue in the Deep South.  The act aimed to stop gambling and dueling by levying a fine of $150 to $500 for each violation.  It becomes even harsher with imposing prison terms and disqualifying duellist from holding public office, a provision especially oppressive on politically minded Kentuckians.
Famous Kentucky Duels by J. Winston Coleman, Jr.; pg: 5 
December 13, 1802, the Kentucky General Assembly authorized the establishment of the Big Sandy-Greenbrier Road. This was the first road to be improved with the aid of state funds after the Wilderness Road. The opening of the road was indicative of the General Assembly 's awareness of the need for public communication and transportation networks within the state. The legislature made sporadic efforts to improve and maintain the road during the first half of the nineteenth century. After 1850, the work was undertaken by the counties through which the road passed.
The Squire' Sketches of Lexington by J. Winston Coleman, Jr.; pg: 24
December 13, 1808, Kentucky's Secretary of State, Jesse Bledsoe, delivered Governor Scott's first address to the legislature. Later that winter, Governor Scott was injured when he slipped at the governor's mansion; the injury left him confined to crutches for the rest of his life and rendered him even more dependent on Bledsoe to perform many of his official functions. His physical condition continued to worsen throughout his term as governor.
Localtonians wishes a Happy Birthday to Lexington native Mary Todd Lincoln born in 1818. Mary was the fourth of seven children of Robert Smith Todd, a banker, and Elizabeth (Parker) Todd.
December 13, 1864, Cadiz Courthouse in Trigg County was burned to the ground. The Union troops left in a hurry, leaving a fellow solider with smallpox behind. The county records were saved.
Roadside History: A Guide to Kentucky Highway Markers edited by Melba Porter Hay, Dianne Wells, Thomas H. Appleton, Jr., Thomas H. Appleton; pg: 10
December 13, 1907, Patrolman Simon R. Cannon, Louisville Police Department, was shot and killed while investigating a suspicious person in the area of Jackson Street and Roselane Street. He was shot and killed as he approached the suspect. The suspect surrendered to the Louisville Police two years later. He was tried for murder and acquitted.
December 13, 1914, Sheriff Robert Terry McMurtry, Hardin County Sheriff's Department, was shot and killed while attempting to arrest a man wanted for murdering Special Deputy Marshal James Wood, of the Upton Police Department, three days earlier. The man had been located at a home and Sheriff McMurtry went to arrest him. As he searched the house shot him while hiding in the attic.
December 13, 1924, James McFarland scored 10 points and the Kentucky Wildcats defeated the Bearcats in the first game played at Alumni Gym on UK's campus.
December 13, 1926, Deputy Sheriff Frank Phillips, Pike County Sheriff's Office, was shot and killed while questioning two brothers who were drunk and causing a disturbance in front of a local business. When he asked the two what they were doing they became belligerent. A struggle ensued in which the two brothers drew weapons and shot Deputy Phillips. Despite being mortally wounded, he was able to return fire and seriously wounded one of the suspects. The other brother was taken into custody.
December 13, 1927, Laurel County native Flemon Davis "Flem" Sampson became the 42nd Governor of Kentucky. The Democrats nominated former governor and Senator J. C. W. Beckham to challenge Flem. The campaign's primary issue was whether to outlaw pari-mutuel betting at the state's racetracks; Beckham favored the ban and Sampson opposed it. The Jockey Club lobbyist backed Sampson and several key Democrats bolted after Beckham's nomination enabling Sampson to win by over 32,000 votes. Every other Republican on the lower ticket was lost by small majorities; the results suggested voter fraud, but no proof existed.
December 13, 1947, Policeman Shellie Eugene LeQuire, Fleming-Neon Police Department, was shot and killed by a man seeking revenge against him for a shooting that had occurred three years earlier. The man encountered Policeman LeQuire inside a barber shop. After a few moments without speaking, the man suddenly pulled out a gun and shot him several times, killing him.
December 13, 1955, Happy Chandler becomes Governor again.
December 13, 1967, Army SFC John W. Fitzgerald Jr from Louisville died in the Vietnam War.
December 13, 1968, Army SGT Ronald L. Niewahner from Ludlow in Kenton County died in the Vietnam War.
December 13, 1969, Army CPL James M. Cheatham from Morganfield in Union County died in the Vietnam War.
December 13, 1971, Paris native Margaret Ingels, the first female engineering graduate from the University of Kentucky, passed away. She was also the second woman engineering graduate in the United States and the first woman to receive a professional degree of Mechanical Engineer.
December 13, 1983, Governor Martha Layne Collins became the first woman Governor of Kentucky.
Kentucky Trivia: 400 West Market is Kentucky's tallest building, a skyscraper in downtown Louisville. The 35-story, 549-foot high structure is constructed of reinforced concrete, as opposed to the steel construction usual for buildings of its height. It was completed in 1993 at the cost of $100 million.
December 13, 2008, Trinity beats Simon Kenton 48-0 to win the Class 6A KHSAA Commonwealth Gridiron Bowl in Papa John's Cardinal Stadium with 11,556 in attendance.
December 13, 2011, Governor Steven Lynn Beshear takes his second oath of office after winning re-election. He defeated the Williams / Farmer duo and Gatewood Galbraith, to serve two consecutive terms and remain the 61st governor of Kentucky.
December 13, 2018, the Kentucky Supreme Court unanimously struck down Governor Bevin's pension plan that would have reduced retirement benefits for public employees, most notably by ending traditional pensions for school teachers hired after January 1, 2019. This means that cures for the pension plan go back to square one.
December 13, 2019, Kentucky lawmakers called for an investigation of Governor Bevin over the use of his pardon powers the same day U.S. lawmakers sent Trump impeachment charges to the U.S. House of Representatives.