Thank You For Visiting
Localtonians wishes a Happy Anniversary to Governor James Garrard and his childhood sweetheart, Elizabeth Mountjoy, who wed in 1769. They had five sons and seven daughters. One son and two daughters died before reaching age two. All the surviving sons participated in the War of 1812, and all served in the Kentucky General Assembly. A number of his grandsons served in the Civil War, two becoming Union Generals. Another grandson, James H. Garrard, was elected to five consecutive terms as state treasurer, serving in 1857 until he died in 1865.
December 20, 1792, during the first session of the Kentucky General Assembly, the body passed an act creating the state seal and adopting the state motto.  More specifically, the legislation stated that the seal was "to be engraved with the following: two friends embracing, with the name of the state over their heads and around about the following motto: United we stand, divided we fall."
December 20, 1792, Green County is created from Lincoln County and Nelson County.  Green was named in honor of Nathanael Greene, Revolutionary War General.  Greensburg is the county seat.  Other localities include: Black Gnat, Exie, Pierce and Summersville.  Green County today covers 289 square miles and was the 14th county created.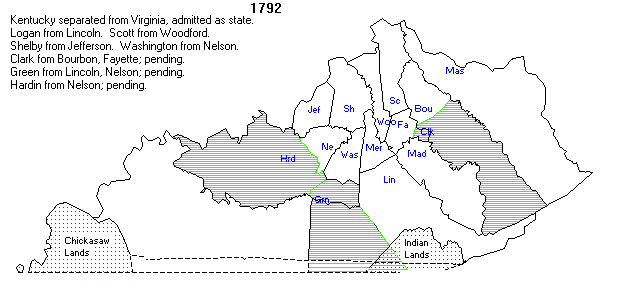 December 20, 1864, the Hartford Courthouse in Ohio County was next to burn. CSA General Lyon also captured the city's garrison. Records in other buildings were saved due to the pleas of Dr. Samuel O, Peyton.
Roadside History: A Guide to Kentucky Highway Markers edited by Melba Porter Hay, Dianne Wells, Thomas H. Appleton, Jr., Thomas H. Appleton; pg: 10
December 20, 1865, Russellville native David Shelby Walker was sworn in as the 8th Governor of Florida.
Localtonians wishes a Happy Birthday to Louisville native Irene Dunne born in 1898. Irene was an actress and singer who appeared in films during the Golden Age of Hollywood. She is best known for her comedic roles, though she performed in films of other genres.
December 20, 1904, Patrolman John Dolan, Louisville Police Department, succumbed to a gunshot wound sustained four months earlier when he attempted to quell a disturbance at a bar. He was taken to City Hospital where he remained until his death. He was survived by his wife, brother, and four sisters.
December 20, 1947, Deputy Sheriff David Galloway and Deputy Sheriff Willard Hall, Letcher County Sheriff's Office, were shot and killed while attempting to serve a warrant on a man for being drunk in public. The man was also suspected of beating his wife earlier in the day. As the two spoke with the suspect in his home a second man, hiding behind a closed door, opened fire with a shotgun. Both deputies were shot and killed.
Localtonians wishes a Happy Anniversary to Governor Ned Breathitt and Frances Holleman of Mayfield, who wed in 1948. The couple had four children: Mary Fran, Linda, Susan, and Edward III.
December 20, 1974, Somerset native John Sherman Cooper became the 2nd United States Ambassador to East Germany.
December 20, 1980, Harlan Sanders was laid to rest in Lot 57, Section 33 in Cave Hill. It was the largest burial service in the historic 300-acre cemetery.
December 20, 1983, Joe B. Hall's Wildcats beat the Cincinnati Bearcats 24-11. It was a painful game to watch but it did highlight the reason a shot clock was implemented in 1985.
December 20, 1986, Patrolman John R. Herron, Falmouth Police Department, was struck and killed by a vehicle while investigating an accident on US 27. It is believed that the darkness prevented the driver from seeing him prior to striking him. He was survived by his wife, two children, and two grandchildren.
December 20, 1988, Kentucky State Trooper, Johnny Edrington was shot and killed during a traffic stop on Highway 80 outside London. The suspects are still at large. Trooper Edrington was survived by his wife and daughter. Born in Campbellsville and in honor of his service and sacrifice, US 68 in Taylor county has been designated the Trooper Johnny M. Edrington Memorial Highway.
Kentucky Trivia: Top burley tobacco counties in Kentucky in 2018: 1)Breckinridge 2)Green 3)Christian 4)Shelby and 5)Daviess. Kentucky still leads the nation in burley tobacco production but second in total tobacco production.
December 20, 1990, Louisville native Marine Corps Lance Corp. Greg Dawson turned himself in at Fort Knox where he should have reported a month earlier. Dawson a mathematics major at UofL and a Marine Reservist for five years said he would apply for conscientious objector to Operation Desert Shield.
December 20, 2001, Louisville native Foster Brooks passed away.
December 20, 2015, more than a hundred people participated in Louisville Urban League's "Walk to Work." The group wanted to bring attention to Louisville's homicide rate which was higher than any other year except 1979. The league president read the names of the 81 homicide victims.
December 20, 2017, Will Wolford, St. Xavier alumni and lineman for three NFL teams announced he was stepping down as head coach of his alma mater's football team in Louisville, his hometown.
December 20, 2018, Paducah native and UK football player J.D. Harmon appeared in MTV's Ex on the Beach debut. The show was a social experiment where ten celebrities think they are running away to a romantic get-a-way, but just as the party gets started; unwanted visitors arrive to spoil the fun.
December 20, 2018, President Donald Trump signed Congress' omnibus Farm Bill into law, legalizing hemp at the federal level in a move that should bolster America's burgeoning hemp and CBD industry.
December 20, 2019, Lexington native Tyler Lee Clippard signed a one-year contract with the Minnesota Twins. In 2020, with the Twins, he appeared in 26 games, compiling a 2-1 record with 2.77 ERA and 26 strikeouts in 26.0 innings pitched.